Testing out Tower 28 Beauty
IN A YEAR WHERE MAKEUP TRENDS HAVE FAVOURED MINIMALISM, TOWER 28 BEAUTY HAS ELEVATED THE MAKEUP GAME.
Cream blushes and bronzers have been all the rage this year. The effortless no-makeup makeup look has unsurprisingly surged during pandemic times. People are planning their looks around just enough to feel presentable on Zoom meetings and not too much that it sticks to the inside of your mask.
One thing I've learned over the years is that all cream products are not made equally; Performance and impact can be greatly affected by formulation.
I'd seen Tower 28 products hyped all over Instagram this year. It really seemed to be one of the "It Girl" brands of 2020 – think Glossier minus the snootiness.
So I purchased two shades of their BeachPlease Cream Tinted Lip & Cheek Balm, Bronzino Illuminating Bronzer and Shine On Jelly Lip Gloss to test the hype for myself!
testing out tower 28 beauty
---
>> AVAILABLE AT SEPHORA | REVOLVE | CREDO BEAUTY
ABOUT TOWER 28
"Founded by longtime beauty executive Amy Liu, Tower28 is a beauty brand that's designed for sensitive skin but made for all, with formulas that are 100 percent clean, vegan, and free of every known skin irritant. Named after tower 28, the lifeguard tower on the border of free-spirited Venice and sunny Santa Monica, the LA-based beauty brand is all about that low-maintenance, effortless California style." – Sephora
A NOTE ON "CLEAN"
I honestly wouldn't sleep at night if I published the above statement without dressing a VERY glaring moment of misspeak regarding being "free of every known skin irritant". Sorry (not sorry), but that's a crock of you-know-what.
There is no way a product can be formulated to be free of every known skin irritant because no such list exists. Humans can be allergic to ANYTHING.
Furthermore, you'll never catch me referring to anything on this blog as 'non-toxic' in the beauty sense because your beauty products are not toxic to you… unless you start eating them for breakfast lunch and dinner (please don't eat your makeup and skincare!).
This will be a whole other blog post for another day, but I felt it was my ethical duty to be a disclaimer to nonsense claims.
MOVING ON TO THE PRODUCTS AND MY THOUGHTS…
Despite the fear-mongering "clean" claims, I really love everything I have tried from Tower 28!
I hope my readers know by now that I base my reviews very much on performance, formula, value and inclusivity. So while Vegan standpoints and "clean" ingredients may be of interest to some, they don't factor into my feelings on how the product performs.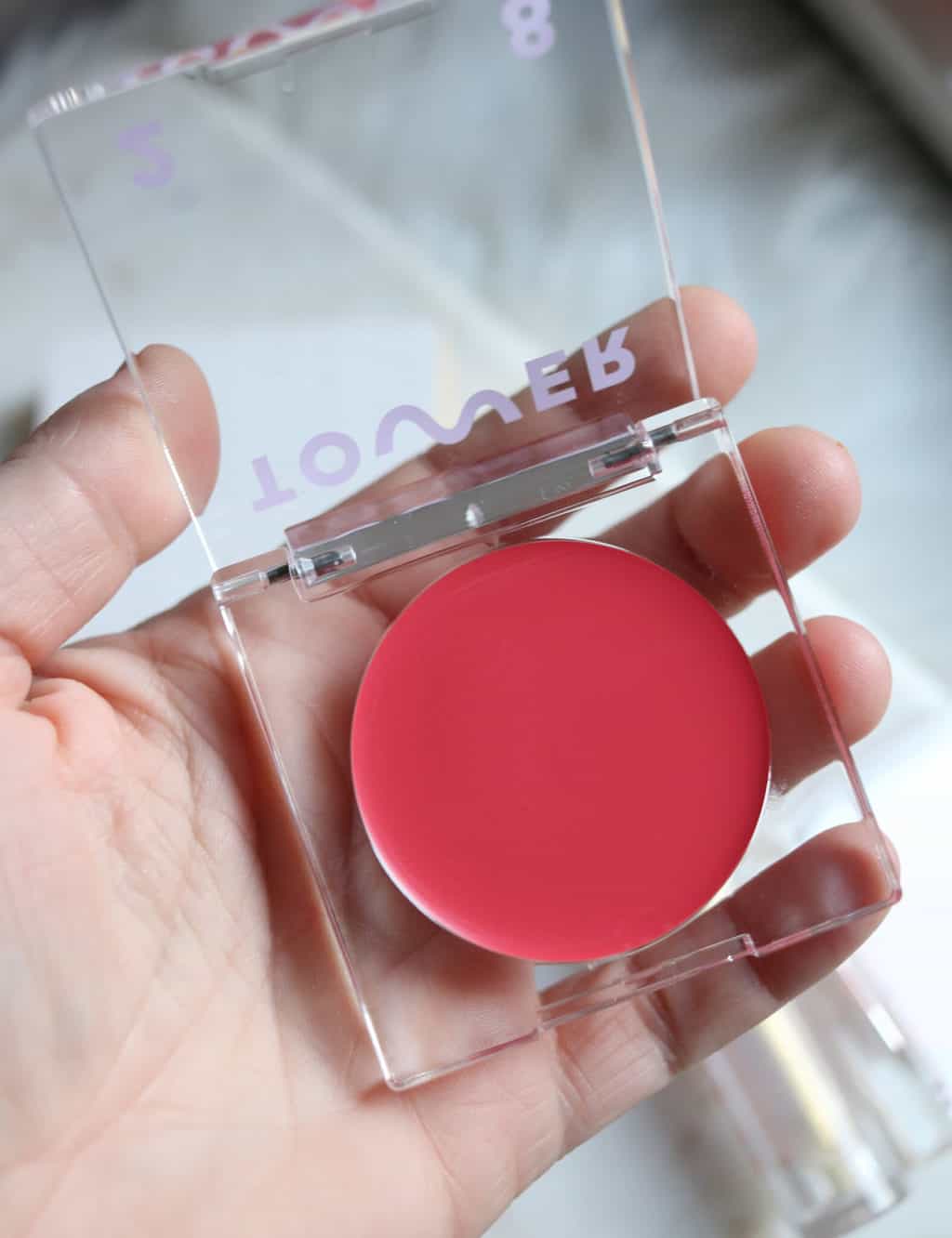 SHOP TOWER 28 BEAUTY:
---
Here's a little breakdown of each product and my reviews of them:
BEACHPLEASE TINTED LIP & CHEEK BALMS // 4.5g/$26CND >> I have two of the three shades available in Magic Hour (warm nude rose) and Happy Hour (warm coral pink).
The formula of these cream blushes is divine, especially for those who struggle with skin texture. It melts into the skin with a gorgeous balm feel that blurs pores and yet gives that dewy glow.
And the glow is stunning, in a truly natural skin finish that doesn't look like a cream product sitting on top of the skin. Even with a foundation on.
It's SO rare for me to find cream blushes that offer this without my dehydrated skin soaking up all the moisture and leaving behind blotchy pigment. I've layered these on full coverage, on bare skin, on top of powder etc, and they give the same beautiful finish each time!
Even more remarkable, these last quite a bit better than any other cream blush in my collection, which shocked me given they aren't a cream to powder formula or a stain.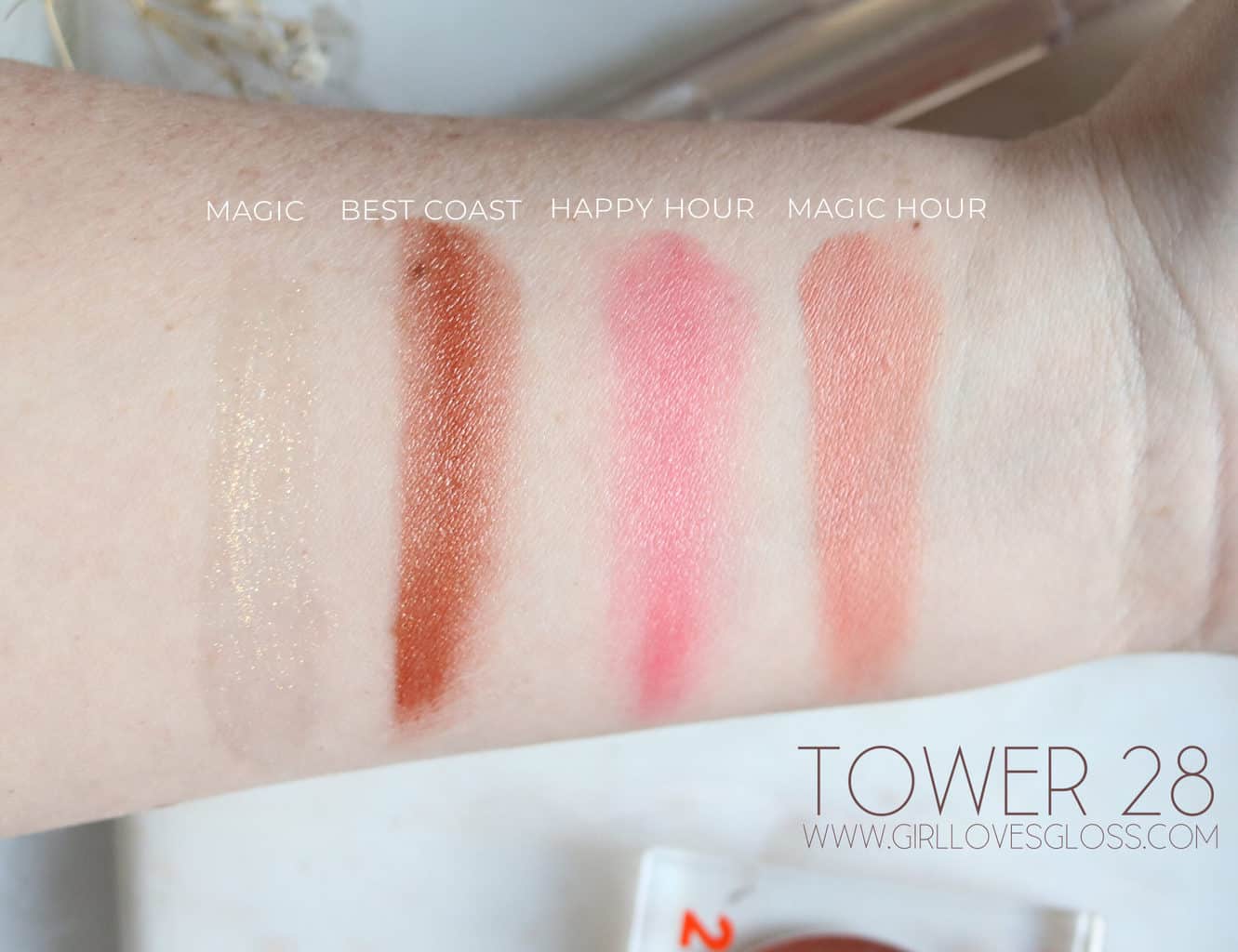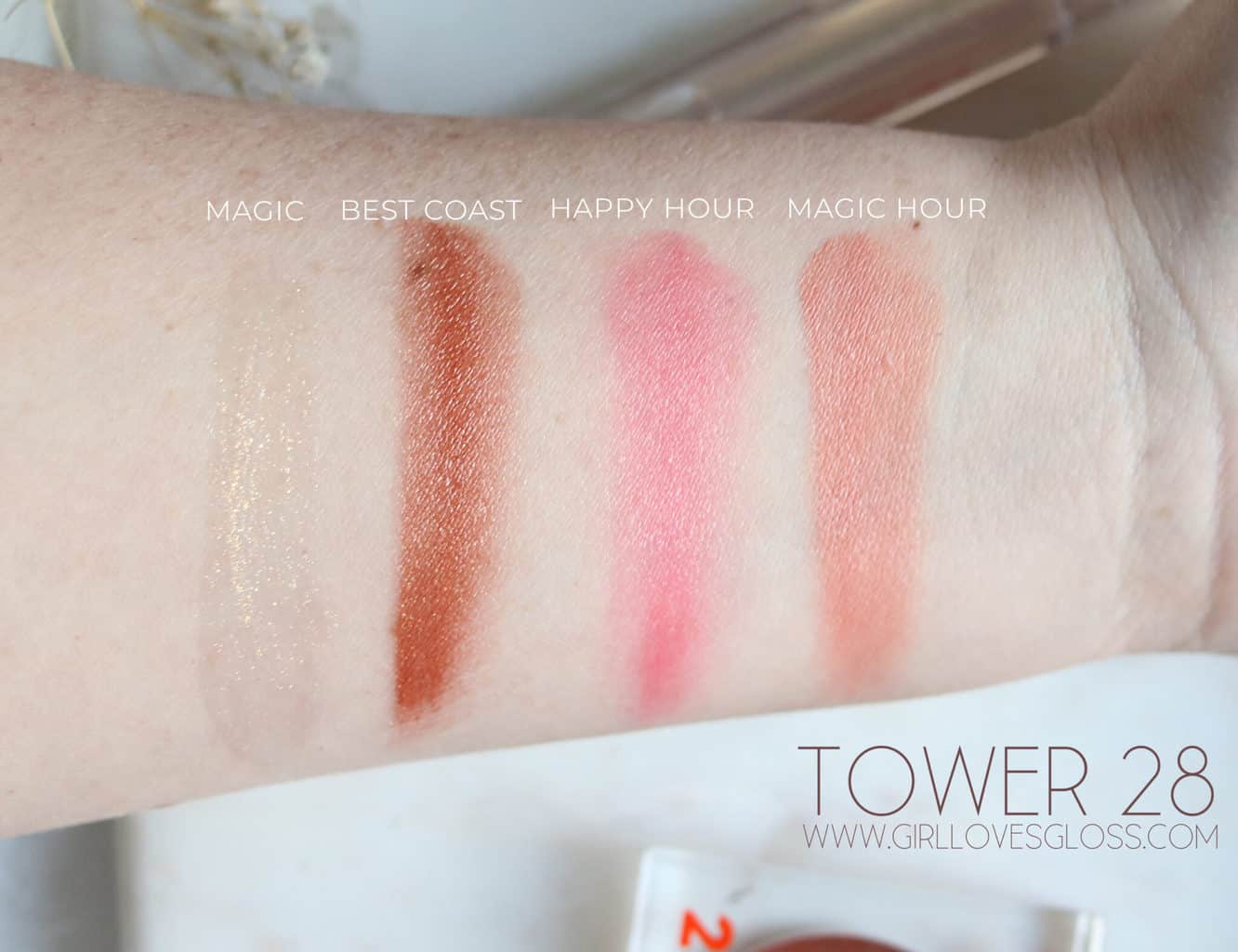 BRONZINO ILLUMINATING BRONZER // 4.5g/$26CND >> I almost find it funny that now we're all wanting illuminating bronzers when for years a matte bronzer was king.
Yet here we all are, living for that glossy skin versus a sculpted look. I'm not mad about it.
These might be a bit hit or miss depending on your wants and needs from a bronzer, but I am loving this as part of my routine. The shade I bought was Best Coast, a reddy brown that gives the most gorgeous sun burnt kissed bronzer look.
I really love patting this on on top of a powder bronzer to bring back the "skin" feel to my look. It's gorgeous on its own, but it gives incredible depth when layered.
Like the blushes, this is a dewy cream formula, which means it doesn't dry down. I find patting motions with a brush like the Sephora #56 or Real Techniques Expert Face Brush works best; Stippling the product into the skin enough that it doesn't feel tacky, yet disperses it in the most natural way.
SHINEON JELLY LIP GLOSS // 3.9ml/$18CND >> I have this is Magic, also known as the shade that is constantly sold out because it is so popular!
It's a clear gloss with tiny gold reflects that reminds me of original MAC Lipglass that came out limited edition back in 1999 that a friend offered to hold in her purse when we snuck into a nightclub, and then "lost" (yes, I'm dating myself and yes I'm still salty about it).
This formula is nothing like the original MAC Lipglass though – it's not sticky in the slightest and has the most comfortable, cushiony feeling on the lips! "Jelly" is probably the most appropriate name and aptly used in this case.
It feels hydrating on the lips and gives a pillowy smooth application without clinging to flaky or dry spots.
I can't wait to add a few of the tinted shades to my collection. I have my eye on Oat and Coconut for perfect everyday neutrals.
I can see why these are constantly selling out – I am shockingly picky about lip gloss formulas, given the name of this blog is Girl Loves Gloss. This is a good one friends; If you know me, you know that I don't take that recommendation lightly!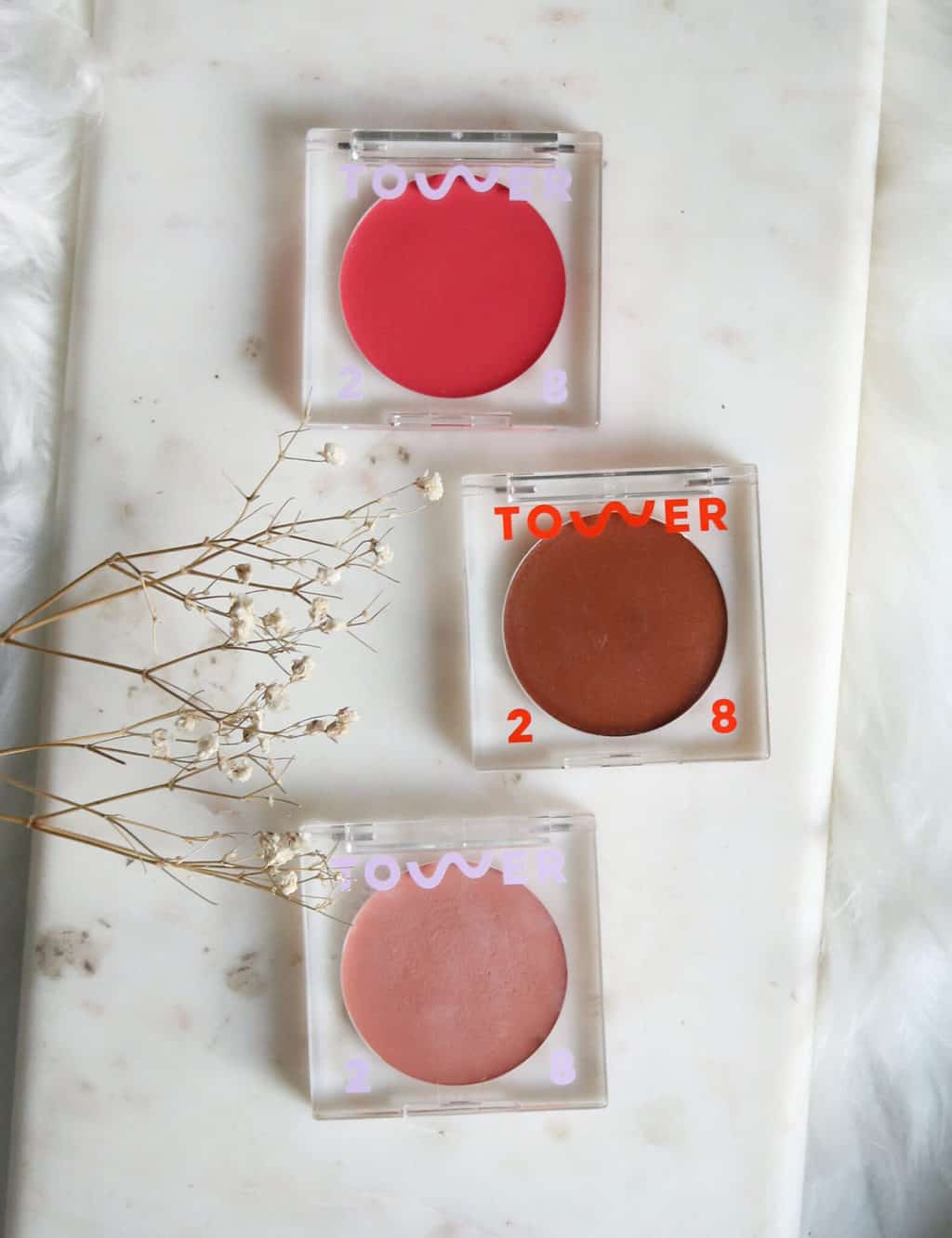 SHOP TOWER 28 BEAUTY:
---
so basically, I'm kind of in love with tower 28 beauty…
The products perform beautifully, are relatively affordable and have a great start to a new range.
I'd love to see the Bronzino and BeachPlease shade ranges increased; Three blush shades just isn't enough for this blush fanatic!
I'd also really love to see more expansion from the brand to include perhaps some cream eyeshadows or a tinted moisturizer. Given the success of their first product launches, I can see the brand doing wonderful things!
SHARE THE LOVE AND PIN THE IMAGE BELOW TO PINTEREST