Sonia G Brushes | An Interview and Review
SONIA G HAS WELL OVER 2000 MAKEUP BRUSHES.
Yep, I didn't add an extra zero or two there – Sonia is a true collector and has some of the most exclusive and elusive brushes in the world. She has a brush boudoir (seriously, a brush boudoir – how incredible!) that she's shared a few glimpses of here.
It's awe-inspiring to any makeup brush lover or makeup collector.
For years she collected and blogged about the words most incredible brushes, even going as far as travelling to Kumano, the brush makeup capital of Japan. After spending time in Hakuhodo, Koyudo, Chikuhodo, and Tanseido and really taking in the craft of handmade brushes, she decided to design her own.
Thus, Sonia G Brushes was born, partnering with Beautylish as their retailer, providing us masterfully crafted artisan brushes and easy accessibility.
This past summer I got my hands on several of them and got the chance to interview Sonia herself! Keep reading to learn a bit more about Sonia and her brushes, as well as the ones I think are the cream of the crop.
First, let me preface this review and interview by saying that the Sonia G brushes are some of the most beautiful brushes I have had the pleasure of using.
They are stunningly crafted with an incredibly soft touch. The wood handles are comfortable to hold, and a great length with a well-balanced weight.
Weight might seem like a funny thing to consider, but brushes with really long or really short handles can be awkward to hold. Brushes that are too light in weight can feel cheap and actually throw off application. Think about the ergonomics of holding a pencil: Too chunky and it's hard to control the continuity of your writing.
I did have some minimal shedding from a few of the face brushes when I first started using them, which is pretty normal for natural hair brushes. The worst offenders were the Face Pro* and the Inochige Pro*, with both normalizing after a couple of washes.
I love and adore using all the Sonia G Brushes I own, but some definitely spotlight as being real shining stars in my collection:
CHEEK PRO*: Much smaller than any blush brush I own, yet diffuses the colour in the most perfect way! This one has probably surprised me the most out of all I tried in terms of how much I adore it.
DETAIL PRO*: Simply the best undereye setting brush ever. I wish I had a few more of these because it would be perfect for highlighting, blending eyeshadow and pinpoint powder setting.
PENCIL PRO*: Finally a pencil brush that is super soft, diffuses colour along the lash line without making my eyes water, and works perfectly for intensifying outer corners.
WORKER TWO*: Forget scratchy, scraggly looking crease brushes. This has enough density to really lay down colour, but the right bristle shape to blend as well.
BLENDER PRO*: I use this every single day. It's soft and fluffy and perfect for a wash of colour, blending the crease, or laying down a transition shade. Sonia put loads of work into her blending brushes, and it shows!
SCULPT ONE*: I use this to contour and bronze. It's dense and perfectly tapered to make seamless blending a breeze. Some days I get very little time to get ready, and this makes for really easy slapdash but still look like I mean to application.
SHOP SONIA G BRUSHES
---

---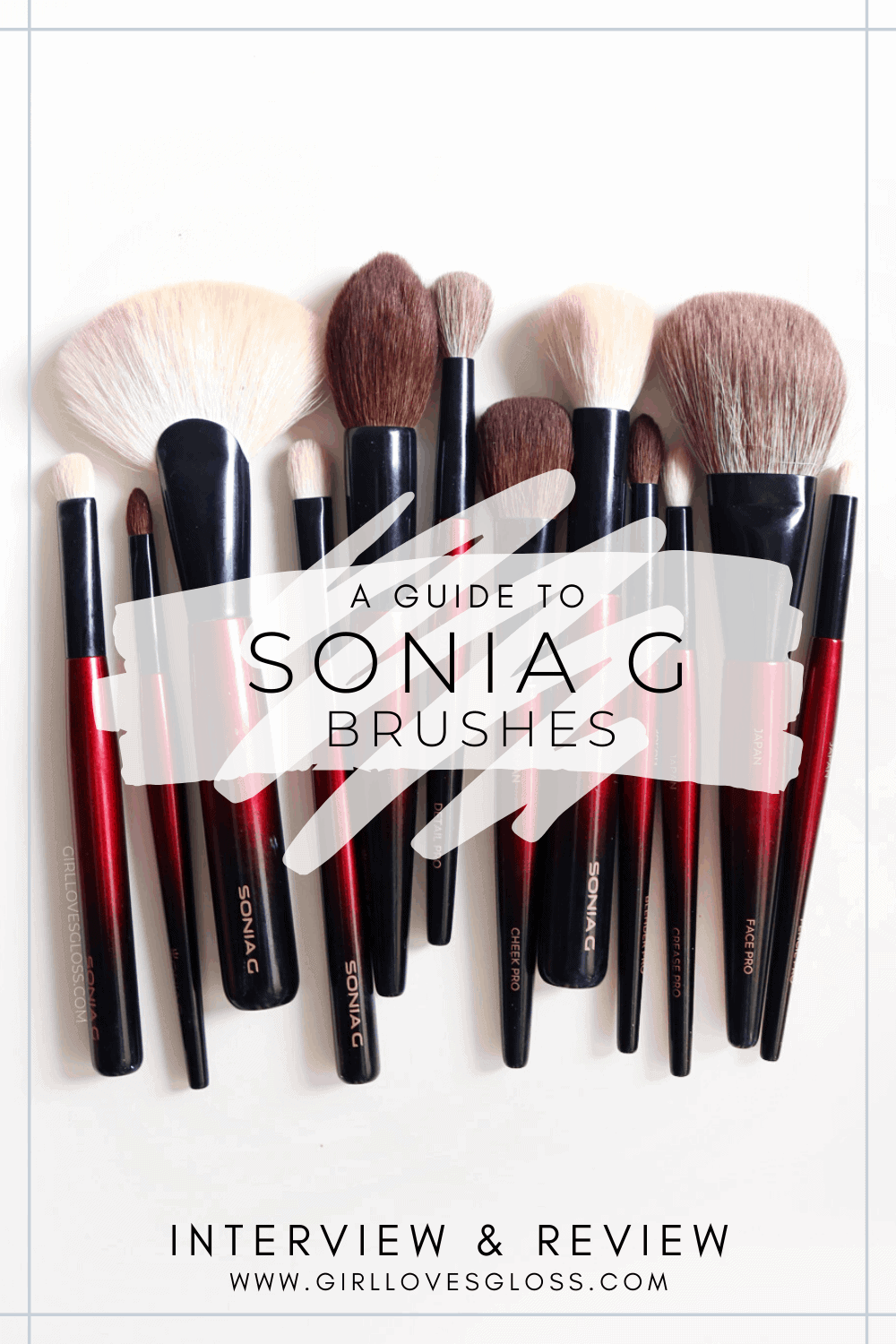 an interview with sonia g of sonia g brushes and sweet makeup temptations
---
I had the pleasure of chatting with Sonia this past summer and picking her brain a bit about her process and how the brushes came to be.
There's so much that goes into designing brushes; Shape, hair/bristle type, ferrule and handle material, weight – it all comes into play and can affect the end result.
There's that old saying about an artist only being as good as their tools, and I think Sonia would agree with me on that!
You've got a brush collection of over 2000 brushes (probably more now!) – can you think of a brush or two that are the most unique in your collection?
Yes indeed, more have joined since the 2000 milestone!
The most unique brushes I own are actually brushes that I had customized in one way or another. It can be a special shape or a custom design made on the handle by an artisan.
However, the most unique brushes are the ones that I am gifted, those have a very special place in my heart. I make sure I display them where I can see them as they make me smile and remind me of friends, meetings, or special events, those precious memories encourage me to work even harder!
When you sought out to create brushes, which one was the first you wanted to see made?
Definitely the Face One! You will often see similar shapes around, but not with this density, efficiency or softness.
I was also really eager to create fan-shaped brushes like the Sculpt One. Fans fascinate me as they have a huge potential, my challenge is to make them versatile and very functional tools, not only pretty things to look at.
Similarly, is there one particular brush that was the most exciting or enjoyable for you to create?
They were all extremely exciting to create!
I would say all the Workers were particularly thrilling, these are such essential brushes and yet those particular shapes never existed before!
Was there a particular brush that gave you more challenges in others in terms of getting the shape/feel/materials/outcome perfected on?
Yes, actually quite a lot were (and still are) challenging.
Since they are new shapes, new ferrules, or new mixes, the manufacturer had to make some changes or new tools for the purpose. Some required a lot of effort, even though they may not look that complex. I have currently some brushes in my head and in my drawings that we weren't yet able to get to production!
Following back up on your incredible brush collection, can you remember a certain brush that originally sparked your love for makeup brushes? Or was there a brush that you coveted and saved for and holds a special place in your heart?
Yes, I remember very well.
The Koyudo "white mushroom" (a kabuki). Its softness and perfection made me really fall in love with Kumano. I was already in love but this brush had a huge impact on me.
You've stated that your life growing up meant an appreciate for handcraftsmanship, was there anything in the process of creating your brushes that surprised you?
The diligence of the artisans, their patience, they appear so calm and yet they work with such speed! It's amazing how much work they are able to achieve in a day! It just blows my mind!
We know that any great artist holds their tools in high regard, what would you tell someone who's never invested in makeup brushes before or is keen to start a collection?
Just start with one brush, one great blender for example. See if you enjoy the experience, if it makes a difference or if it improves the results.
Then, if it does, slowly build up to the next brush you would really use and so on. Always start with a blender. Great blenders are the most difficult to come by.
What are your dreams for the Sonia G brushes? Do you see yourself expanding beyond brushes someday?
It would really be amazing to expand beyond brushes, but still directly related to brushes. I met incredibly talented artisans I would love to work with as we share the same passion, we inspire each other and it makes us design and create amazing things together.
I am extremely excited because some of these new projects are actually already ongoing! Let's see how it goes, I cross my fingers and wish I could see these dreams come true in the near future!
SHOP SONIA G SETS
---

---