Scultpting Simplified with Charlotte Tilbury's Filmstar Bronze and Glow and Powder & Sculpt Brush
The other day I got my hands on something I had coveted for what seems like forever: The
Charlotte Tilbury Filmstar Bronze & Glow Palette
. This has been getting plenty of love in the blog, youtube and instagram world but with its luxury price tag I had worried it wouldn't live up to the hype. Turns out I had nothing to worry about,
because apparently Charlotte can do no wrong
.
The
Filmstar Bronze and Glow Palette
is a gorgeous dual compact with a sculpting powder that isn't too warm, nor too cool, and a highlight powder that is the most gorgeous finely milled golden pearl. Besides the utterly divine Art Deco inspired packaging, the biggest appeal to me was the way this palette doesn't actually have the word 'contour' in the title. I feel like the whole 'contouring' trend has gone so overboard this year. It's really gone past the entire idea of what contouring started as which is sculpting the face, and into dangerous territory of taupe racing stripes on girls faces everywhere. You simply won't get that with this palette because the sculpting shade is really neutral enough to give your face dimension, and a touch of warmth but not to the point of a bronzer. Unlike some of the grey/taupe contour shades on the market this is totally appropriate for everyday life, not just for photo and video.
The highlighting shade in this palette is stunning – a golden pearly finish that is so beautifully milled and doesn't emphasize pores, fine lines or baby hairs on the skin. This is really what I would refer to as a sophisticated way to bring light to the face for those of us that doesn't want our glow seen from space, and yet is buildable for a gorgeous evening appropriate candle lit illumination.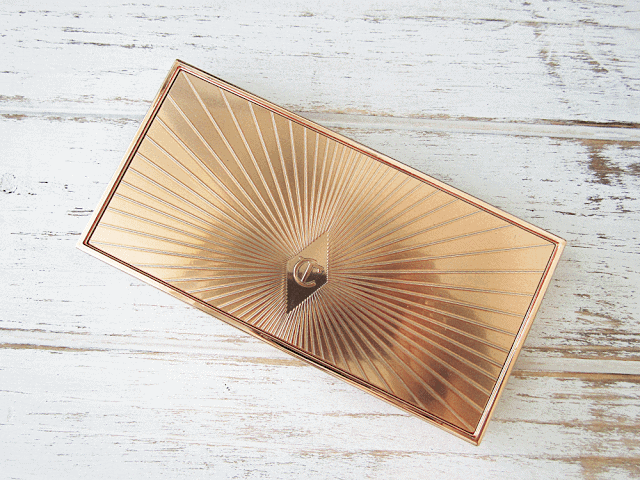 Wearing Filmstar Bronze and Glow for a daytime sculpted cheekbone.
If you ever watch Charlotte apply the
Filmstar Bronze and Glow
to her model, you note she always uses her
Powder and Sculpt Brush
After about 3 days of having this palette I knew I needed this brush in my life to go with it – the shape really helps you 'follow the hollow' as Charlotte says, and allows you to build up product rather than over apply. The tapered bristles fit right into the natural contours of the face, make it great not only for sculpting but for highlighting, and setting powder under the eyes and around the nose. The
Powder and Sculpt Brush
is beautifully made with hand pulled bristles in the signature rose gold and oxblood colour. It's also beautifully thought out with faceted handle so it doesn't roll off your vanity, and an ergonomical shape.
So rather than over complicating things with palettes filled with 6 different types of contour and highlight shades, Charlotte Tilbury no surprise makes a stunning product that simplifies the concept for women (or men!) everywhere. it even now comes in a different set for deeper skin tones to give shape and glow in the perfect shade suitable.
Personally, i'm just thrilled that two products that were on my wishlist for so long are total hits, don't you know it when that happens?
Follow
*Contains some PR samples