Givenchy Disturbia Mascara and Liner | 24 Hour Wear
DOES ANYONE REALLY NEED AN EYELINER AND MASCARA TO LAST 24 HOURS?
Surely, the answer has to be 'no' right? Yet more and more we're seeing brands stamp jaw-dropping wear claims on their cosmetic products. If 2015 was the year of contour, 2016 was the year of liquid lips, and 2017 the year of highlighter, surely 2018-19 will be known as the era of infinite makeup.
I will say I am intrigued by the claims though, purely on the basis of hoping that a promise like 24-hour wear means that the product should be resistant to smudging and flaking. The most recent addition to outlandishly claimed products if Givenchy Disturbia Liner and Mascara. I recently put both to the test and have to say that I was surprised by the results.
The latest offerings from Givenchy by way of the Disturbia Liner and Volume Disturbia Mascara both come in gorgeous candy apple red packaging. Both claim 24-hour wear, which seems to be a ridiculous trend that so many brands are using to promote products lately. The thing is, when you put such a lofty claim on a product, you immediately set yourself up for a higher level of criticism.
In testing both of these, they lasted through the day, but the mascara slightly wilted in the summer heat, and the liner lost its density by dinner time. Normally, I would expect that from any regular, non-waterproof formula. When it supposedly lasts 24 hours however, that becomes a box that can't be ticked.
GIVENCHY VOLUME DISTURBIA MASCARA
---
Available at Sephora | Escentual
WHAT GIVENCHY CLAIMS: "The smooth-gliding texture creates visible volume that lasts up to 24-Hours. The buildable, clump-free formula with intense-black pigments allows you to create looks from natural to dramatic. The Givenchy micro-bristle silicone brush separates and lifts lashes."
WORTH NOTING: For some reason, this mascara is priced about $10 less than Givenchy's other mascaras. At $33 CND, it's on par with pricing from Marc Jacobs, Benefit, Too Faced and Lancome.
Also important to note, it does have that signature floral Givenchy scent that is very strong and definitely lingers. Throughout the day I get whiffs of it when I bat my lashes, and while it smells expensive and designer, those with sensitive eyes should use with caution.
WHAT I THOUGHT: I was genuinely shocked by how much I immediately didn't hate this mascara. It has the recipe for everything I normally wouldn't like: rubber brush, strong fragrance, wetter formula. Having said all that, the brush did a good job of coating my lashes without smothering them. If you build it up a little at a time, it actually held most of the curl I put into my lashes. The formula is really rich in black pigment, and covered a pale lash primer with no problem!
It isn't the most volumizing mascara I've used, but it does coat lashes well and gives good length. I'm actually quite impressed by the volume it does give, given it's a rubber brush. I've really liked wearing this mascara and if it gave just a bit more lift and volume it would be a strong contender for regular repurchasing.
WEAR AND REMOVAL: It's important to touch on the outlandish 24-hour claim. This wore like any normal mascara for me, and definitely had wilted the curl and lost some of its voluminous look by the end of the day. I wasn't about to test it for 24 hours in the name of blogging, but I have no doubt it would NOT wear for that time. I didn't have any flaking or smudging, even during a sweaty heatwave, but the mascara just lost its mojo by the end of the day.
It breaks down well with cleansing oil or balm. I wouldn't expect micellar water, wipes, or a foaming wash to do the job.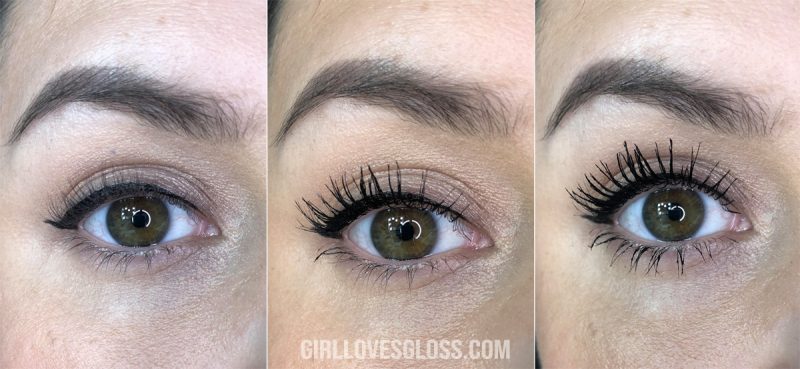 GIVENCHY LINER DISTURBIA
---
Available at Sephora | Escentual
WHAT GIVENCHY CLAIMS: "This intensely-pigmented eyeliner provides bold results in just one stroke. The smudge-resistant texture dries down quickly for easy application and ultimate control. The innovative formula allows Liner Disturbia to be applied on top of any eyeshadow without sacrificing bold color and precision."
WORTH NOTING: Unlike the mascara, the liner does not have a detectable fragrance. It is a felt tip that is relatively short in length, and very flexible at the tip.
WHAT I THOUGHT: My first impression of this was a swatch on my hand, which actually made it through multiple hand washings and a shower! It most certainly stands up to a waterproof claim and lasted well without flaking or smudging on me.
I do have to disagree with the claim of being intensely pigmented, however. I was really hoping this would be a deep, saturated inky black matte liner. What it actually is, is a sheeny charcoal black.
The tip is super soft and flexible, which always concerns me because I find they tend to go limp with use (talking to you, Stila!). They also tend to dry out faster than a brush tip, which is my prefered applicator.
WEAR AND REMOVAL: After about 12 hours of wear, it definitely lost some opacity, but not to the point of looking horribly faded. It came off with waterproof makeup remover, cleansing oil and balm, but didn't wash away with regular hand soap (on my hand of course!), milk cleanser or micellar water.
How long do you expect your makeup to last?