Winter is Coming | The Urban Decay Game of Thrones Collection + Giveaway
WHAT DO DRAGONS EAT? WHATEVER THEY WANT.
Turns out, the Urban Decay Game of Thrones Collection is everything I never knew I needed. If you've loved GoT and have been anxiously awaiting Season 8 like the rest of us, it might just be for you too. It's an extensive collection, complete with palettes for eyes and face, 4 lipsticks, 4 liners, 2 brushes and a cheek and lip tint. I've taken the last couple weeks to really test it out, so that I could give you all a comprehensive review before the collection went live. There's some misses, there are some hits, and there's loads of fan girl, fun packaging. Oh, and because I love you all so much, make sure you read the entire post so you don't miss the giveaway!
Urban Decay Game of Thrones Collection
---
Available for a limited time at Sephora | Ulta
The Game of Thrones Collection by Urban Decay is 13 pieces of limited edition goodness. If you're a fan of the show, you may find yourself wanting to splash out on the UD x Got Collection vault. Otherwise, there are a few passes in this collection for me.
Urban Decay Game of Thrones Mother of Dragons Palette and Dragons Blood Lip & Cheek Stain
---
The Dragons Blood Lip and Cheek Stain is very sheer. Barely detectable on my skin, it's definitely not for someone who likes a touch for colour to their cheeks. It does have a slower dry down that many stains I've tried, so it is beginner friendly. Personally, I'm not a fan of stains since I wear foundation most days and find they really don't sit well on top; This is no exception.
I also am not blown away by the Mother of Dragons Highlighter Palette. The cardboard packaging feels flimsy and the price tag of $45 for 3.97 grams of product is spendy, considering. The formula is lovely; Each shade is pigmented, smooth and free of chunky glitter. However, the shade selection is a bit boring to me, with the pink being almost bubble gum in tone. The golden tone of Viserion and bronze of Rhaegal will look gorgeous on tan and deep skin tones, but I would have loved something a bit more unique.
Urban Decay Game Of Thrones Eyeshadow Palette
---
Now the Game of Thrones Eyeshadow Palette is the star of the show if you ask me. Fashioned to look like a book, it pops open to show a mirror and a pop-up iron throne. This is a packaging style Urban Decay has done in the past, but it's been a few years since the Alice in Wonderland collection. It's fun and gives it collectors feel, which I have no doubt will be a key reason for owning for many. The shadow palette itself slides out completely, making it feel a bit like holding a painters palette.
Now, originally I was turned off by the turquoise and green tones, thinking I wouldn't play with them. Turns out, I was wrong and they are so gorgeously pigmented and richly emollient in texture. I really like the way Urban Decay has broken down the palette into quints and everything is named appropriately to Game of Thrones. It's worth mentioning that there are only 3 mattes in this palette, and I feel that is the one thing I'm really missing, is to have one or two more. I would love creamy ivory and blackened brown matte to really bring life to all the colour.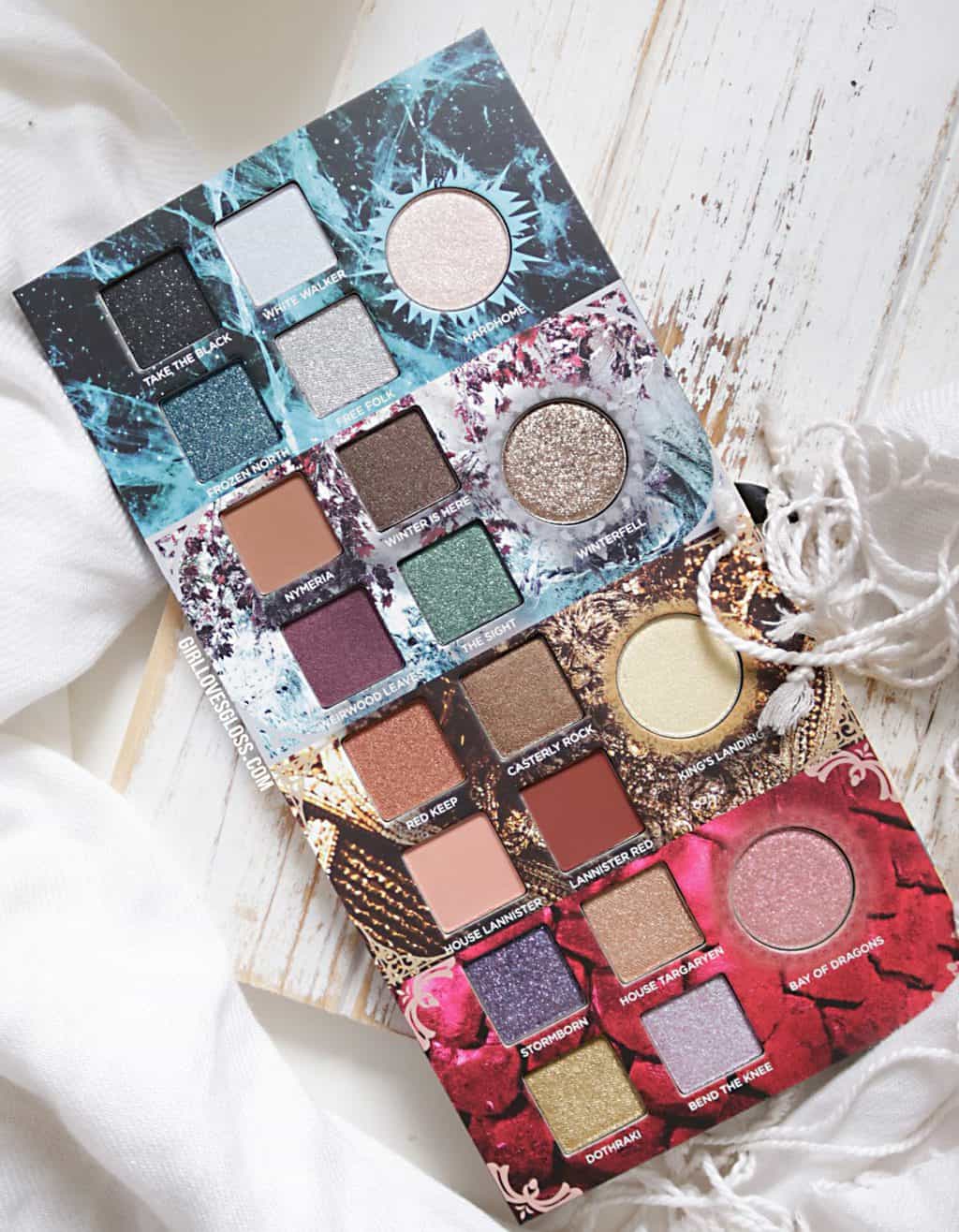 Having said this, the rest of the palette has a varying dimension with bold metallics, satiny shimmers and even textured metallics. One of my favourite shades in the entire palette is Winterfell, which is a stunning pewter bronze that is almost creamy in texture. The deeply pigmented Frozen North is any teal or turquoise lover's dream. King's Landing is a gorgeous pale yellow that brightens up any look.
After testing out every shadow in this palette, I can say that longevity is what I expect from Urban Decay. There are two shadows that I feel fade considerably through the day. Unsurprisingly, but commonly, they are both the purple shades, Stormborn and Bend the Knee. With a primer, they hold up, but without they are both creasing and void of pigment by the end of the day. Purple is a bit notorious for that across the brand board, but all the other shadows hang on well past normal wearing hours.
Urban Decay Game of Thrones 24/7 Glide On Eye Pencils
I've been a fan of Urban Decays 24/7 Pencils for over a decade now. The formula is generally super creamy and smooth, pigmented and long lasting. This collection has 4 limited edition shades, and they pair with the palette well. The icy white blue duochrome of Winterfell Snow is unique and adds a fun dimension, as does the cool toned gold of Lannister Gold; I don't own anything like it. The Night King is easily the most pigmented and bold shade and a true shimmering teal that looks stunning in the waterline. Finally, the blackened purple shimmer of Dragon Smoke is the only shade that's just a bit 'meh' for me. It's not terribly unique or deep in tone, and I'm wishing it was a matte black with red sparkle.
Now lastly, but certainly not least, we have the four lipsticks in the collection. There are no swatches of these here (plenty online) because I will actually be giving them away to one lucky reader! Be sure to follow the instructions at the bottom of this post, and check Instagram later in the day to find out how you can earn loads of extra entries! The shades are as follows:
Sansa Stark (creamy sheer peachy nude)

Daenerys Targaryen (metallic red)

Cersei Lannister (warm metallic bronze)

White Walker (creamy deep berry)
Urban Decay Game of Thrones Collection Giveaway – Win all 4 Lipsticks!
---
The rules:
Giveaway live from now until 11:59pm Sunday May 12th 2019
You must be 18+ years of age
Winner has 24 hours to claim prize once being notified before a redraw
Winner will be notified via the method of entry they won with
All entries will be checked for verification. Following and unfollowing, Dm'ing asking to win, or falsifying entries will have you banned in the future (sorry, be cool and I'll be cool!)
**Don't forget to head over to Instagram for loads of bonus entries! Good luck!**
Have you fallen in deep with Game of Thrones? Who's your favourite character and what have you favourite plot twists been? Does this collection speak to you? Let's get the conversation going in the comments below!
---
Wanna help a girl out and spread the love? Pin the image below!