I Tried 3 of the Latest Foundation Launches… With 3 Very Different Results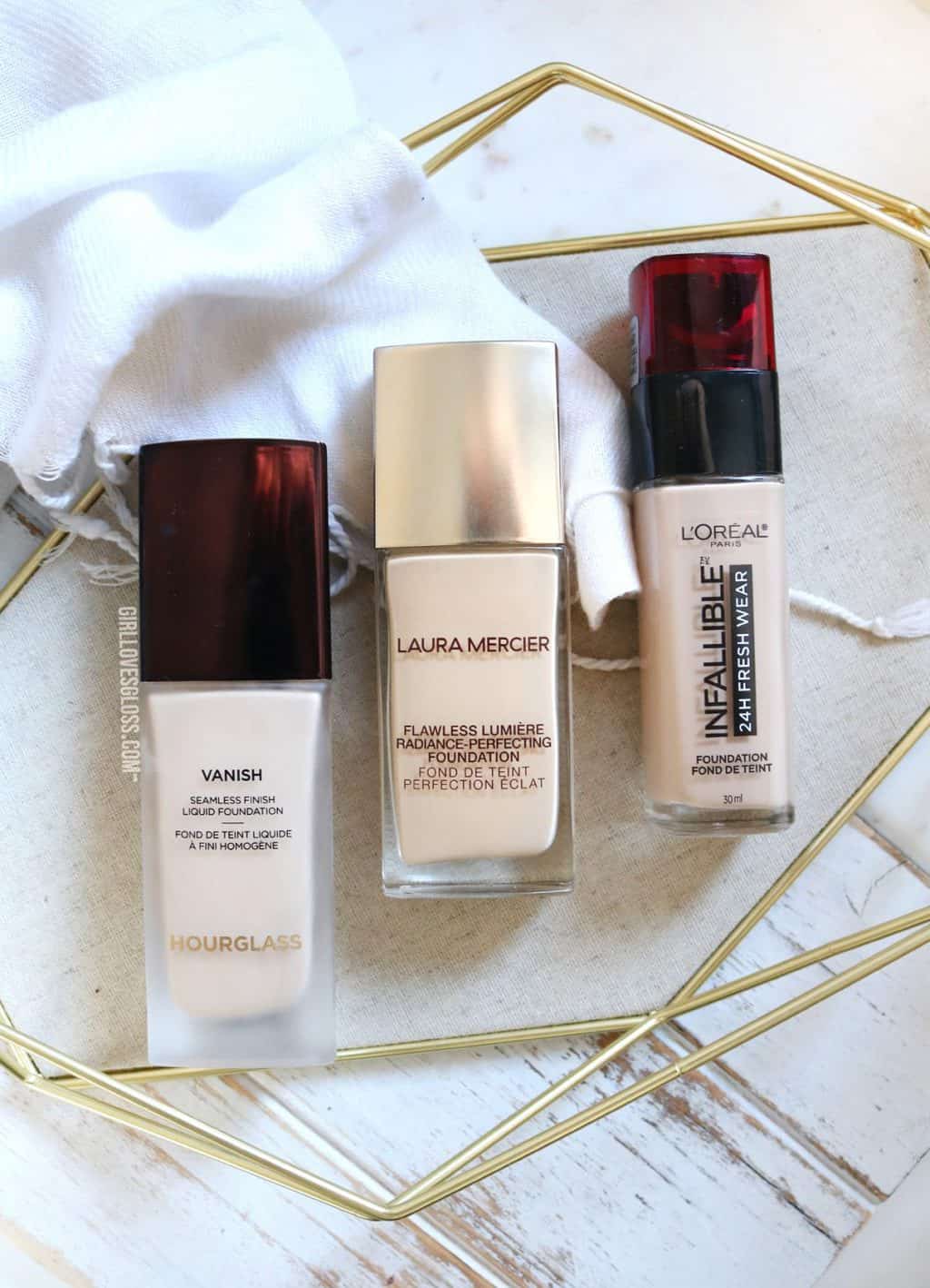 I once was that girl who loathed wearing foundation.
You know, back in the day when they were just awful? It's true, brands haven't always made the amazing formulas they do now! Now we get bases that claim 24 hour wear, breathability, dewy and matte finishes. There's almost… dare I say… too many options. So I tested out three new foundations that have been getting plenty of traction, with three very different results.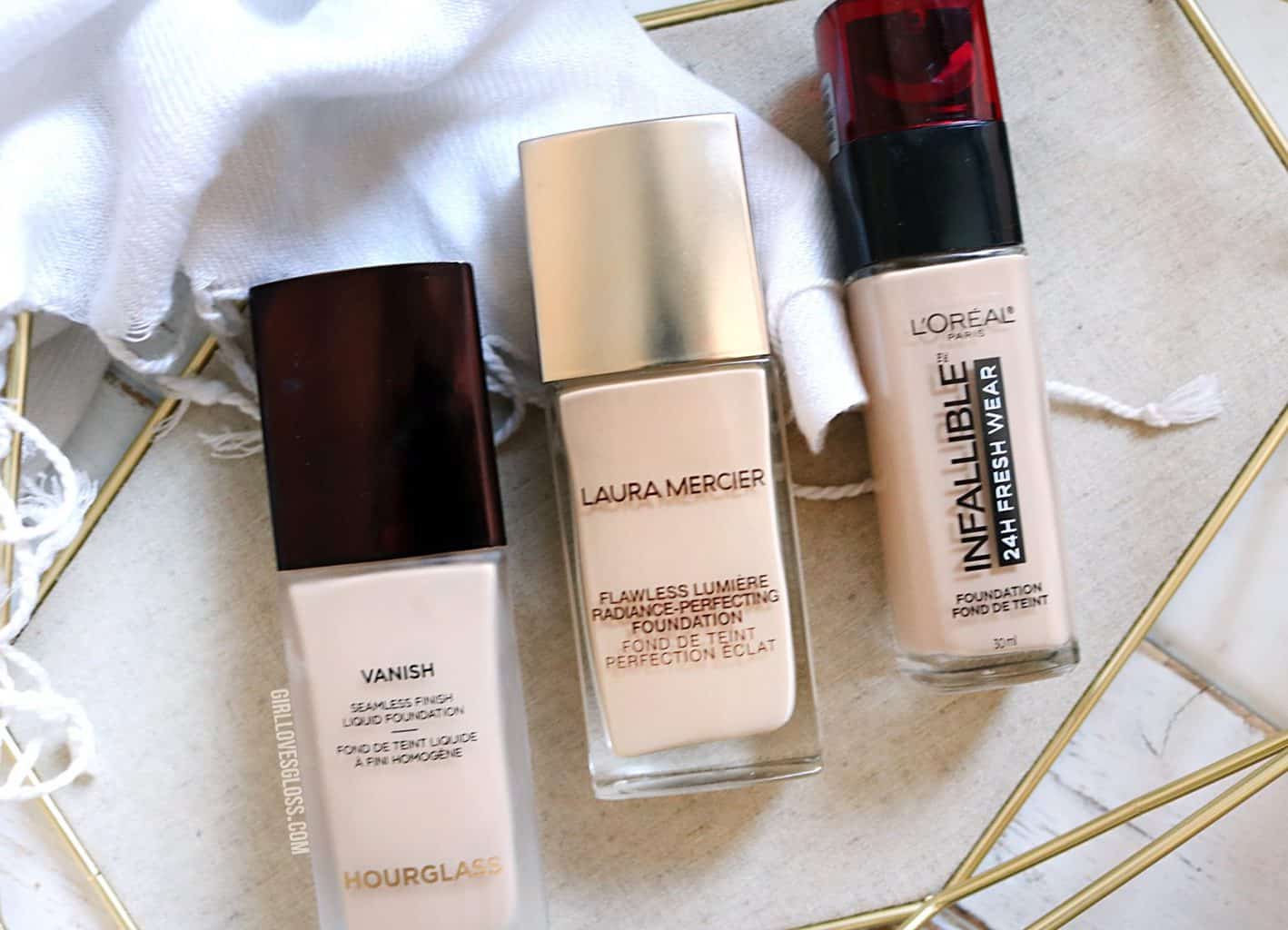 If you've been looking for a new foundation, or are just a hoarder collector like me, there have been three foundations I've seen get plenty of attention lately. The Hourglass Vanish Seamless Finish Liquid Foundation boasts full coverage with half a pump. L'Oreal's Infallible 24H Fresh Wear Foundation claims to be breathable with an epic wear time. The Laura Mercier Flawless Lumiere Radiance-Perfecting Foundation promises 15 hour hydration with a luminous finish that looks amazing in any light.
I tested all three of these foundations (and a bonus concealer!) in multiple wears, with and without primers and powders and under varying circumstances. I have normal to dry skin, that has some texture and fine lines.
L'Oreal Infallible 24h Fresh Wear Foundation*
---
Available at Ulta | Amazon CA | Look Fantastic
FORMULA: Liquid
FINISH: Natural
COVERAGE: Medium to full
COST: 30ml/$17 CDN
PACKAGING: Glass bottle with pump
SPF: 25 (claimed in the US only)
SHADE RANGE/INCLUSIVITY: 30 shades with great range shades, with some discrepancy in undertones.
BRAND CLAIMS: "Our most breathable, lightweight formula for a medium-buildable coverage. Waterproof, sweat-proof, transfer-proof."
MY THOUGHTS: I really wanted this foundation to work for me. I've previously loved the L'Oreal Pro Glow Foundation but wanted more coverage. Sadly, I struggled with the formula of this; It looked cakey and unforgiving on my dry skin. Having said that, oily, combo and those who aren't worried about fine lines would probably benefit most from this formula.
Personally I feel the best way to wear it, is mixed with a drop of oil or with a really nourishing primer underneath. It's unforgiving of texture, and throughout the day it doesn't seem to adapt at all. I find it helps to be applied with a flat top kabuki style brush to get the smoothest application. I've seen loads of reviews that said it is amazing with a beauty sponge, but I wasn't a fan of the way it felt applied that way.
I also tried the L'Oreal Infallible Full Wear Concealer* at the same time, and it is full coverage, but didn't get along well with the Fresh Wear Foundation, bunching and caking up. With other foundations, it's more forgiving (strange, I know!), and works really well for concealing on the face and not under the eyes.
Something of note: I find that L'Oreal is a bit notorious for making some of their 'neutral' lighter shades quite grey in undertone. Shade 420 would be the right shade for me, if it didn't give me such a grey cast, so I mix with 425 to get a bit of warmth.
Laura Mercier Flawless Lumiere Radiance-Perfecting Foundation
---
Available at Sephora | Nordstrom | Cult Beauty
FORMULA: Liquid
FINISH: Radiant
COVERAGE: Medium to full
COST: 30ml/$60 CDN
PACKAGING: Glass bottle with pump
SPF: None.
SHADE RANGE/INCLUSIVITY: 30 shades that could use more deep options.
BRAND CLAIMS: "A luminous liquid foundation with up to 15 hours of hydration and weightless, medium-to-full coverage, for a perfectly-glowing finish in any light."
MY THOUGHTS: I really liked this foundation right from first wear! It's one of those formulas that seems to get better throughout the day and is incredibly forgiving of dryness, lines or texture. The longevity is great, getting me through a whole day, with maybe a touch of powder between the brows. It is a radiant finish, but without being pearly or dewy feeling, which I appreciate.
This is the only formula out of the three I tried, that I've continued to wear and really love. I feel like it's always a good makeup day when I wear it, and it wears well with or with primer!
I would say the coverage is more on the medium side, but it can be built up. The brand recommends the Flawless Finish Makeup Sponge*, but I honestly found it awkward to use and prefer a buffing brush. It might seem like you're using a lot (it takes about 4 pumps for me to do my full face with medium-full coverage), but the pump dispenses very little amount.
hourglass vanish seamless liquid foundation*
---
Available at Sephora | Hourglass Cosmetics | Cult Beauty
FORMULA: Liquid
FINISH: Natural
COVERAGE: Full
COST: 25ml/$68 CDN
PACKAGING: Glass bottle with pump
SPF: None
SHADE RANGE/INCLUSIVITY: 32 shades with a great range of undertones. Very fair complexions might struggle.
BRAND CLAIMS: "A highly-concentrated liquid foundation designed to deliver instant full coverage with just half a pump—no primer needed."
WORTH NOTING: Hourglass is Vegan and cruelty-free, as well as free of parabens.
MY THOUGHTS: This foundation drew very polarizing opinions in the beauty world; It's real love or hate apparently! Hourglass has claimed full coverage with half a pump and no primer needed, and I'm 1/2 on these claims. The coverage most definitely is very full, but I feel this foundation benefits from a primer. My skin looks airbrushed and flawless wearing Vanish…until it doesn't. I just don't get a full day's wear out of this formula. It also wears off incredibly poorly on my dry skin, sinking into lines I didn't know I had and pores that previously weren't visible. A primer most definitely helps, but this is a foundation I would save for occasions where I want the full coverage look, but only for 6 hours or less.
Something strange I've also noticed was that the formula drastically changes the formula if you try and mix oil, luminizer etc with it. I always test foundations with a drop of oil as one of the ones I like to wear. Vanish didn't just oxidize – it went 3-4 shades darker – so much so it was completely unwearable.
I've been a fan of the Vanish Stick Foundation, but If you're expecting this to be a liquid version of that, this isn't it. Like the stick version though, I do feel this applies best with the Vanish Brush*, which spreads the formula and blends it out beautifully. I'm a big fan of this brush for applying undereye concealer as well.
---
So there was a clear winner in these three options with the Laura Mercier Flawless Lumiere Radiance-Perfecting Foundation! I really enjoy wearing it, and while the other two have been tucked away, Laura Mercier has been kept out in my 'favourites' drawer.
If you found this post helpful, please pin the image below and spread the word!