IT Cosmetics Skincare | Which Moisturizer is Best For You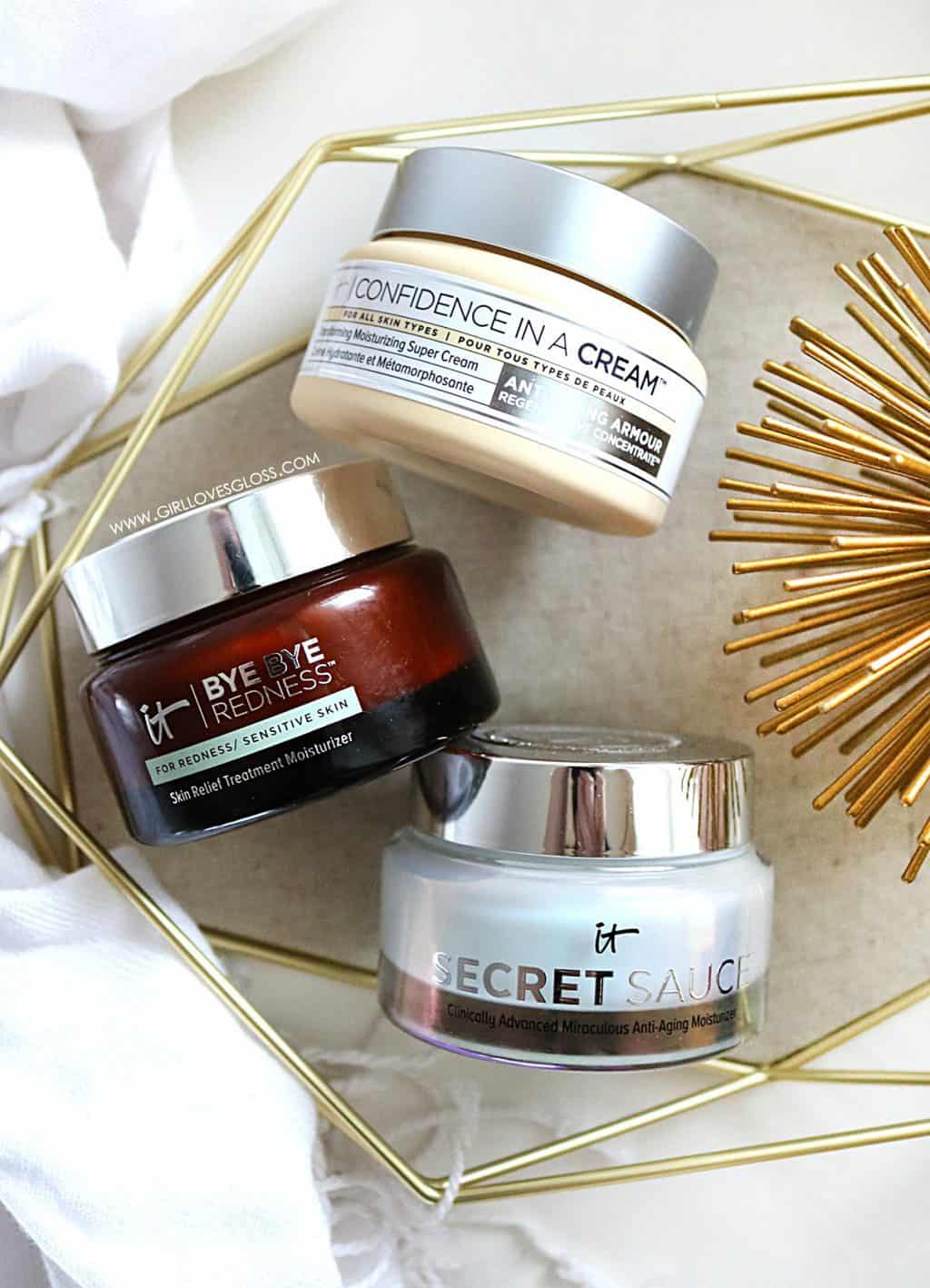 It Cosmetics has become a power player in the beauty world for their skincare infused CC+ cream, but how does it's skincare hold up to a skincare lover?
I've taken the time to test out all three facial moisturizers from It Cosmetics and most definitely has some opinions for you all. Out of them, there is a clear winner, a close runner-up and then a fail, in my mind. Keep reading to see which one would be best for you and let me know in the comments below if you've tried It Cosmetics skincare!
Confidence in a Cream*
---
Available at Sephora | Ulta | It Cosmetics
Geared towards: Fine lines, wrinkles, loss of elasticity, dryness and loss of firmness.
Key Ingredients: Collagen, hyaluronic acid, niacin, peptides and a super ceramide complex
My Thoughts: A great everyday moisturizer that leaves my skin feeling plumped, hydrated and smooth. It sits under makeup well and I've had no issues with it not making friends with any of my other skincare I've tried. For my normal-dry, dehydrated skin it keeps my moisture level well balanced but I didn't notice a massive difference to pore size or fine lines (as the product claims to help with).
Would I Use Again: Yes, I've gone through 2 jars and its a fab basic moisturizer to keep in your skincare arsenal. If you love to try new serums, oils, actives etc, this is a great choice to use in conjunction with since it seems to work with everything!
Secret Sauce*
---
Available at Sephora | It Cosmetics
Geared Towards: Dryness, dullness, fine lines and wrinkles
Key Ingredients: Collagen, peptides, hyaluronic acid, vitamin c and licorice root. It also has their proprietary Drops of Light Technology™ concentrate and diamond powder.
My Thoughts: I just didn't find this hydrating enough for my dry, dehydrated skin. It does give some luminosity, but not enough that feel the effects make a difference (for example, MAC Strobe Cream has a noticeable pearl finish to it which lasts). I felt like this didn't truly absorb into the skin, feeling a bit mask-like, but not in a hydrating way. Also, I fear this was the cause of particularly bad breakouts that consisted for the entire month I tested it. When I stopped, so did the breakouts.
Would I Use Again: No for the reasons stated above.
Bye Bye Redness Skin Relief
---
Available at Sephora | Ulta | It Cosmetics
Geared Towards: Redness, dryness, fine lines and wrinkles
Key Ingredients: Colloidal oatmeal, cucumber, aloe, chamomile, avocado, chrysin, turmeric, collagen and peptides.
My Thoughts: This was INSTANT love for me! I don't have particularly red skin, but it can be a touch reactive. It's everything I want in a face cream: Hydrating, plumping, soothing, and tone evening. It sits beautifully under makeup or with other skincare at night with no pilling or absorption issues. I originally thought it wouldn't be hydrating enough; It looks like a gel cream in the pot, but this is gorgeously rich. If you have oily skin, I would probably avoid or use sparingly.
Would I Use Again: YES!! I am almost done my jar and I most definitely would like to continue using. It is easily my favourite out of the three!
As you can see, there is a clear winner here. It was a surprise hit for me, and I'm kicking myself for not trying it sooner! Overall, I don't think any of these are duds, but Secret Sauce just doesn't do anything special for my skin needs.
Have you tried It Cosmetics skincare?
What is your favourite IT Cosmetics product?