The Only Swing She'd Soothe In | Graco Everyway Soother with Removable Rocker
Before we had Everly, one of the most mentioned products I was told I would need was a baby swing. "They love to sleep in it!" they said. "Baby's find swings so soothing!" they said. So I went out and got myself a fancy top of the line expensive swing that came full of promises and testimonials. Then when Everly showed up, and she suffered so poorly with colic, we were devastated to find out that our swing of promises did nothing to calm our little babe.
So naturally, we sold the swing, cut our losses and tried a more traditional baby swing. Everly hated it, too. As she did the third swing. By this point, I was desperate for anything that would give my arms a rest and baby some peace. Then I got the chance to try the Graco Everyway Soother with Removable Rocker. Going in, I had little hope, so colour me surprised when I plunked her down and she immediately quieted down! So what makes it so different?
Graco Everyway Soother with Removable Rocker Features
---
There are 8 different types of swinging motions and the seat itself can face forward or to the side, creating 16 unique motions.
Multiple speed options for each swinging motion
The seat has multiple incline positions for very young babies vs babies that want to be more upright.
Two different intensities of vibration
The seat can be removed from the swing and used as a vibrating bouncy chair and rocker
What We Loved About the Graco Everyway Soother with Removable Rocker
---
First and foremost, since we are in an apartment, we loved the small footprint of this swing. While it wasn't the smallest that we tried, it did offer the most options for the smallest size. The option to pop the seat off and use as its own rocker/bouncer/vibrating chair makes it an awesome choice for those who live in small spaces. The cover also pulls off easily with snaps making it convenient to wash.
I loved that I could change the incline to be more reclined for those nights when we were trying to sooth Everly to sleep. The seat itself is super soft, plush and cosy, so she snuggled right into it. We didn't get this until baby girl was 3 months old, but I wished we'd had it right from teeny tiny; It would have been great to have for those early naps.
We learned early on that Everly was a fan of vibrating chairs. The two-speed option was great for calming her. We also figured out that the super slow motion swings did nothing for her. Apparently baby girl is a bit of a daredevil like her Mom! Having the multiple speed settings, as well as direction options was a game changer for us in terms of her enjoying swing time.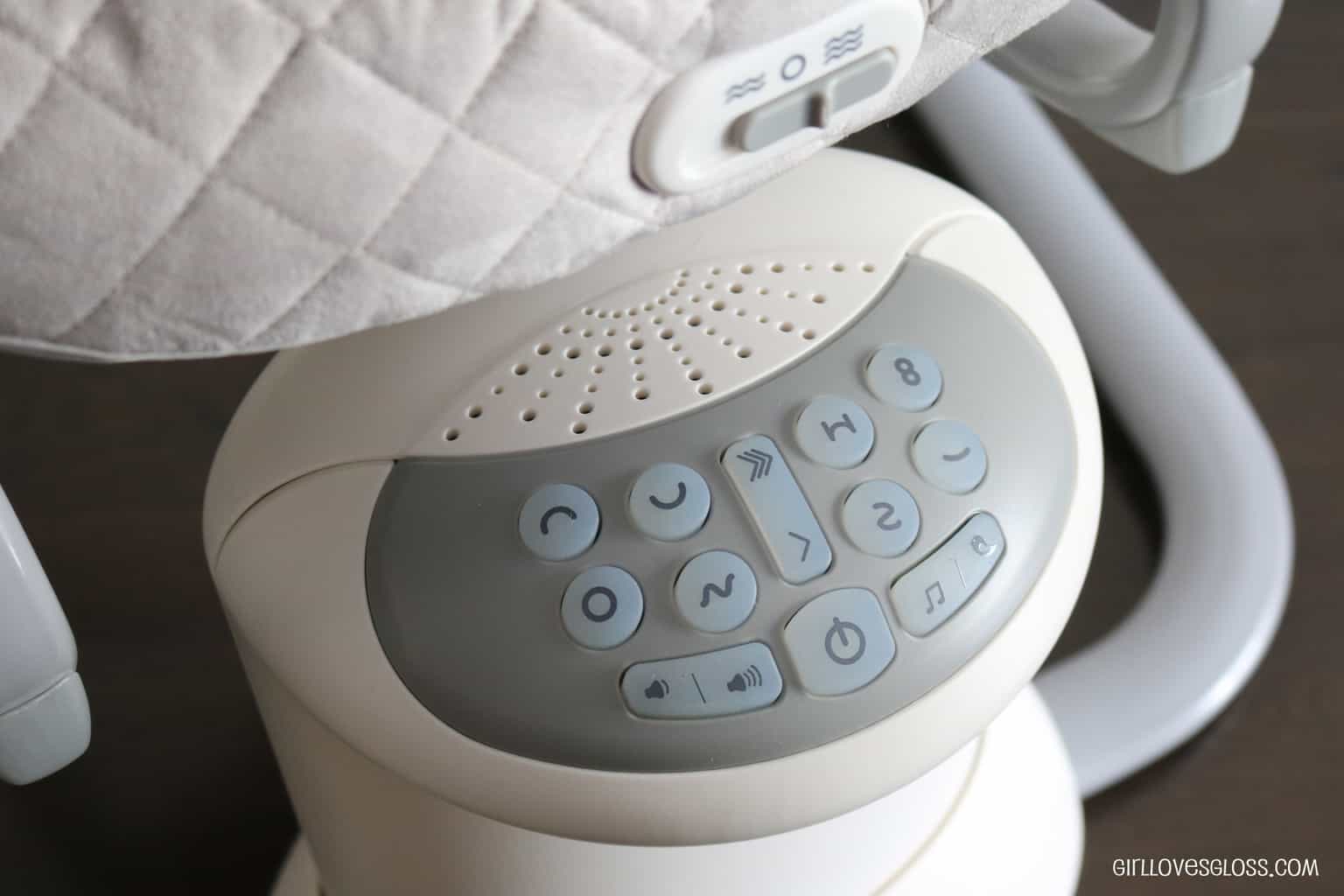 The Everyway Soother also comes with a few options that we didn't find ourselves using. For example, there is the option for music melody or nature sounds, but we preferred to use our regular white noise machine. We also didn't feel like Everly paid much attention to the mobile the swing came with. The mobile can be moved to the side or removed altogether though. Overall, I think all three of us (Everly included!) were very pleasantly surprised by the amount of bang for your buck here. With more options than what's on the market, at a better price point, the Graco Everyway Soother gets a big A+ in our books!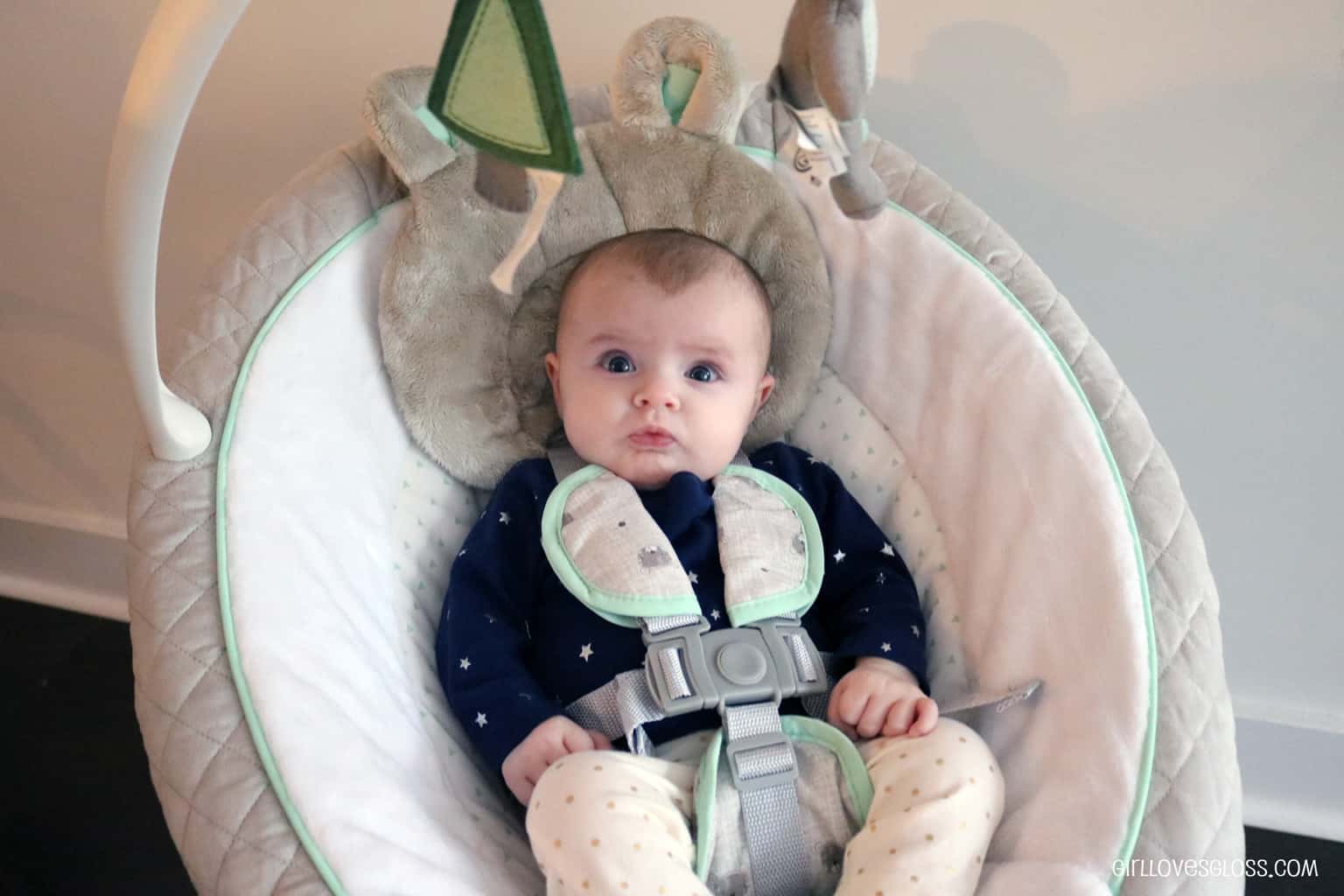 You can find the Graco Everyway Soother with Removable Rocker on Amazon, Walmart and Babies R Us.
Disclosure: I have partnered with YMC and NUK/Graco and have received compensation for this post. All opinions in the post are my own.