NARS Wanted Blush Palettes 1 and 2
[dropcap]N[/dropcap]ars is no stranger to face and blush palettes, and I've been a fan of them in the past. So when I saw there were two new versions, Wanted 1 and Wanted 2, I knew they would need to be added to the collection! I love the pixelated motif on the front and the shade range for both. With a full mirror inside, these are perfect for those who love to travel with options.
*PR Samples, Affiliate Links
NARS Wanted 1 and 2 Cheek Palettes
---
Available at Sephora | Feel Unique | John Lewis | Nordstrom
The NARS Wanted Cheek Palettes are broken up into shades designed to suit light-medium complexions (Wanted 1) and medium-deep complexions (Wanted 2). Of course, there really are no rules in makeup! I do love that the palettes are designed this way, mainly because there is less chance of buying an entire palette and only loving half of it.
Each palette comes with a mix of matte, satin and shimmer finishes, with one of the shades as a highlighter. Within in each palette, there is also a mix of warm, cool and neutral tones, as well as one bright shade in each – total versatility!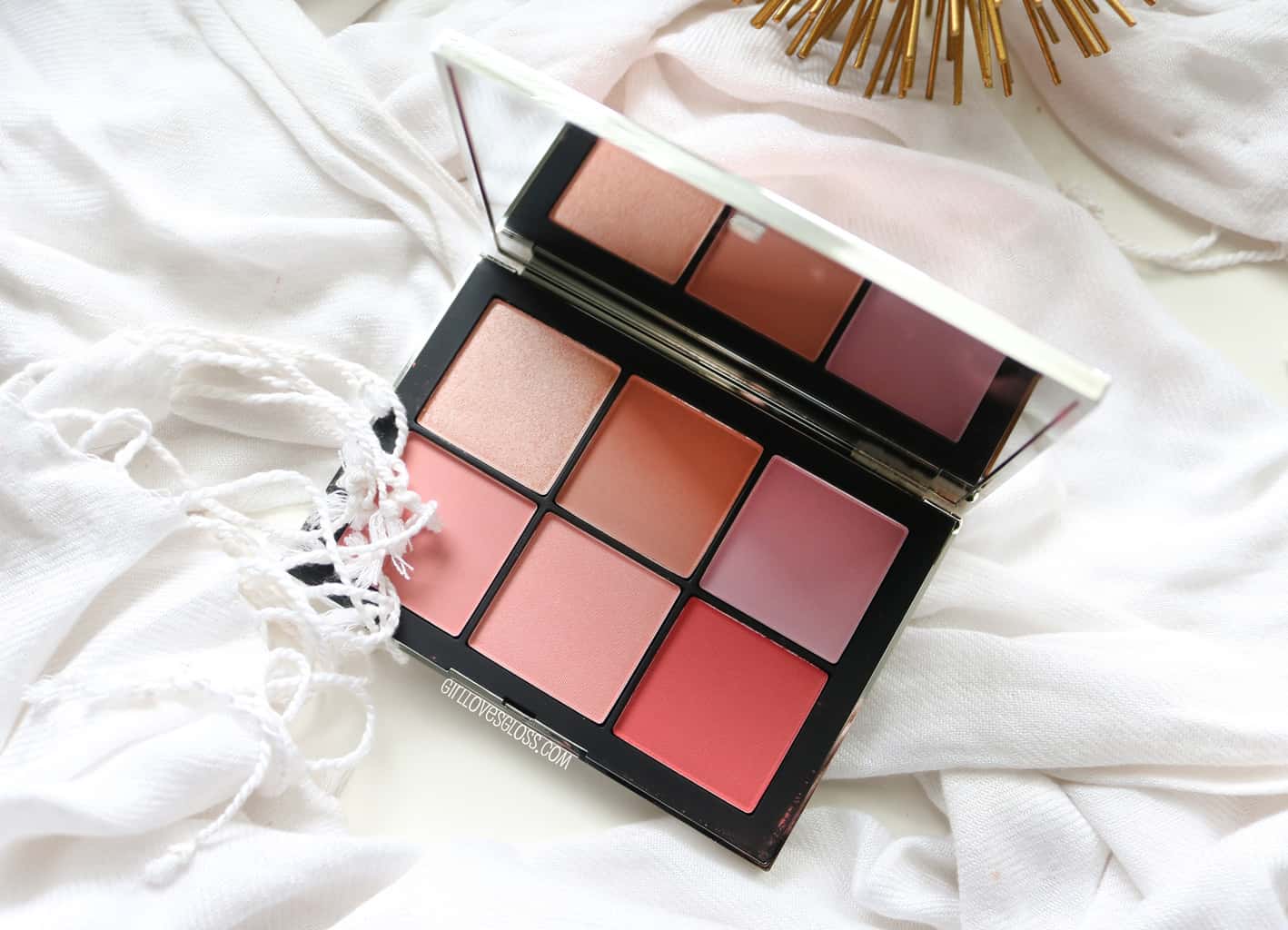 Wanted 1 Palette Shades: 
---
Unlimited – Shimmering pink champagne
Buzzed – Matte neutral rose
Notorious – Matte lavender
Kingpin – Matte warm rose pink
Bumpy Ride – Shimmering warm pink
Crave – Matte watermelon pink
---
This palette is the one I gravitate to the most due to my NC25 skin tone. I find myself getting use out of 5 of the 6 shade with the pale lavender shade, Notorious, being a bit of a wildcard for me. The formula on that shade is a bit chalky, which is pretty normal for purple formulas, but I don't find it suits my yellow undertones much. All 6 shades are beautifully pigmented, albeit powdery so they pick up on the brush very easily.  I don't often find NARS blushes dusty, but this palette seems to be an exception.
They do blend out nicely on the skin, but as usual for me and NARS blushes, longevity is a bit of an issue. I find I only get about half a day out of the NARS blush formula before it disappears on my dry skin. If you don't have the problem with the brand's formula, I suspect this palette will live up to your expectations just fine.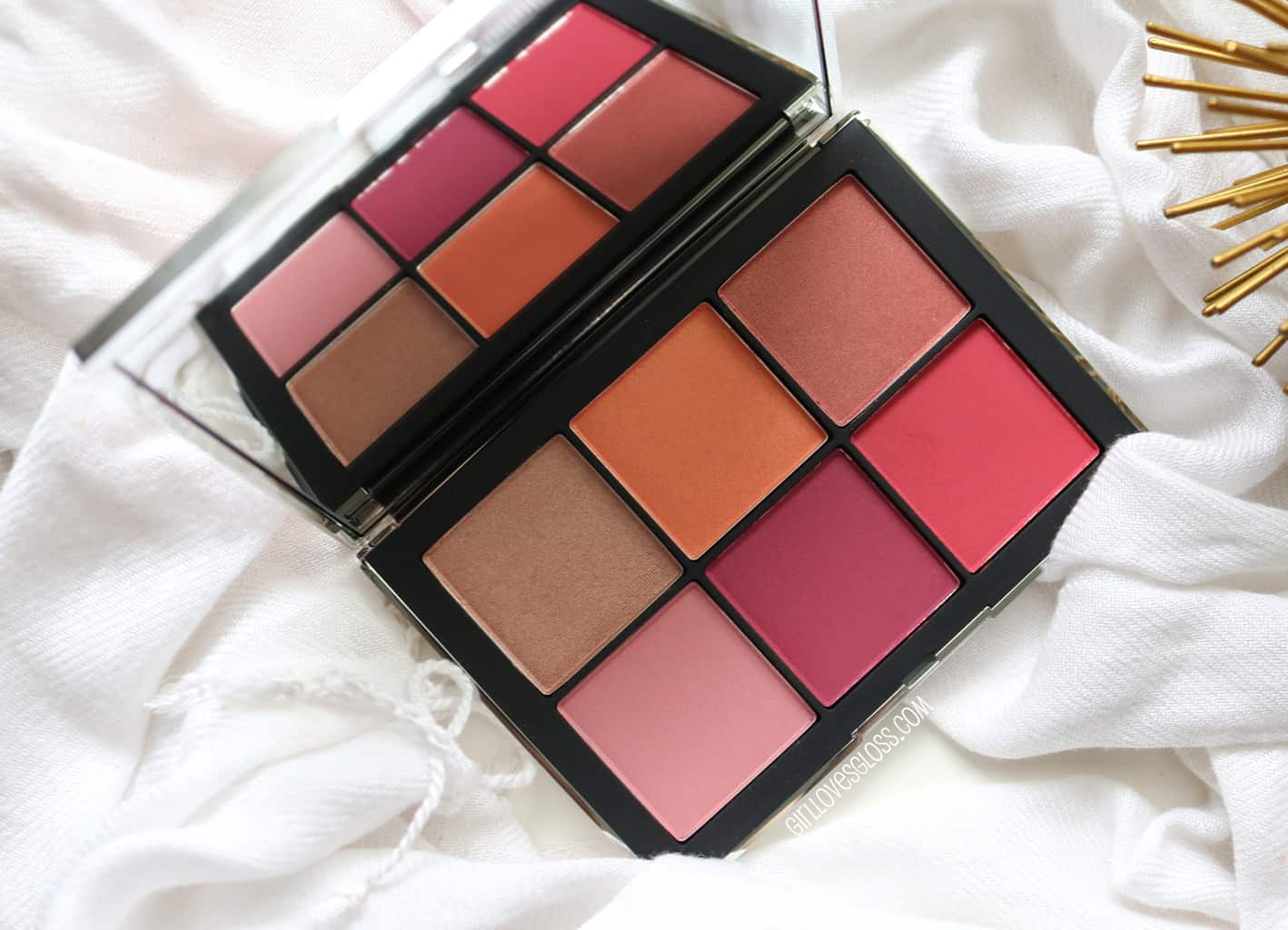 Wanted Palette 2 Shades:
---
PYT – Shimmery pale rose gold
Ambition – Matte tangerine
Taos – Rose red with golden shimmer
Exposed – Matte dusty rose
Penthouse – Matte raspberry
Queen – Matte ruby
---
Wanted 2 is much bolder and saturated in colour, which makes it a great choice for deeper complexions. Unlike the paler tones of Wanted 1, Wanted 2 won't apply ashy or chalky to tan and dark skin. While this palette might look intense at first glance, it applies beautifully and sheers out so nicely on the skin. The formula is obviously very pigmented but can kick up powder like the Wanted 1 Palette, so be mindful of that. Having said that, due to the slight stain it leaves on my skin, I find it lasts a bit better on my complexion, personally.
So longevity aside as I feel that's an issue I personally have with NARS blushes, given their cult following, I really love both of these palettes. I'm not saying you need them both, but I do find myself using both. They are limited edition, so if they tickle your fancy, grab them asap – many retailers are sold out of one or both already!
Shop the NARS Wanted 1 and 2 Cheek Palettes
---


Some of the products mentioned in this post may have been provided for consideration. These products may be linked using an affiliate link, which provides me with a small commission in return for providing readers with honest and authentic reviews. The earnings from affiliate links are what keep GirlLovesGloss.com running! You can read my full disclaimer here.