Too Faced Sweet Peach Palette & Peach Lip Glosses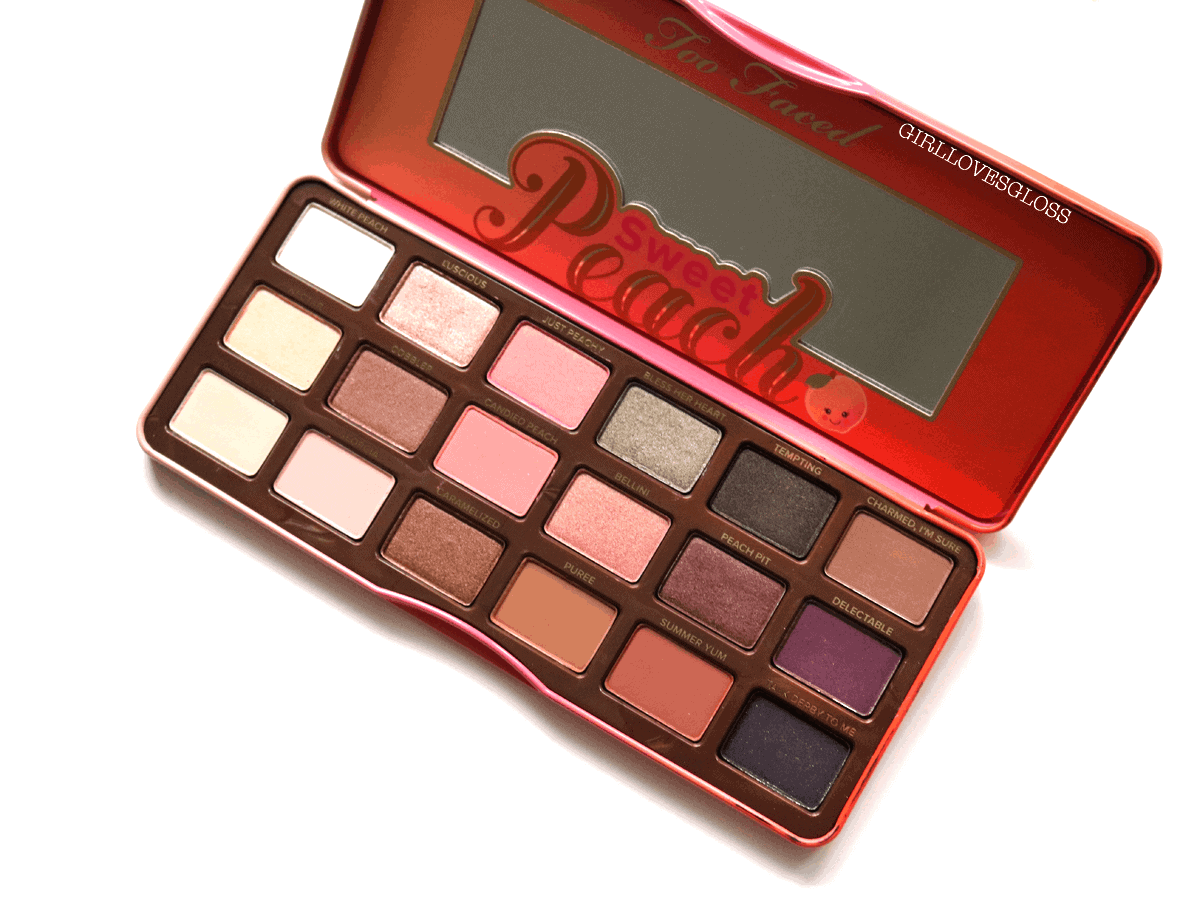 The Too Faced Sweet Peach Collection might be one of the most anticipated launches of 2016. It started with the Sweet Peach Palette that launched early on in 2016 as limited edition status and rapidly sold out in a blink of an eye. Couple that with the brand's teasings of a 'palette revival' of sorts for over 6 months and finally we have not only the relaunch of the palette but an entire collection! Today I've got my review of the eyeshadow palette, and the Creamy Peach Oil Lip Glosses, and later this week you'll get part two with Papa Don't Peach Blush, and Sweet Peach Glow Palette.
*PR Samples, Affiliate Links
Too Faced Sweet Peach Palette
---
Available at: Sephora TooFaced Ulta Debenhams
Sweet Peach Packaging & Scent
The minute I saw the original launch of the Sweet Peach Palette I knew I had to have it – it's PEACH after all! The packaging is somewhat kitschy-cute with its ombre peach motif and peach embossings. It is metal with a magnetic closure like most Too Faced palettes these days, which feels significant and stable. The inside boasts 18 shadows and a mirror, though I find it rendered a bit useless due to the giant 'peach' branding that cuts the bottom of it off (as if we didn't know at this point that the focus of this palette is peach…). Of course, there's Too Faced's classic calling card of scented powders – this one smells of candy peaches, and while I thought I would love that, I find it a tad sickly. Thankfully the scent doesn't linger after application, but it is hard to miss upon opening the palette.
Sweet Peach Shade Selection and Performance.
With 18 shadows to choose from in this palette, I am actually a little surprised there are more peach shades; It is the namesake of the palette after all! What you do get is plenty of warm neutrals, buttery creams, a handful of plums and a token mossy green. I do like the combination of shades offered in this, and I think they work really well together with an even distribution of matte and shimmer textures.
Most of the shadows have really good pigmentation, with a token of slight under performers (not surprisingly the purple/plum shadows need a decent base to build up pigmentation which is common for Too Faced). I was really pleasantly surprised at how pigmented the paler shades were, feeling smoother in texture than I am used to with the brand. I would say there is only one real true dud in the palette, in the shade of Talk Derby to Me, which in the pan looks like a plum-navy, but on the skin looks  like a muddy black. Shades Puree and Summer Yum are surprisingly similar with barely a tonal difference but Summer Yum is slightly darker. There are some shades that didn't actually swatch well (Georgia, White Peach) that applied much better with a brush, and some shades that perform exceptionally (Caramelized, Peach Pit, Bellini).
Like most Too Faced shadows, I do feel these perform best with a primer/base down first, but I have worn both ways and have good results. A primer definitely enhances the brighter colours, and cuts out any minimal fading. They blend well with each other regardless of primer, with shades Talk Derby to Me and Delectable needing a bit more attention patting on, rather than buffing to build up the density.
Too Faced Creamy Peach Oil Lip Glosses
---
Available at: Sephora, Ulta, Too Faced,
Creamy Peach Oil Packaging and Scent
Just like the shadow palette, the Creamy Peach Oil Glosses have a rather sweet, artificial peach scent to them that I again I find dissipates once applied. They have a sweet taste to them, but nothing that particularly screams 'peach' to me. The tubes are clear, so you can see each shade through the packaging, with a corresponding colour matched cab that dons a puffy peach sticker that looks like it came right out of my sticker book from 1988! With a doe foot applicator, I'm already loving them purely for not having to deal with one of those finicky, flimsy brush style applicators that inevitably gobs on product unevenly.
Creamy Peach Oil Gloss Pigmentation and Wear
I was immediately thrilled with the shade selection Too Faced provided with these eight glosses – they truly do cover an abundance of the peach spectrum! Whilst some of the paler shades don't apply completely opaque on my very pigmented lips, they still apply smoothly, without looking patchy or sinking significantly into the lines or dry spots on my lips, which is a huge plus for me. The other massive plus? These don't feel at all like traditional lip gloss! You really can feel the moisturising 'oil' component here, with these having more of a gel like slip to them, rather than a normal tacky gloss finish! I'm guessing this is due to the formula being rich with peach oil, coconut oil and vitamin e. I feel like the Creamy Peach Oil Glosses are a perfect hybrid of balm and gloss for someone like myself, who doesn't so much care about having 100% colour opacity, but wants something forgiving on the lips that won't bleed, doesn't cling to dry flakes and isn't a magnet for every spec of dust, hair and lint!
Final Thoughts
---
I really like both the Sweet Peach Palette and the Creamy Peach Oil Lip Glosses! I honestly worried that this collection might have been so hyped up that it was inevitably going to fall from grace a bit, but I've been pleasantly surprised. The palette is quintessential 'Jaime', and if you love peachy tones as well as neutrals on your eyes like I do, it's a no-brainer. The glosses were a real surprise hit; While my blog name is, in fact, Girl Loves GLOSS, I don't actually prefer most traditional lip glosses. The Creamy Lip Oils are smooth, hydrating and again come in a plethora of what my friends call 'Jaime colours'!
Stay tuned for later this week when I review the Sweet Peach Glow Palette and Papa Don't Peach Blush to round out the rest of the collection. Let me know in the comments below what you think about this collection, if you've tried it yourself, and if you think it lives up to the hype.
Shop The Post
---

Some of the products mentioned in this post may have been provided for consideration. These products may be linked using an affiliate link, which provides me with a small commission in return for providing readers with honest and authentic reviews. The earnings from affiliate links are what keep GirlLovesGloss.comrunning! You can read my full disclaimer
here
.