New In from Nars: Powerfall and Audacious Additions
Unlike some brands that launch limited edition and seasonal collections at every turn, NARS tends to be a little more curated in terms of new releases. I've got a handful of new additions to the range, including and expansion of the much loved Audacious Lipstick line, as well as some new shades and products that were released in the Powerfall Collection. There are some definite winners and losers here, keep reading to find out what I loved and what I could leave!
Let's start with the Fall 2016 Powerfall Collection – two of the brand's famous
Velvet Matte Lip Pencils
were included in this collection, with the one seen here, Infatuated Red, being limited edition. These pencils have a long history of being incredibly smooth, pigmented matte lip pencils that are effortless to apply and wear.
Infatuated Red
holds up to its reputation on formula, and is an opaque warm red that any red lover would love to have in their collection!
NARS also expanded their
Dual Intensity Eyeshadows
with three new shades, including the one I have called
Rigel
, which is a soft beige pink that brightens the eyes beautifully. I adore theses shadows and find them super versatile to wear (they apply both wet and dry); I often find these work as a one-shadow look as they are so dimensional on the lid. In fact, I love to pair Rigel with the other edition to the Powerfall Collection – the new
Velvet Eyeliner
in
Last Frontier
(a creamy chocolate brown). These pencils are super creamy and smooth, and smudge out so beautifully. I wouldn't wear them in the waterline, but they are surprisingly long wearing on the lid for a pencil that claims no lasting time.
While I love the Velvet Eyeliners, I can't say the same for the
Eyeliner Stylo in Unrestricted Matte
. I adore a good matte eyeliner, but this took way to much work to get full opaqueness. Unlike most liquid liners which usually have some sort of ball bearing that keeps the liquid flowing to the tip, this doesn't seem to have that, and felt dry after one eye!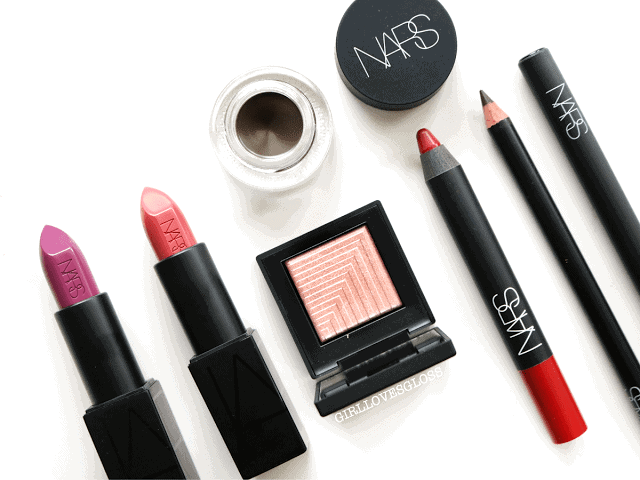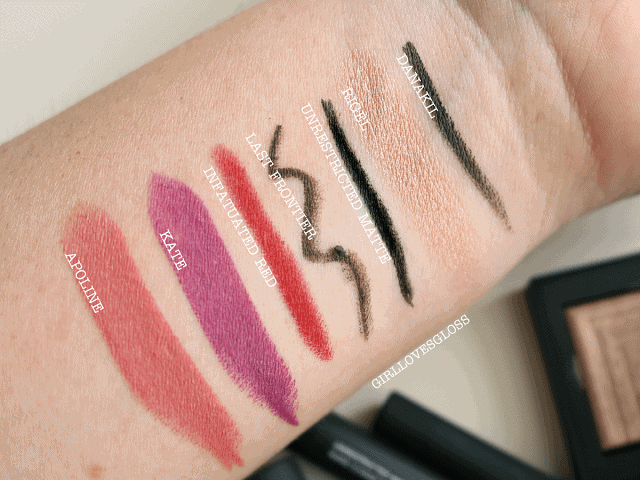 While the liquid liner was a fail for me, everything else in this post is a total win! Especially the additions to the
Audacious Lipstick
range, which has become one of the brands best sellers. There are five new shades, and I have the two that appeal the most to me,
Kate
– a stunning lilac plum, and 
Apoline
 – a warm peach neutral. Both are exceptionally creamy, hug the lips well and leave full coverage on one swipe!
There is also the new
Brow Defining Creams
, which instantly had me intrigued as you all know I live and die for my
Dipbrow Pomade from Anastasia
. Coming in just four shades, I was thrilled to see a dark cool toned brown in the shade
Danakil
; I am always blown away by how many luxury brands don't understand that warm chestnut brown isn't acceptable as the only brunette option when it comes to brows! Danakil is ever so slightly warmer than the Ash Brown shade I wear in Dip Brow, but it a good way, and has a great creamy feel to it when applying. I found it easy to blend out with a spoolie, and it wore all day long without fading, flaking or going patchy. I haven't tested it for waterproof capabilities, but then NARS doesn't make any claims of the sort either 
(it does, however, last through a sweaty 8 hour shift at work with non-existant air conditioning!)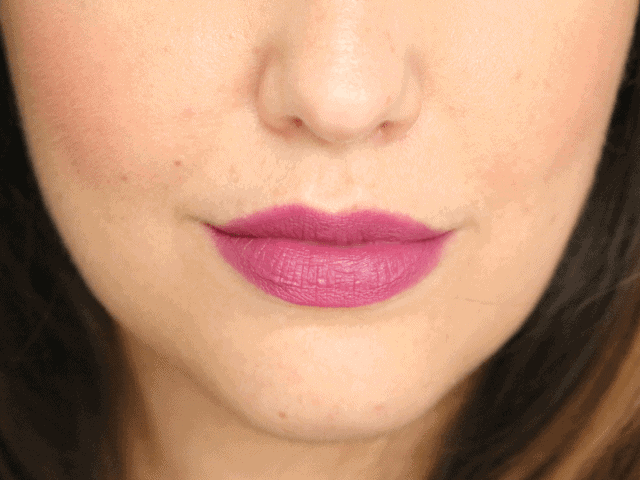 So six out of seven when it comes to hits versus misses is pretty darn great if you ask me! I haven't loved anything from NARS in quite a while, so this was SO refreshing to have so many fabulous new launches to positively review. I know you're all wondering about the latest launch of the Velvet Lip Glide's as well, and if you follow me on Instagram you will know that they are coming to the blog later this week! (here's a hint: they're absolutely ace!)

Let me know which of these new launches you've tried or are interested in trying in the comments below!
Shop the Post
---