Illamasqua Gel Colour in Charm | A Pop of Summer on Cheeks that Lasts All Day
The Summer is in full swing around here, and with record breaking temperatures I've been struggling to find products that don't make me look overly made up, super powdered or partially melted. Seriously, it's makeup melting weather round here folks.
Enter in Illamasqua Gel Colour in Charm*, a scarily neon orange solid gel in the tube turned gorgeous coral peach on the cheeks. It's a game changer, and blew away any preconceived expectations I had…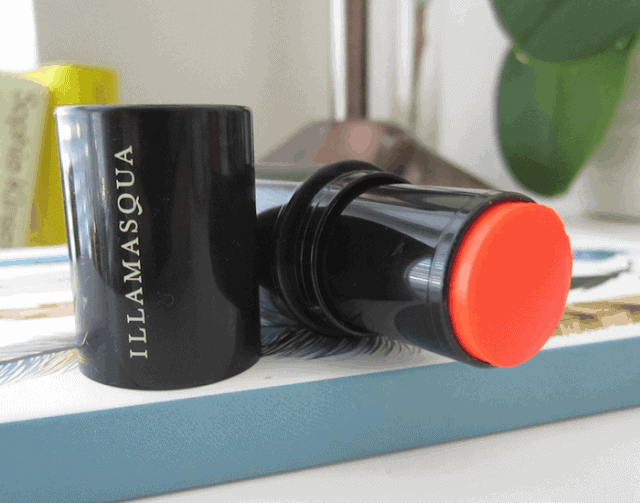 Illamasqua claims that their Gel Colour is a sheer, gel based, cheek tint that blends across cheekbones for an instant flush of colour. When you have cheeks that seem to eat blush by lunch, the idea of 'sheer' doesn't sound appealing, and gel/cream blushes generally don't stick around much on my skin.
So let's just say, I wasn't expecting much, which is why I was so happy when it blew me out of the water! First and foremost, this little bad boy is pigmented… yes it can totally be sheered out, but don't worry about having to apply have the tube to get colour, it builds up quickly! Illamasqua recommends applying to fingertips and then to cheeks, which worked well, but I loved it more when I used my Real Techniques Stippling Brush. Rather than drawing it on the cheeks (you might get staining that way!) I swirled my brush over the product then softly buffed on. You can see in my picture that the colour can get quite intense, if you want it too!
The colour itself seemed downright scary in the tube – a bright neon orange, but on the cheeks it turns into this gorgeous coral peach that is utterly perfect for summer time! Heck, I even caught myself dabbing a touch across my nose to give me that 'I've been in the sun' look. When the mood strikes…
As for formula, it is a true gel base that has a cooling feel to it when you apply, which was pretty nice when I dabbed it on one day while we were in the high 30's (over 100F for my American readers!). I applied it directly on top of foundation, on its own and over powder to try it three ways and it looked great each time. It retains that little bit of a transparent quality to it, which makes this look super naturally for those who don't love blush, or want some freckles to show through, but can be built right up to a strong cheek.
Another note about the formula that's over importance is the sticky-free factor. Unlike many gel or cream blush products this doesn't retain a tacky feeling, not does it dried powdery. It just kind of sets to a skin like finish, regardless of what you put it over or under. Incredible, if you ask me!
Now here's the real kicker: it lasted all darn day long. Unheard of on my skin, and I couldn't be more thrilled about it! I kept checking back on the days I wore it watching for wear: fading, patchiness, sweat erosion (let's be real, it's a silent makeup killer!) and it just looked fresh all day. Unlike a cheek stain that can go uneven or stain past it's welcome, it washed right off at the end of the night. Colour me impressed Illamasqua, you did good!
Currently the line is only 3 shades, Charm (shown), Fluster (a raspberry) and Silhouette (technically referred to as the Gel Sculpt, meant as a contouring product). Given that these can be dabbed on lips too, and make the perfect travel product I'm hoping Illamasqua expands this line to add a couple more shades in the range!
What are your experience with gel/stain blush products? Is this something you would try?
Follow

Illamasqua kindly sent me the item denoted with '*' for my consideration. I was not paid for my opinion, nor this post and the opinion given is genuinely 100% my own!