The Luxe Blush I'm Loving: Tom Ford's Soleil Collection Sheer Cheek Duo in Bicoastal
The
Tom Ford Sheer Cheek Duo in Bicoastal
* falls into that
'almost too pretty to use'
category, what with its white and gold trimmed packaging, and embossed powder texture. When I read the word "sheer" in the title, I immediately assumed this would lack pigment, but I couldn't have been further from the truth! Turned out this is a stunning rose/shell pink blush and highlighter in one that gives the perfect flush to summer tinted skin.
Let's start from the beginning: the packaging. Iconic sleek white with gold trim and the signature Tom Ford clasp makes for something I want to keep out on the dressing table. Given the price, I figure it's only fitting that the product itself has to look as gorgeous in the package as on my cheek, and the cross hatch embossing on the powder looks so pretty yet still understated. Quintessential Tom Ford.
The
Sheer Cheek Duo in Bicoastal
is part of the limited edition Soleil Collection, which is aimed at the inspiration of summer days that blend into one and seem to last forever.
Sounds dreamy doesn't it?
The duo powder compact houses a warm rose blush and shell pink highlighter that can be applied separately or swirled together (I enjoy both ways), and can even be applied wet for more intensity, though it's totally not needed in my opinion! The product itself has a very firm texture that doesn't kick up much powder, but blends onto the skin seamlessly without any sort of dryness or gritty sparkle.
I feel like these shades were chosen to complement sun kissed summer skin, but I think they would apply beautifully to all skin tones. The rosey blush gives such a warmth to the complexion and the highlighter is soft and feminine.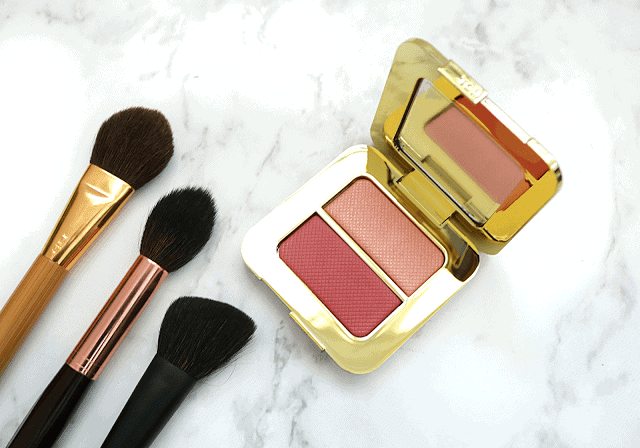 Now I realize this is a luxury product, and you might be cringing at the price a bit, but I'll just point out that there is actually 0.3oz of product in this, versus a product I would consider a similar texture: the
Nars Dual Intensity Blushes
that are only 0.21 oz. So there is more product for your money, you know if you needed help justifying buying this gorgeous limited edition product.
(Gee, twist their rubber arms, Jaime…)
It's also worth noting that I find the longevity of wear wonderful, lasting through an entire 8 hour work day for me, when most blushes make it 5-6 hours at most.
I think by now you can tell that I am really impressed with
Tom Ford's Sheer Cheek Duo in Bicoastal
– it's got my Tom Ford wish list growing, which perhaps isn't great for my wallet, but heck –
all in the name of beauty, right?

Have you tried anything from Tom Ford Beauty? What is your favourite luxury brand?