This Just In | Too Faced Chocolate Bon Bons Palette
There's been no shortage of neutral themed eyeshadow palettes in the last few years, and everytime I think I've seen every take on it a brand comes out with another. So when Too Faced dropped the
Chocolate Bar
, and
Semi-Sweet Chocolate Bar
palettes, I just wasn't that fussed. However, I have to say when I saw their newest offering, the
Chocolate Bon Bons Palette
* I couldn't help but swoon a little. With it's heart theme like a box of bonbons, and chocolatey scent I knew I wanted to try it.
So, was the third installment in this confection-themed line the one?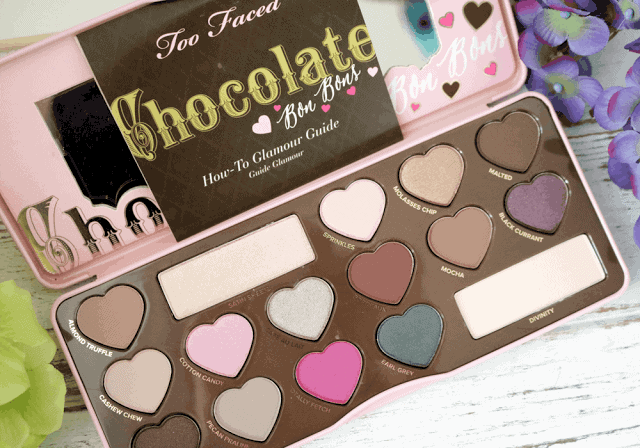 Unlike it's predecessors, the
Too Faced Chocolate Bon Bons Palette
gets me excited. Whilst the original just wasn't unique enough in a sea of neutrals, the sequel seemed much too orange/terracotta based with the one random pop of teal which made it disconnected for me. The Bon Bons however has a fantastic balance of neutral as well as pops of colour in cool and warm tones. There are light, dark and transition shades in both cool and warm spectrums. Shades like Almond Truffle, Pecan Praline and Mocha make fantastic work-with-anything neutrals, and pops of colour like the murky teal of Earl Grey, warm plum of Black Currant and vibrant fuchsia of Totally Fetch give the palette some depth and life.
As per Too Faced's recent calling card – these are all infused with cocoa powder which gives the palette an unmistakable chocolatey scent which you might love or hate. I'm not one for wanting my eyeshadows to smell like anything, but it doesn't translate to the skin it seems. However if you are in fact allergic to cocoa, first my condolences because chocolate, and second be warned as it is in fact a major ingredient.
As for texture and pigmentation, I've had mixed luck with Too Faced over the years. I'm happy to report that the
Chocolate Bon Bons
is full of buttery smooth shadows with solid pigmentation. Even the pale shades apply smoothly (I've had some issues with chalkiness in the past from the brand). All of the swatches above are without primer, and some were so pigmented they actually stuck around an hour or two after I wiped the swatches off with a tissue!
The packaging is very cutesy, which is common for Too Faced. I love that the shadow pans are hearts, but could have passed on the pastel pink outer packaging. Having said that, it is rather sturdy house in metal tin, and is relatively slim compared to the thickness of the original chocolate palette.
Overall, this is the first Too Faced palette that has impressed me since my beloved
Natural Eyes
which I rave on and on about.
Follow