Folks, it's been a long time since a mascara so underwhelmed me upon first glance but so overwhelmed me upon first application. Yes, I realize those are strong claims but I haven't been so wrong about a first impression (in the beauty world!) in a long time. Urban Decay Troublemaker Mascara is complete brand redemption as far as I am concerned when it comes to Urban Decay and mascara. Keep reading for a side by side comparison and my full review…
*Pr Sample, Affiliate Links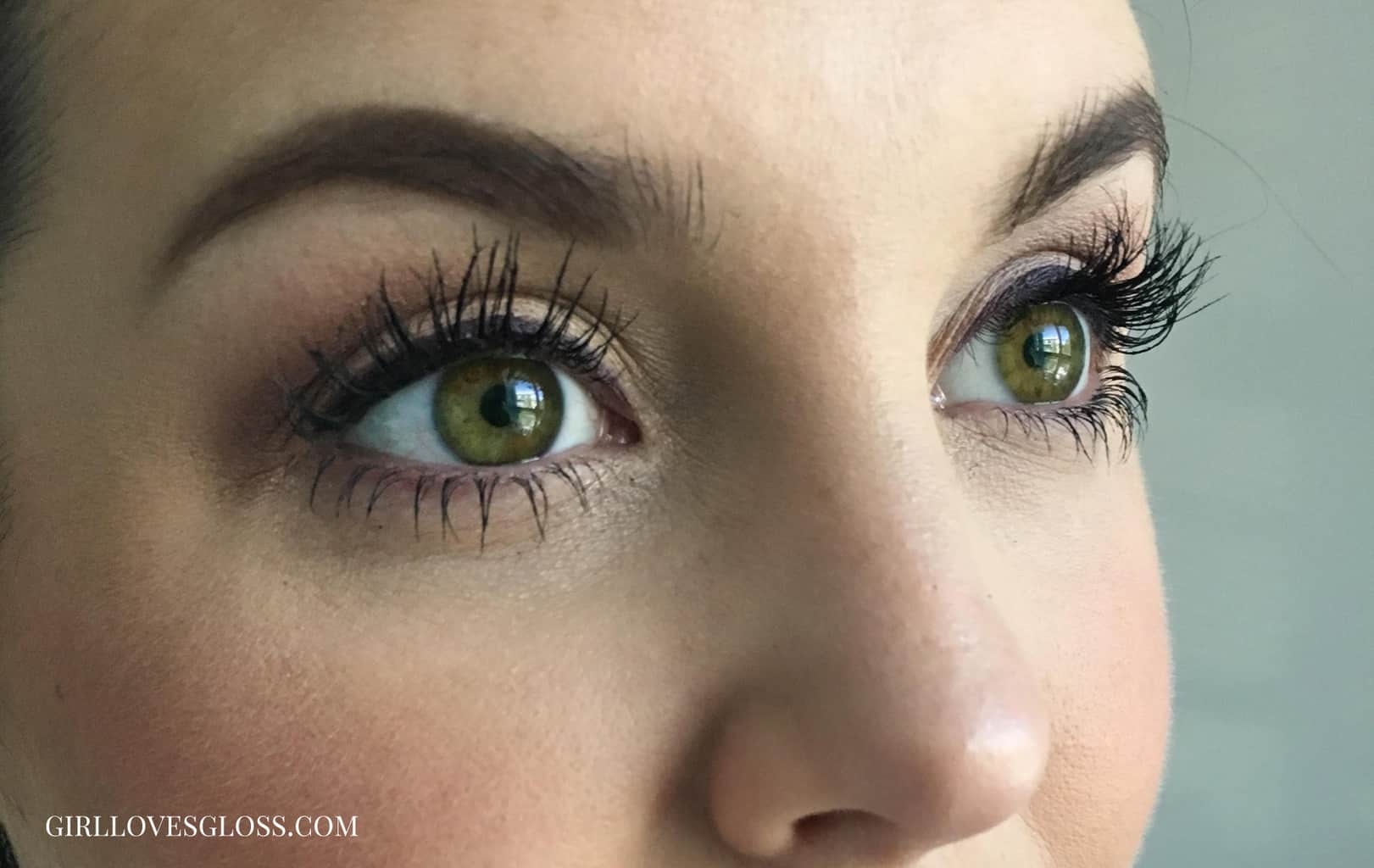 URBAN DECAY TROUBLEMAKER MASCARA REVIEW
---
So, let's start off the review by saying the packaging does nothing for me. Yep, I get that the whole holographic thing is a massive trend right now. In my opinion however, the plastic packaging is rather "drugstore" looking and not that of a $30 mascara. I would much prefer the brand go with something that looks similar to their lipstick casings for example, or something a little sleeker for the price tag.
Having said that, we all know it is what's on the inside that counts which leads me to the brush. Troublemaker has a rubberized style wand that is normally not my first choice, but the bristles intrigued me. There are rows of short and long spikes that actually look a touch terrifying. In fact it possibly would be for those with really short natural lashes, if I am honest. These brushes go one of two ways for me: they either grab every little lash, or they clump all my lashes into one. Thankfully, in this case, it manages to grip every single lash I didn't know I had and coat them with the rich black formula.
Urban Decay Troublemaker Mascara is available at Sephora & Ulta 
The formula claims to lengthen, fan out and create incredible lash volume. This is all due to its hollow silica and ultralight fibres. I can genuinely say I agree with all of this! You can see in my before and afters that the brush managed to get to lashes in my inner corners that could barely be seen before. The formula managed to coat each lash on its own actually giving me a false eyelash look! I just kept building and building until I was happy with the volume and was really impressed with how fanned out my outer lashes looked.
In the past I have not been a fan of fibre-infused mascara formulas; I find the fibres drop down into my eyes and they are prone to flaking. Troublemaker might just be the first fibre formula I have tried that I have genuinely not just liked, but loved. I get no flaking, no smudging and no eye irritation with it. Heck, I even wore this every day through a 3-week sinus cold. If that isn't a sign of a good mascara… I will say this though: I do not have oily skin and have heard those with very oily skin have had smudging. I have actually cried with this on (hey, that's pregnancy for you!) with no issues.
Troublemaker also gets top marks for holding the curl I put in my otherwise straight lashes and leaving my lashes feeling relatively soft and fluttery instead of crispy. It also comes off with my regular oil-based cleanser without any extraordinary rubbing and tugging. There is one claim on the package that I will say makes me roll my eyes and that is the boast of its 'sex-proof' nature. Quite frankly, it's not what I think of when I shop for mascara but whatever floats your boat…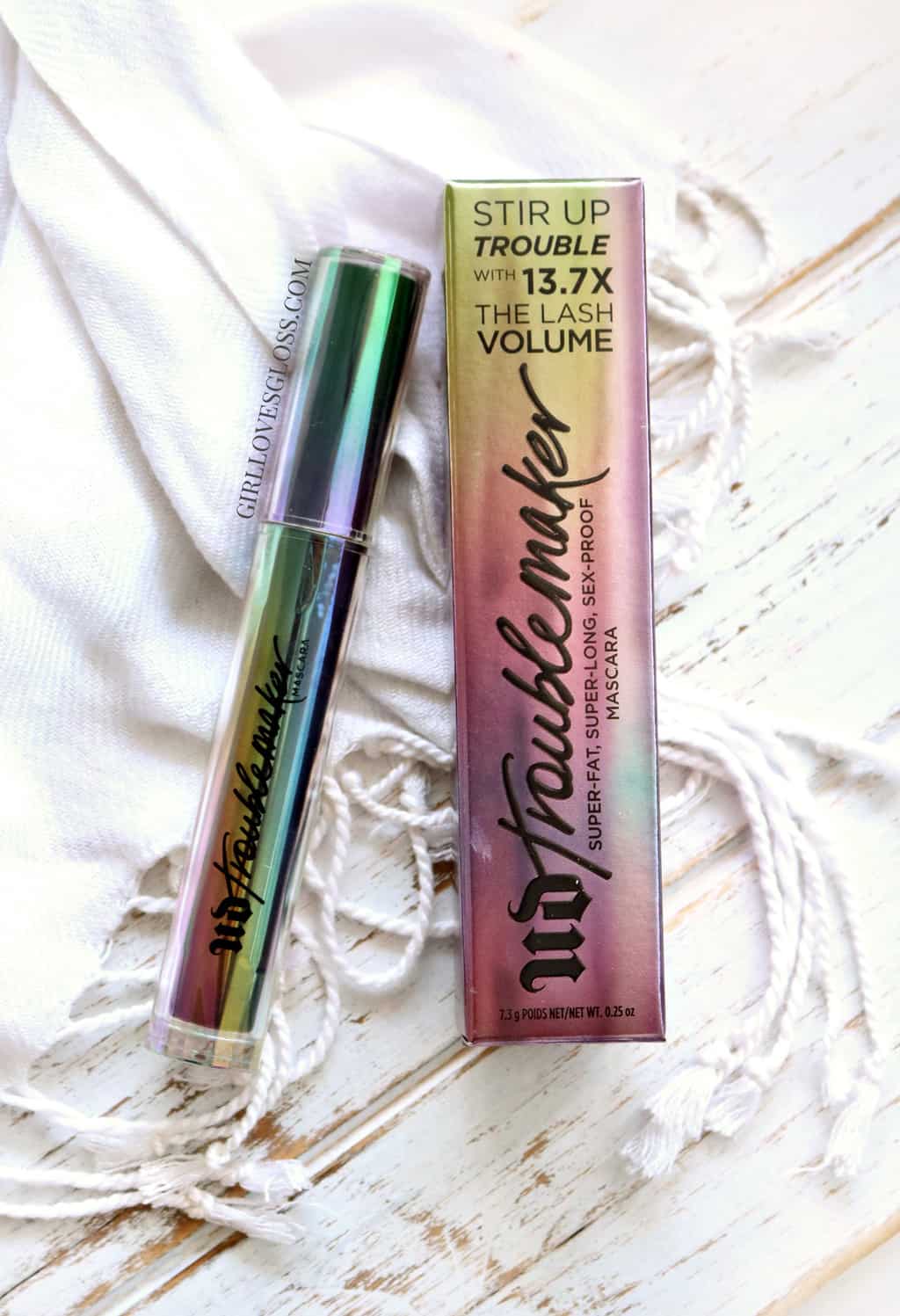 So if you couldn't tell, I LOVE Urban Decay TroubleMaker Mascara. I've never been so happy to be wrong on a first impression before. Tacky packaging aside, this is a total gem that I will most definitely be sad to use up and will be ordering.
Let me know in the comments below what the last mascara that you really loved was! 
SHOP THIS POST
---

Urban Decay Troublemaker Mascara is available at Sephora & Ulta 
Some of the products mentioned in this post may have been provided for consideration. These products may be linked using an affiliate link, which provides me with a small commission in return for providing readers with honest and authentic reviews. The earnings from affiliate links are what keep GirlLovesGloss.com running! You can read my full disclaimer here.