Three New Wish List Worthy Products from Marc Jacobs Beauty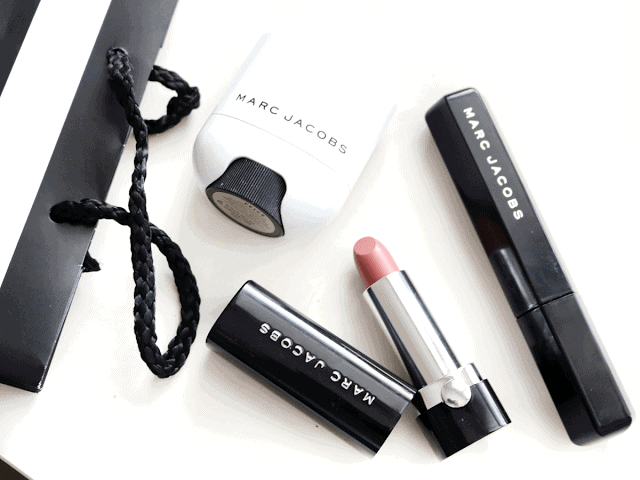 A brand that seems to wax and wane in terms of talk and exposure online is
Marc Jacobs Beauty
. That might possibly be because it is only exclusive to Sephora in North America, or because it's priced as the luxury brand that it is. Regardless, I rarely find a product from the range that I don't love, and three of the latest launches have impressed me whole heartedly!
Readers wallets beware: the wish list might be growing after reading the following post…
Do I really need to go on and on about this? I did a rave review on it, and it's been included in monthly favourites. I've worn it almost every single day since I got it, and it's still impressing me. Think fluttery, voluminous lashes that are super black and hold a curl beautifully. Plus I love the chunky hexagonal tube packaging.
This little deodorant-esque packaged gem is really all in the title: glistening and illuminating. If you struggle wearing powder highlighters because they are dry looking, then this is for you! This gives a dewy look to the skin, without looking metallic, and the formula goes on creamy, but then sets a bit so that it doesn't stay sticky. I swipe it on and then buff out with a fluffy brush for a diffused look. Bonus: at just shy of a half and oz of product, you could glow for years to come!
Le Marc Lip Creme in True
Ladies and gentlemen, open a new tab in your browser now and go order this (online exclusive & limited edition) lipstick from
Sephora
now! If you're new to the Lip Cremes, they are super velvety and smooth on the lips, and leave a nice hydrated finish. The newest shade in the range, "True" is the ultimate 'Your Lips But Better" shade for me: a warm pinky neutral. This lipstick has already taken up covetable real estate in my handbag; It's the perfect wear with everything shade!
So if you're new to Marc Jacobs Beauty or already know and love the brand, definitely put these three items on your wish list! I've come to rely on Marc Jacobs for some beautifully formulated luxury cosmetics, and the last few launches haven't let me down.
Let me know what your favourite Marc Jacobs Beauty products are, or what's on your current wish list, in the comments below!
Shop The Post: