The Aveda Institute | My Experience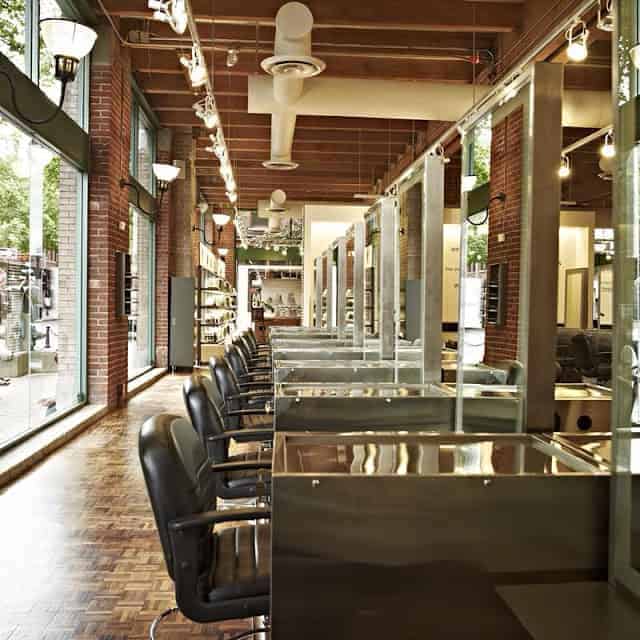 A couple of weeks back I was invited to head down to the
Vancouver Aveda Institute
to check out the facilities and enjoy a wash, cut and blow dry. If you've read Girl Loves Gloss for a while you know that I've struggled with my hair in the last couple of years, mainly with the texture changing, it thinning noticeably and weird cowlicks popping up that never were there before. So when I was asked to come in, I almost wanted to say, "Really? You sure you've got the right girl?" but then I reminded myself that not everyone has an amazing head of hair, and that my struggles might touch someone else out there, so I gave it a go.
When I first walked in I was pleasantly surprised to see how bright and open the Institute was – built into a heritage building as most are in Gastown, I had expected a more dark, overly trendy environment. It's an incredibly spacious layout (7,500 square feet!), which I love ( I really hate feeling like I am getting any sort of service done practically sitting in the lap of the person next to me) and the retail in the front was perfectly faced, organized and easy to navigate (the retail specialist in me truly appreciates these points!).
My first instinct was, "Wow it smells good in here" – instead of smelling like hair dye and perm solutions like many salons do, it smelt like a botanical nirvana-like heaven. Turns out, as I learned, that is due to the fact that Aveda uses almost entirely natural products (93% is the lowest percentage of natural they go!), they mix their colour a la cart, and use gorgeous oils for scalp and shoulder massages… which I got to experience with a lavender scented oil that made me feel a bit like I was walking on a cloud for the rest of the day. Even my friend who met me for lunch mentioned that I smelt like the spa.
I will mention as well that all the staff I talked to were extremely knowledgeable about the product. Not just the aim of the product, but the ingredients, the development and inspiration behind them as well! Given that Aveda has such an extensive range, I was really impressed.
I was paired up with an Educator for my wash, cut and style (this is someone who has completely their training, then the Aveda Institute training and then gone on to teach). Given that I had mentioned my concerns about my poor fine thin hair, she was incredibly sensitive to my needs and commiserated plenty with me as she had fine hair as well – and had some really good product recommendations, and 'should avoids' for me.
After a straight up lovely neck and shoulder massage (that seemed much too short, it was so relaxing I wanted more!) I had a wash with the
Invati Range
which was recommended for fine and thin hair, and then it was back into the chair to lop off a few inches of dead hair. Did I mention it had been…wait for it…
TEN
months since I'd had a haircut?
It was bad folks.
Given that I can't get away with much done to my hair these days, she suggested a trim with some ever so soft framing in the front, and then round brushed it to give some resemblance of shape. It was then finished with the
Air Control Spray
– which smelled amazing and is a super fine mist dry technology so it wasn't heavy or crispy on my fine hair.
Overall, this was a really nice, uplifting experience for me. I'd love to come back and try out some of the other services they have to offer! Heck, I want to go back just to sniff the lavender laced oil used for the neck and shoulder massage, it was heavenly. Have you ever had a service at the Aveda Institute? I'd love to hear your experiences!

Just a heads up, I noticed on the website that there is a promo code right now until the end of August 2015 to get $15 off your first visit with the promo code: website. You can call and book your appointment at: 604-669-6992
Follow

I am not affiliated with Aveda in anyway, and was under no obligation or compensated to write this post, but rather felt it was a really nice experience and wanted to share!