Loreal Air Volume Mascara Review

is the new l'oreal air volume mascara the next hyped drugstore mascara?
I started seeing some hype around the new L'Oreal Air Volume Mega Mascara online a month back, I knew I was going to need to try it…you know, for science.
A self-proclaimed "airy formula" that supposedly offer "mega" volume sounds pretty amazing to me, especially as someone who has fine, limp lashes that don't hold a curl well.
I was initially sceptical though when it didn't come in a waterproof formula, that's usually a must for me with L'Oreal mascaras for some reasons I'll get into later.
So L'Oreal Air Volume Mascara is getting some big hype right now, but is it worth it?
l'oreal air volume mascara
>>AVAILABLE AT: AMAZON | ULTA | TARGET
---
Drugstore mascara is getting pricey friends
I'm a bit salty to have paid a whopping $17 for this mascara… especially when I've seen in recent weeks it's dropped in price to around the $12 mark. This seems to be a common practice in drugstore beauty pricing, especially with mascara and more so especially with L'Oreal.
The packaging is cutesy rose gold and definitely stands out in the sea of mascara options, giving it a slightly more glam feel.
the loreal air volume mascara formula
This has a whipped, mousse-like texture to it, that most definitely is geared towards volumizing over lengthening.
It holds a lot of product, even for me, on the brush, which is a traditional bristle brush. I find myself having to scrape the wand on the side of the tube to take of 2/3 of the product before application, or it just wants to stick all my lashes together with zero definition.
And here's the thing: I love a clumpy mascara! Give me big bold black lashes, please! However, this is simply too much for my lashes to hold up without putting some work in. I need to work in light, even layers to get this to look good on my lashes.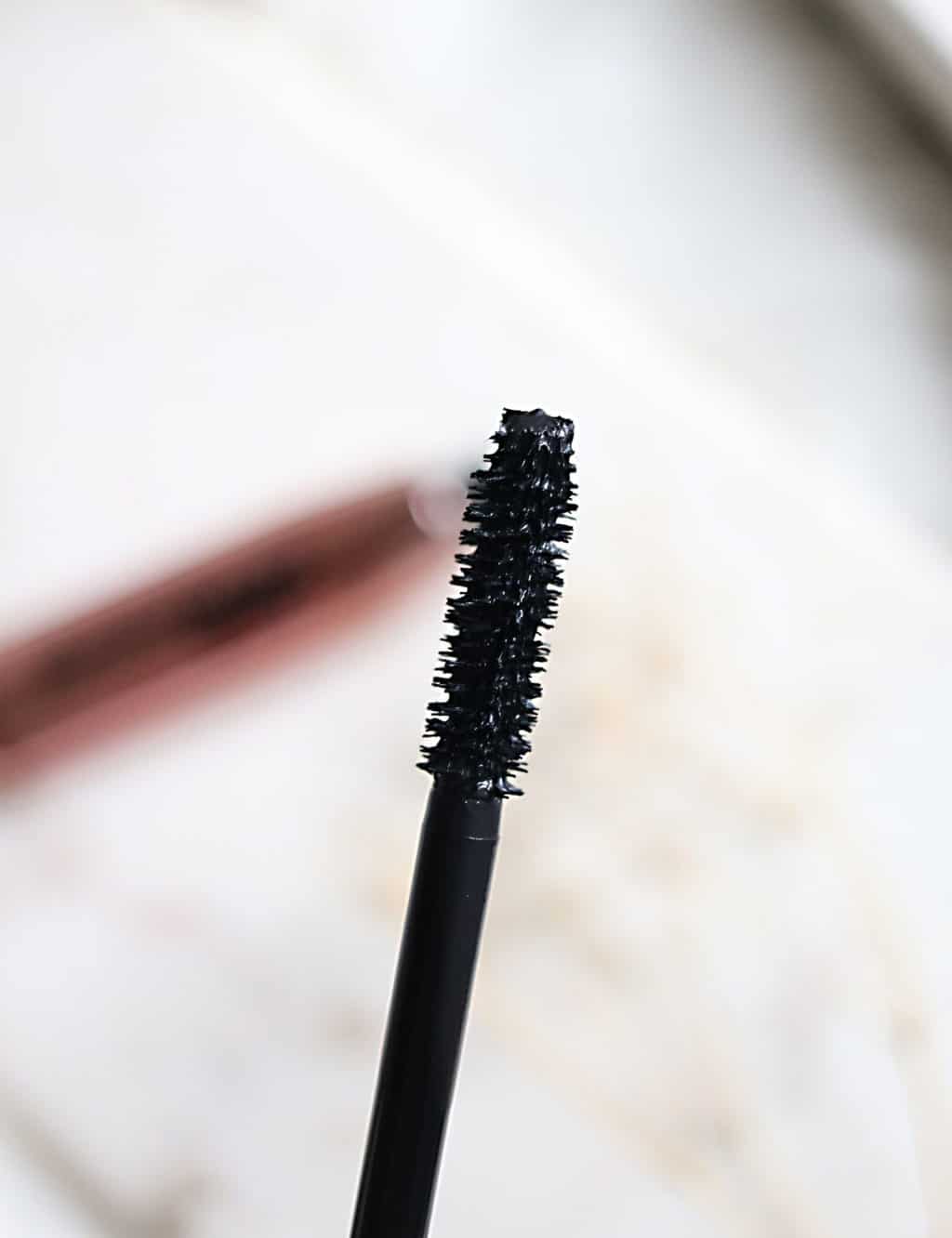 is it light as air?
While the formula feels thick, it doesn't have a heavy feeling on my lashes. Is it as light as air or even the lightest feeling mascara I've tried? Not be a long shot.
It definitely wants to weigh my lashes down and tends to dry slower than I would prefer to really hold a curl. I find myself needed to use the stick of a qtip to lift my lashes up while they are drying to help set the curl I've put in with my lash curler.
how does l'oreal air volume wear?
L'Oreal mascaras are always hit or miss for me with the wear time and longevity. I either think they are amazing (L'Oreal Butterfly Mascara – RIP) or downright unwearable (like the original Voluminous).
Usually, the downfall of a L'Oreal formula for me is flaking, and Air Volume sadly did fall victim to it a slight bit leaving some flakes under my eyes every time I've worn it.
This type of fallout is pretty normal for mousse-like textures in mascara in my personal experience. If you have naturally curly lashes that holds this mascara up well, you might not struggle with this. But my lashes naturally want to point down and gravity works its way into things (doesn't it always?).
how hard is it to remove?
I actually find this mascara wands to stick around a bit.
It's definitely not a waterproof formula – I found that out the hard way when I had a solid cry-a-thon the first day I was testing it. Yet it's a very saturated formula and wants to cling to the lash line. I think this is more of a case of how black the formula is, and not actually it having good wear longevity.
is l'oreal air volume mascara worth the hype?"
It's… alright. I wouldn't buy it again unless it came in waterproof, in which I would 100% like to try that out.
While I had no smudging or transfer with this, the flaking alone is enough for me not to want to put the work in to make it look nice each day. Not to mention I get a very minimal amount of time in the morning thanks to my unruly toddler, so I need a mascara to work for me, not the other way around!
shop l'oreal air volume mascara
---