Fenty Beauty's New Sun Stalk'r Bronzers | Hit or Miss?
Fenty Beauty brought their A game when they launched in 2017, nailing inclusivity and marrying bold with neutral.
The latest offerings from the line are the much anticipated Sun Stalk'r Instant Warmth Bronzers, which come in an impressive eight shades. In a world of brands making bronzers in one or two shades, I was thrilled to see multiple options from very pale to deep and dark. Here's the thing though, I'm a bit of a bronzer hoarder connoisseur, and I have pretty high standards for them. So did Fenty continue to live up to its hype?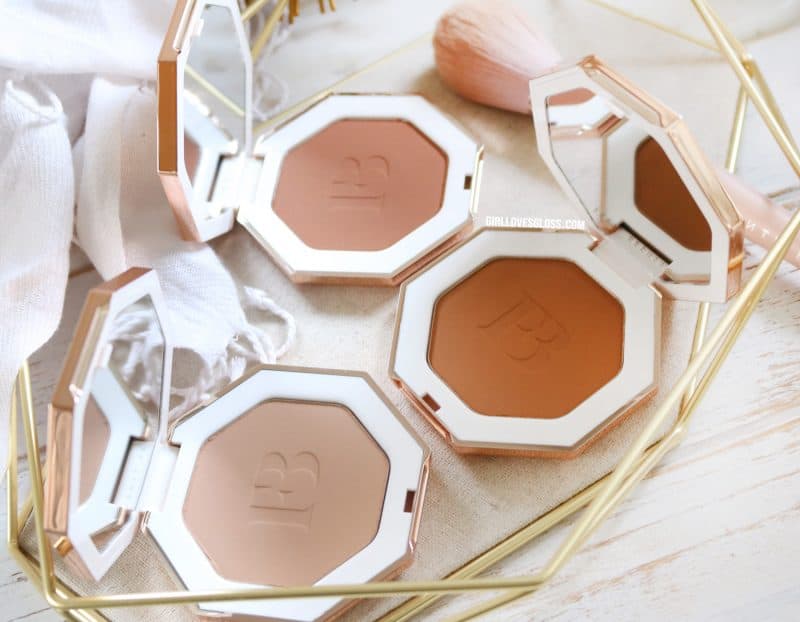 FENTY BEAUTY SUN STALK'R BRONZER REVIEW
---
Available at Sephora | Fenty Beauty | Harvey Nichols /$38 CND for 6.23 grams
WHAT THE BRAND CLAIMS: "A long-wear, transfer-resistant bronzing powder in eight groundbreaking shades, each carefully curated to bring all skin tones to life." – Sephora
FINISH: All eight shades are matte
PACKAGING: Slim yet sturdy, golden octagonal compact that fits in line with the brands styling and has a nice sized mirror inside.
SHADE RANGE: I have three of the eight available shades in Inda Sun, Island Ting and Coco Naughty. I found the descriptions of the shades on Sephora.com misleading; All three have 'neutral' in their description.
Island Ting is described as a medium with neutral undertones when in reality it has a definite yellow undertone.
Coco Naughty is more red-leaning (which I prefer).
Inda Sun is truly neutral (and could be used as a contouring bronzer).
FORMULA: The powder is slightly creamy to the feel, and only gives a bit of kickback if you use a really dense brush.
PIGMENTATION: I'm 2/3 on these. Both the darker shades have beautiful pigment, but Inda Sun, the fairest shade in the range performed poorly for me. I found I really needed to scrub my brush to get the payoff, and even then it was tough. I am rather fair skinned, so that was surprising (and disappointing for me).
LONGEVITY: Here's where the Sun Stalk'r Bronzers let me down sadly; They just didn't wear well for me. After testing them for a few weeks, regardless of shade, I just can't get them to last more than a few hours. I've tried on multiple foundations, both set with setting powder and without. I've set my face with setting spray and without. All ways only grab me about 4 hours worth of wear, and ultimately, that's a make or break drawback for me when it comes to bronzer.
FINAL THOUGHTS: I really wanted to love these, after all, I am a true bronzer lover through and through! Sadly, I just can't get behind the poor wear time for me. I find they wear away poorly, leaving my face lacking the dimension it sorely needs, by midday. I love that the brand has come out with a multiple shade range, but would have loved to see more in the way of true neutral, personally.
Shop some of my Fenty Beauty Favourites
---
---
Sharing is caring! Help a girl out and pin the image below to Pinterest!