I Tried a Full Face of Products for the First Time and Here's What Happened
[dropcap]I[/dropcap] thought it would be a neat idea to do an entire face of first impression products, and quickly realized how MANY products that ended up being when I went to try and photograph them all! Turns out I wear a decent amount of makeup every day, and I'm totally #sorrynotsorry about that. Everything from the primer through to the brows was a first-time test for me. There's cheap as chips drugstore, and spend-your-paycheque luxury, just to make it a little more fun.
*denotes PR sample, Affiliate Links
The Complexion 
---
Products used: 
I'd been dying to try the Rose Balm since I saw it launch; One because I love anything rose, and two because Pixi skincare agrees with me really well. It did not disappoint! I find it hydrating and a really beautiful base under makeup, like the new NARS Naturally Radiant Foundation. I find this a medium coverage foundation. It sat well on my primed and moisturized skin, but can see it clinging to dry patches if I wasn't prepped properly. One thing to note, I don't find it very buildable, so full coverage girls might want to pass on it.
To top up my coverage and conceal my tired-mama under eyes, I tried the infamous Cle de Peau Concealer. The formula is smooth and creamy with no dragging like many stick concealers. Do I think it's worth its insane price tag? Not really. Do I enjoy using it? Yep! You do need to set it though, so I reached for the Essence All About Matt! Waterproof Powder. When I saw this in store I knew I needed to try it; It was under $6 and claimed to be waterproof! To my surprise, this has to be one of the nicest powders I've worn in a very long time. I've been reaching for it non stop over my luxury powders and it doesn't cake under eyes or around the nose. It gives a gorgeous blurred effect that makes my look poreless – total win here!
The Cheeks
---
Products used: 
To add dimension to my now blank canvas face I reached for the new Tarte Park Avenue Princess Contour Palette. These powders are silky smooth but kick up a TON of powder, so beware. I found they blended seamlessly, but would have liked at least one slightly cooler shade. The palette has matte highlighting powders, but I opted for shimmer with the Shu Uemura Prism Luminizer. This is a loose powder that would look stunning on tan or deep skin tones; On me, it was a bit too gold for my liking. I did make it wearable though, by blending it into my Milani Dolce Pink Blush, which has a bit of sheen to it as well, and its a gorgeous warm rose.
The Eyes
---
Products used:
I'd been eyeing the Eye Foils for a while now, since they have great reviews on Sephora. Naturally, I went for Pink Gold, and it left a beautiful wash of colour on the lids that didn't crease or bunch. I love a winged liner with pale pink shadows and had heard that NYX Epic Ink was a dupe for my Kat Von D Trooper and it totally is! Super black, and a brush tip for that perfect sharp point. I'll have a comparison post for the two coming soon, so watch for that.
Of course, any eye look isn't complete until I've piled on the mascara, so I opted to try the L'Oreal Voluminous Superstar XFibre in Waterproof. It's rare to see primer/mascara duos come in waterproof. Since I find most primers wilt my fine lashes, the waterproof seemed like a good option. While the mascara looks good in the picture, I feel like it took a lot of work to get there and even with remover it was hard to remove and left me several lashes less (insert blue faced crying emoji here!)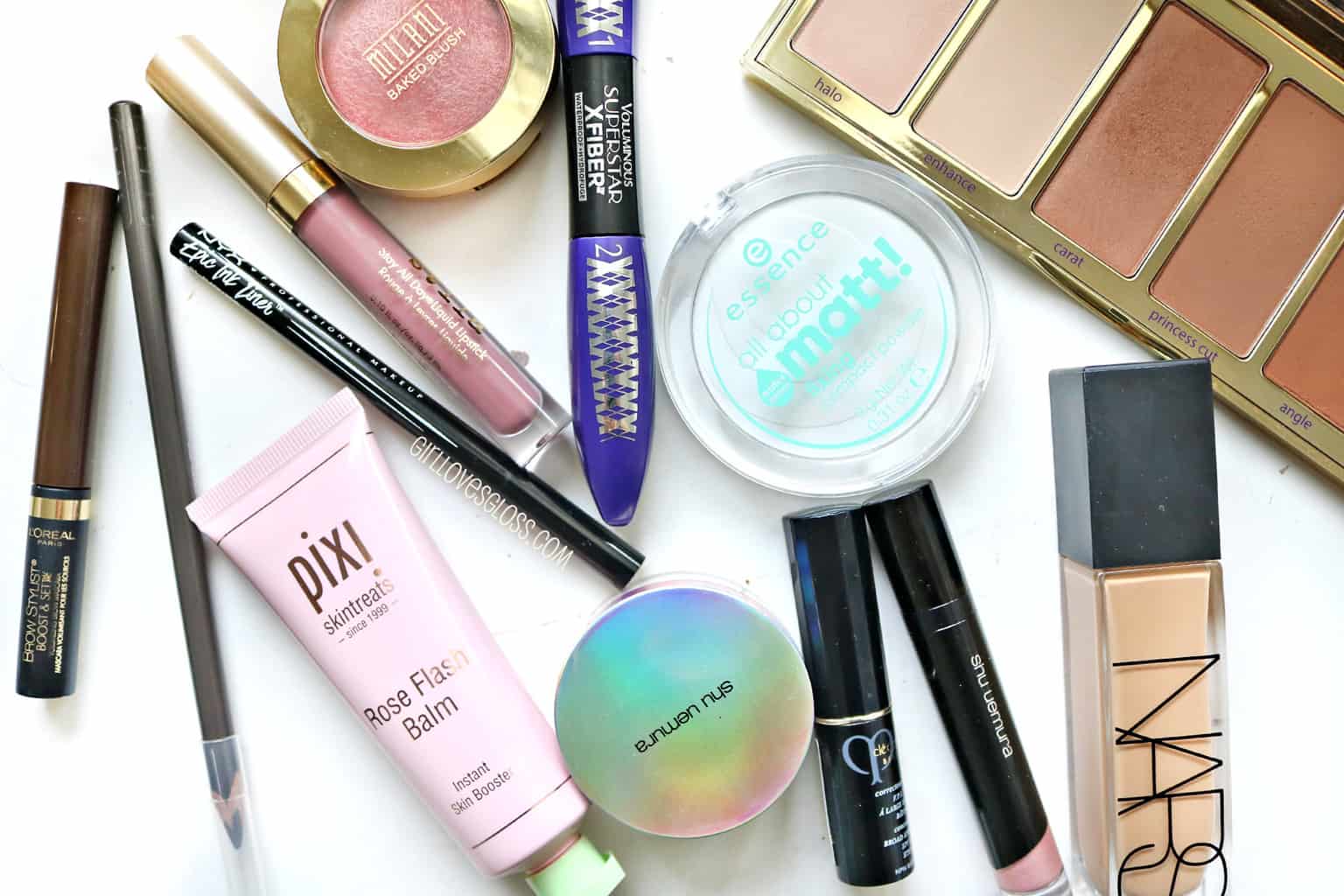 The Brows
---
Products used:
It takes a lot to meet my needs when it comes to brow products. I have fine, sparse brows and my hair is a cool dark brown. Almost everything is too warm, too light or too dark. The Shu Uemura Hard Formula pencils are a cult favourite, and now I see why. It's a bizarre formula – it doesn't swatch on your hand, but when you use on your brows it transfers to the skin and hairs of your brows. You'll think its a dried up pencil until you really actually try it! It was love at first brow for me and I am SO glad I actually gave it a go. After filling in, I set with the L'Oreal Brow Stylist Boost & Set, which has the teeniest tiniest little wand and can get every little hair. I have to be a bit careful with this, because the brush is so minuscule, it can pull out too much product from the tube if im not careful.
The Lips
---
Products used:
I never thought I'd see the day when I said I found a matte liquid lipstick that suits my dry lips, but friends, its here. The Stila Stay All Day Liquid Lipstick now comes in a Sheer formula, and it does everything I want, minus the horrific feeling of flaking lips! My only gripe is there are only a few shades, but I am hoping the brand launches more of their original formula in the sheer version as well!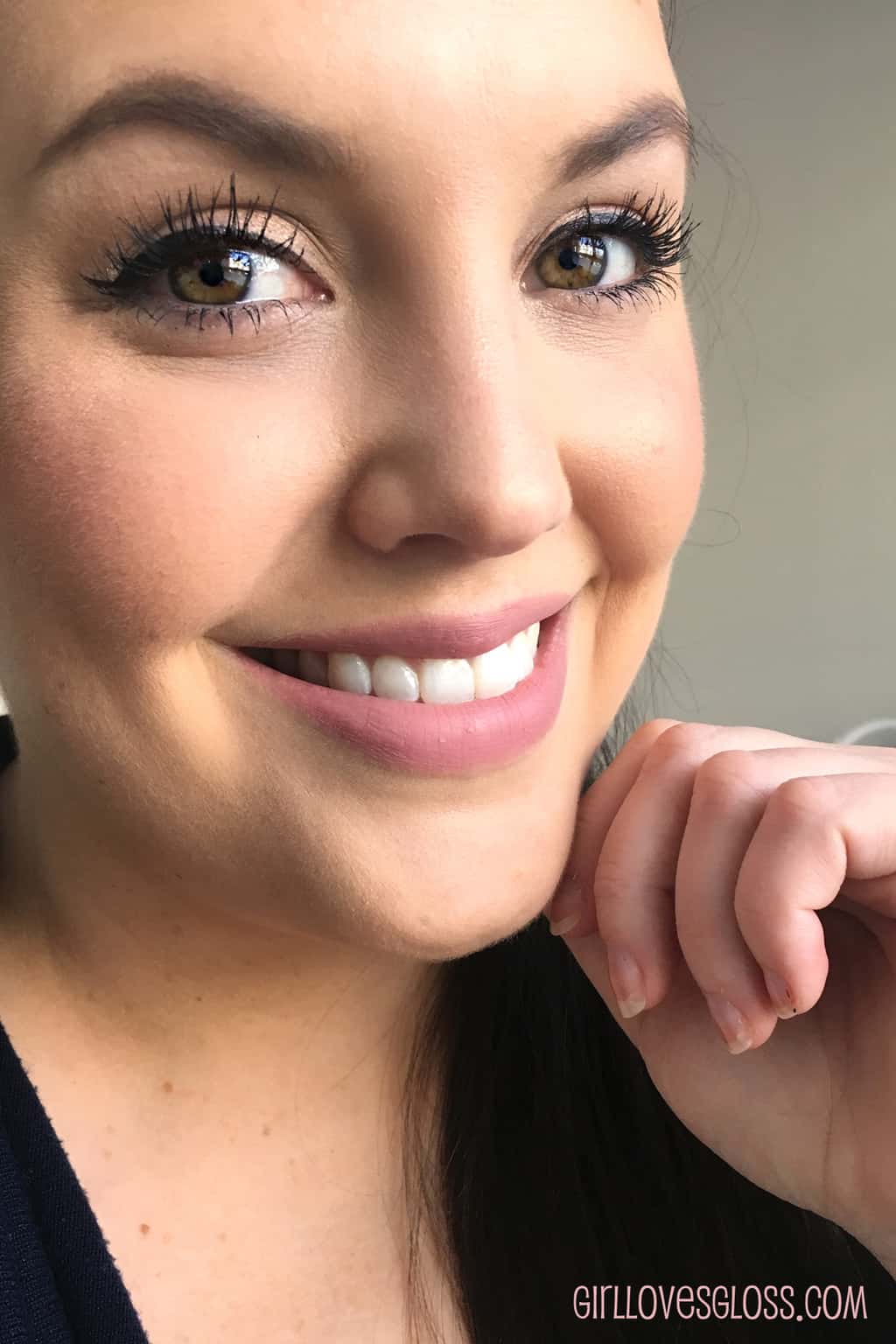 So, while it was a sh!t ton of products to photograph and write about in one post, I really loved the challenge of trying an entire face of new (to me) products. I challenge you all to do so! I had some clear winners in this lot, and a few flops as well, but the overall look turned out nicely!
Shop My Favourites From the Post Here:
---

Some of the products mentioned in this post may have been provided for consideration. These products may be linked using an affiliate link, which provides me with a small commission in return for providing readers with honest and authentic reviews. The earnings from affiliate links are what keep GirlLovesGloss.com running! You can read my full disclaimer here.