Charlotte Tilbury Luxury Palette in The Glamour Muse
My Charlotte Tilbury collection is growing strong, but one of the first products I was eager to try from the line was the
Glamour Muse
quad – a gorgeously curated collection of rose gold, purple, taupe and pearl. Charlotte designed these palettes to be a user friendly, effortless way to take eyes from day to evening to disco. After hearing plenty of good things about her
Golden Goddess and Dolce Vita Palettes
, I was curious to see how something with a bit more pop of colour would perform (purples are notorious difficult pigments to work into shadows). Did it live up to the hype?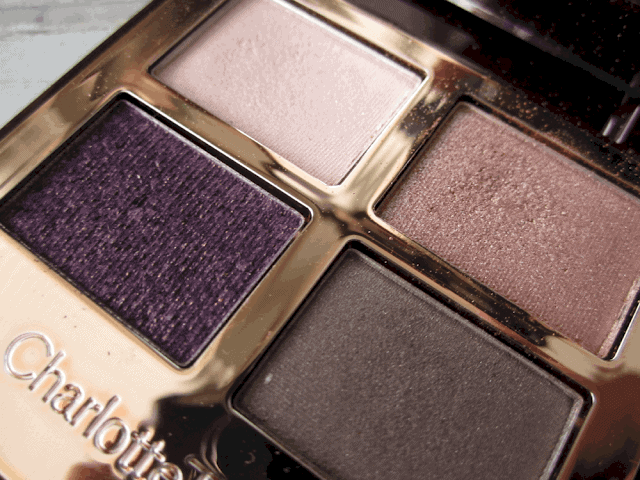 Charlotte describes her eyeshadow quads 'harmonious, complete looks' and at first glance of this palette I didn't think it would work together as well as it truly does. While the taupe shadow looks somewhat dull in the pan, it actually has a beautiful dimension to it. The purple glitter had potential to go the way so many sparkling shadows do: patchy and poorly pigmented, but instead it is emollient with a pigmented base to back it up. Even the pale pearly barely pink shadow as excellent payoff; something notoriously hard to find in pale shadows. There isn't a dud in here, and they really do blend seamlessly into each other on the eye.

The texture of these shadows completely backs the price tag; They are silky and smooth, minus fall out or powdery finish. Even the glitter purple stayed put, and goes on beautifully. (Charlotte herself recommends using your finger with this shade if you really want to amp it up).

On the website there is a breakdown of different ways to wear the Charlotte Tilbury quads, which I think is fantastic, but I also love that she's designed them to have all four shades completely work with each other. You can pick any single, two, three or four colours from the quad and have them work together, which is surprisingly not as common as you would think. It's clear that plenty of thought and swatching has gone into the design. I also love that the compact (sleek dark oxblood with rose gold accents and insides) is all about the product and no space (or expense) is wasted on a crappy applicator or brush. For a cosmetic item of this caliber, quality and cost, tossing in a cheap sponge or scratchy all too tiny brush would have been a bit of an insult. You'd be better off applying with your fingers, which not surprisingly works well with shadows of this quality!

Have you tried any of the Charlotte Tilbury Eyeshadow Palettes? I already have the Dolce Vita Palette on my wishlist!
Follow