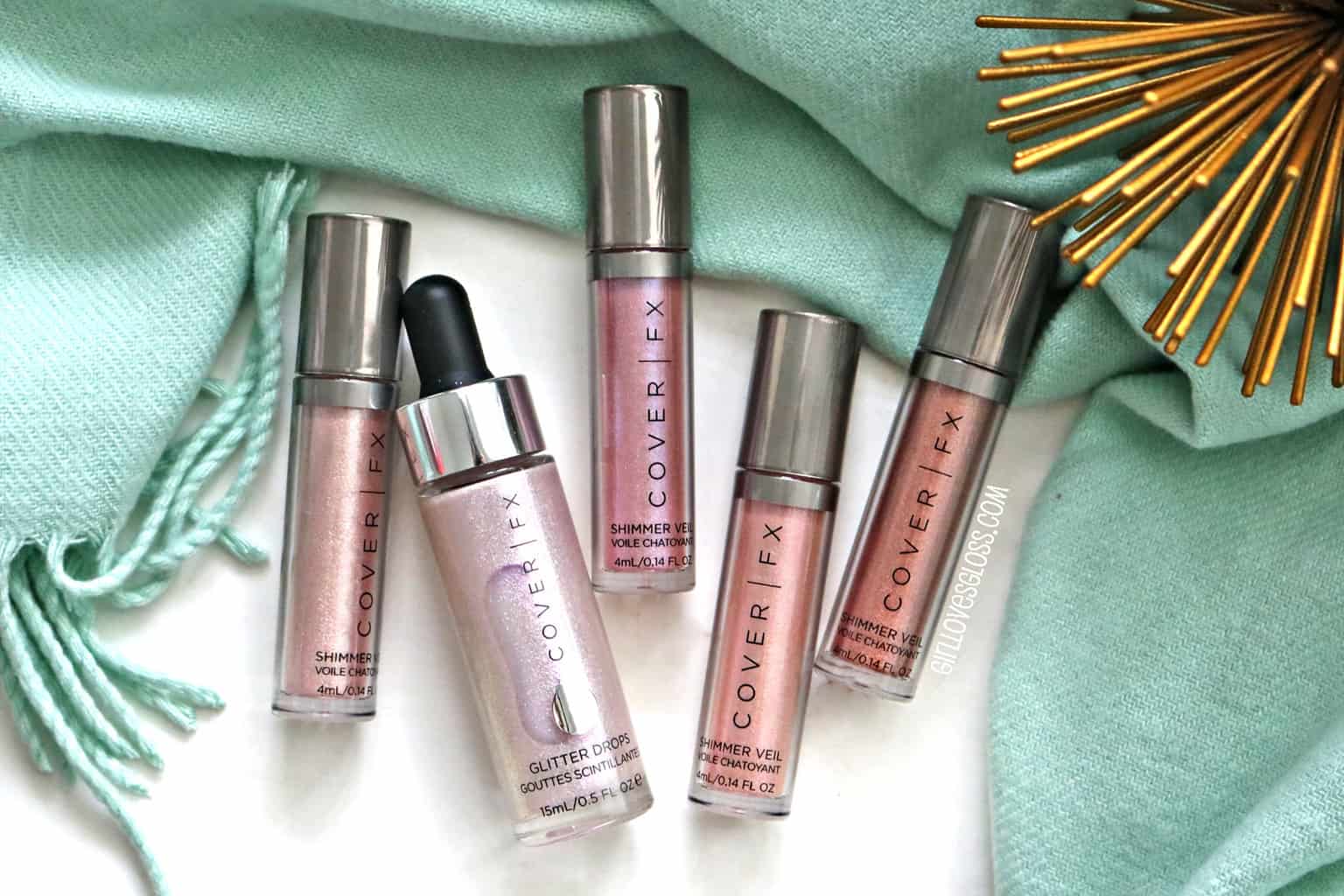 [dropcap]U[/dropcap]p until a couple years back, CoverFx was solely known for their base products. Then they blew the market away with the Custom Enhancer Drops (read my review here). Well now they're back at it, amping up the glow with two new products: Glitter Drops and Shimmer Veils. If you're like me, and the term "Glitter" normally might make you want to run for the hills (because that stuff gets EVERYWHERE) this review might just be for you!
Affiliate Links/PR Samples

CoverFx Glitter Drops Review
---
Available at Sephora | BeautyBay | CultBeauty | Beautylish
The idea behind Glitter Drops had me tentative…really tentative. I mean, I'm not in my club-going years anymore and the idea of glitter on my face brings me back to my teen years in the 90s. I was super pleasantly surprised though to find the formula of these really refined and smooth! The glitter is more of a fine sparkle, that is suspended in a thin base. No large chunks of glitter that make it look like you went to a rave once and never got clean again. Instead, the formula is packed with micro iridescence.
In true CoverFx style, these can be used on face, eyes, lips and even body for an intensely glowing, sparkle. In all transparency, I find it too much highlight for me to wear on my cheeks (I'm a subtle highlight kind of girl FYI) but LOVE this patted on the lids on top of my shadow. It gives a stunning finish to even bare lids with loads of mascara! Of course, a must for me was that this kind of product is that it needs to stay where I put it, and not all over my face (glitter loves to migrate). I'm happy to report that the formulation CoverFx has created adheres really nicely!
I was sent the shade Aurora, which is a multi-tonal opal-pink. There is also Lunar, a mermaid teal-blue and Mirage, a golden champagne.
Shop for CoverFx Glitter Drops:
---
CoverFx Shimmer Veil Review
---
Available at Sephora | BeautyBay | Beautylish
Similarly to the Glitter Drops, the new Shimmer Veils can be worn on eyes or face. These come in a lipgloss style tube with doe foot applicator for easy shadow application. Coming in 6 shades (I have 4), the Shimmer Veils are a glitter suspended in a coloured base – much like a liquid eyeshadow. So rather than just the sparkle being a colour itself, like the Glitter Drops, it's more of a two
 in one product.
I find these can be lacquered on with the applicator for a semi-opaque finish or blended out nicely. The glitter gets more intense if you pat it on with a finger, giving almost a wet look. These can be worn on eye, lips and cheeks but really the only use I would have for them is as eyeshadow; I'm not a fan of a self-setting formula on the lips and they are too intense, for me, on the face. Having said that, they do set up beautifully on the eyes; I had minimal fading/creasing by the end of the day and the glitter didn't migrate all over my face or flake off like some liquid shadows can. I also found I could pat these on top of powder eyeshadow, and blend powder on top as well!
Shop CoverFx Shimmer Veils Here:
---
Some of the products mentioned in this post may have been provided for consideration. These products may be linked using an affiliate link, which provides me with a small commission in return for providing readers with honest and authentic reviews. The earnings from affiliate links are what keep GirlLovesGloss.com running! You can read my full disclaimer here.