5 Products Worth Buying in the Sephora VIB Sale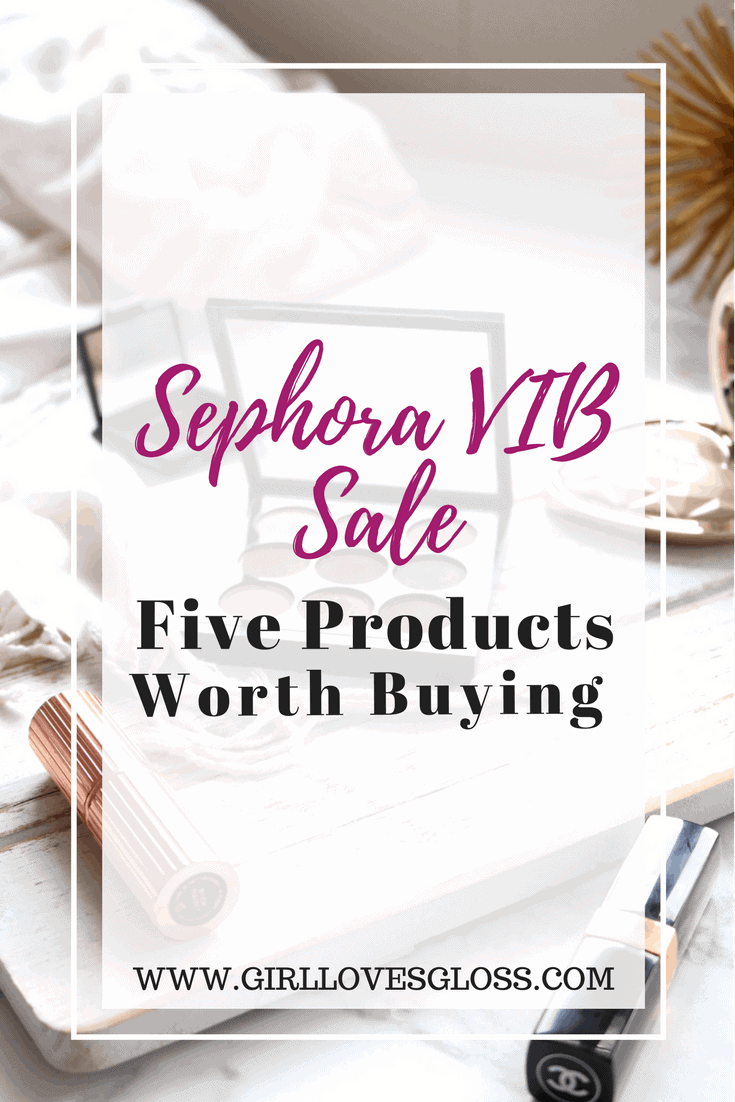 It's almost that time of year again you guys: the big Sephora sale is coming starting November 3rd for VIB Rouge members! Every year the first week of November brings Sephora's best discount to be had, and I tend to wait for it to treat myself to things I really want or need to replace. If you also like to try new things but struggle taking the plunge at full price, I've got 5 suggestions for you for products I adore and think you might too!
*Affiliate links
5 Products Worth Trying out During the Sephora VIB Sale
---

Honestly, I kick myself for not trying this sooner! In my head I had it pegged as some hardcore, heavy, drying foundation and I couldn't have been more wrong. The finish is skin like and satin, with the medium-buildable finish I like and it lasts all day on my dry skin. This was a true case me assuming it wouldn't work instead of trying it and I am so glad I finally did!

This is my favourite buffing brush for foundation! So much so, that I have two so that I don't have to wash it quite as much. The IT Cosmetics brushes are super soft, and it leaves the most seamless smooth finish to my foundation. I normally hate double ended brushes, but in this case it is so handy. I love the concealer end for getting around the nose and for patting extra coverage on blemishes and pigmentation.

I'm sure you're all sick of hearing it from me, but this is the best mascara I've tried all year. Yes, those are strong words coming from a mascara-aholic. The narrow brush grips every little lash, and fans them out for super length and black drama. The formula holds up to humidity like a total boss (and pregnancy hormone induced tears!) and yet it isn't a waterproof formula. I'll be purchasing a replacement and hoping it makes it in time for labour and delivery – yep, that's how much I can rely on it!

These little buggers are expensive, so the sale is the perfect time to treat yourself. Don't be put off by how sparkly they look in the pan. The shimmer is SO refined and doesn't emphasize pores at all. These give the most gorgeous glow and actually last on me, which very few brands do. My fave is Diffused Heat for a gorgeous golden coral that brings so much life to the complexion!

Another palette I put off trying for way too long, thinking the colour scheme was unwearable. Turns out it might just be one of my favourite eyeshadow palettes of all time. Without fail, every time I wear this someone compliments me and asks how they can get their eye makeup to look like I do. I've had male friends tell me it gives me 'sexy eyes'. I've had my grandmother tell me it's 'fabulous'. Don't let the bold shades scare you, there are so many wonderful neutrals in this palette and the formula is ace!
---
Check out my picks for previous Sephora sales here: 2016 Part 1 and Part 2,  2015
---
What are you planning on picking up during the Sephora VIB/Rouge Sale? Let me know your picks in the comments below!

Some of the products mentioned in this post may have been provided for consideration. These products may be linked using an affiliate link, which provides me with a small commission in return for providing readers with honest and authentic reviews. The earnings from affiliate links are what keep GirlLovesGloss.com running! You can read my full disclaimer here.