Skincare Routine For Dry and Sensitive Skin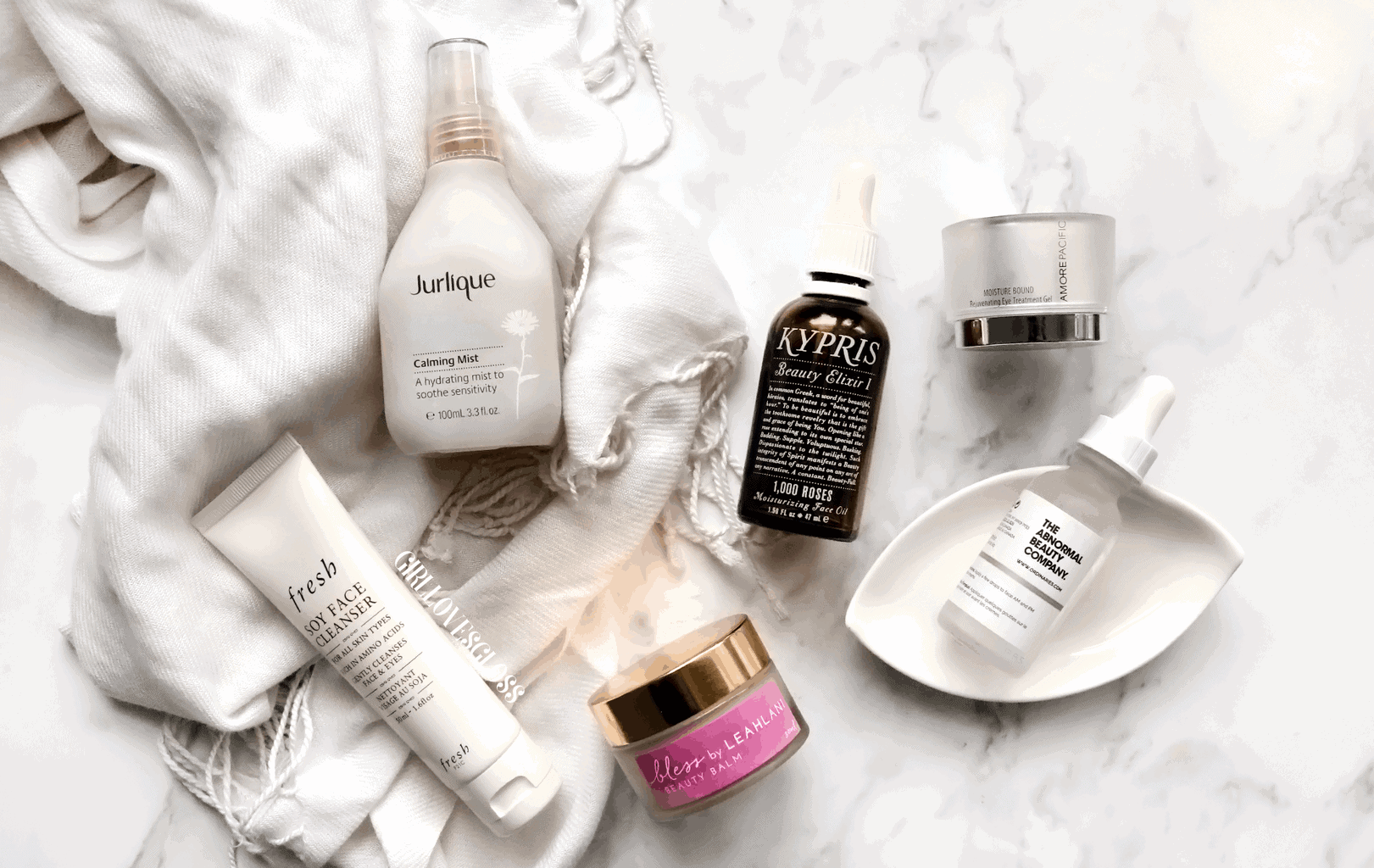 I tend to get in a skincare routine and then stick with it. This can be great for sensitive, fickle skin like mine, but not so great when you're a beauty writer. Several weeks back, I amended my usual routine with some of the products that have been landing on my desk recently. When I try out skincare, it's necessary to give each product time to perform. In addition to time, I like to cocktail products with each other to make sure there aren't any adverse reactions (like any genuine reviewer should do). This time round I managed to choose six products that not only stood their ground individually but worked harmoniously together! Call it luck, or call it getting better at reading ingredient lists, you decide.
Affiliate Links, *PR Samples
Soothing Red, Sensitive & Dehydrated Skin
---
I'll be doing a post going into depth about what I look for in skincare in terms of ingredients, texture, formula etc very soon. In the meantime, I will say that I have dry, dehydrated skin that can be sensitive and reactive. Sounds pretty, doesn't it? That's hormones and getting older for you folks… It used to be common for me to walk out of a morning shower to hot spots and red flares on my face that would take ages to calm down. Furthermore, I struggle with texture issues relating to dehydration; My skin tends to feel tight and can get flaky around breakouts. Here's my current skincare routine that has been combatting this issues brilliantly:
CLEANSE
---
Fresh Soy Face Cleanser* • Sephora • Amazon • Harrods •
This is a complete surprise love for me. I normally would run in the other direction of a lathering cleanser but this doesn't get overly frothy, and therefore doesn't feel stripping. I use the tiniest pea-sized amount as a second cleanse post makeup removal, or morning cleanse. Plus the very subtle cucumber scent is actually really calming and soothing to me, who knew?
SOOTH
---
Jurlique Calendula Redness Rescue Calming Mist* • Sephora • SpaceNk •
Even the name of this sounds soothing, and it hits the nail right on the head! I've not had a single issue with redness since adding this into my routine. It works wonderfully after using acids or exfoliants to calm the skin and hydrates freshly cleansed skin that feels taught. While the bottle looks small, it only takes 3 spritzes across the face pre-serum/oil to get the job done. This is the first product I've tried from Jurlique, and I will definitely be testing more!
TREAT
---
The Ordinary Hyaluronic Acid 2% + B5 • Deciem • Victoria Health •
If you haven't heard about The Ordinary yet, you're probably about to hear a whole lot. The line comes from Canadian brand, Deciem (also known as The Abnormal Beauty Company) and it's a no-nonsense, no frill packaging approach to high potency skincare. This serum is incredibly hydrating and sinks in lightening fast, so it's perfect for all skin types. Not only does it work like a hot damn, it cost under $6 CND! Expect to hear more from me on this range very soon…
Kypris Beauty Elixir 1: 1000 Roses* • Cult Beauty • Amazon •
Kypris is one of the most beautiful skincare brands I've stumbled across, but this powerhouse is something to be reckoned with. There are 1000 roses used in every bottle (yep, you read that right: 3 zeros…). By now we know the benefits of rose in skincare, but it's also packed with CoQ10 which is a huge antioxidant and aids pigmentation and discoloration. In addition, combined with Vitamin C Ester, which stabilises it and allows it to absorb quicker, this stuff is liquid gold!
HYDRATE
---
Amore Pacific Moisture Bound Rejuvenating Eye Treatment Gel* • Sephora • Amazon • Nordstrom •
The more I use this eye cream from Amore Pacific, the more I enjoy it! It's so lightweight in texture but feels really hydrating under my eyes. It sinks in quickly, which means I can use it morning and night and as a result, I can feel the soothing effect all day. Likewise, it sits really nicely under concealer.
Leahlani Skincare Bless Beauty Balm* • LeahLani
Besides the absolutely lovely calming soft floral orange blossom scent, this balm is silky smooth and hydrating. Unlike many balms that are solid oils, this sinks into the skin and doesn't make you look like you could fry and egg on your forehead. It's rich in texture, hence I only use it at night, but when I do I wake up to the softest, radiant complexion!
SHOP THIS POST
---

What's your current skincare routine?
Do you think there is anything missing from it, or have an issue you are trying to combat?
Some of the products mentioned in this post may have been provided for consideration. These products may be linked using an affiliate link, which provides me with a small commission in return for providing readers with honest and authentic reviews. The earnings from affiliate links are what keep GirlLovesGloss.com running! You can read my full disclaimer here.