NARS Sarah Moon Holiday 2016 Collection Review and Swatches
NARS has always brought it when it comes to holiday launches and the Sarah Moon Collection for 2016 undoubtedly holds up those expectations! This is one of the most wearable, beautifully curated, and all round damn pretty collections the brand has launched in a good long while. I have a handful of pieces from the launch to share with you all today, and you might guess it already, but almost all of them are big hits with me!
Shop the NARS Sarah Moon Holiday 2016 Collection:
Sephora • NARS • Selfridges • Nordstrom
For Holiday 2016, NARS has teamed up with famed fashion photographer Sarah Moon to offer up some beautifully styled palettes and stunning colour choices. I was first drawn to the Give In Take Palette which features the Dual Intensity eyeshadow and blush formulas – a product I already love. Housed in a super sturdy plastic palette with a full sized mirror that stands up on its own, it featured Sarah Moon's ethereal photography on the front instead of the brand's signature black rubberised packaging.
I've seen this palette get mixed reviews, but I think it is stunning! The formula might be deceiving on these, but they are created to be worn both wet and dry, giving you the choice of soft colour, or bold intensity. I find these incredibly buildable and there isn't a shade out of place in the palette. I found that the shadows in this palette performed as well as my singles I already own. Even more so I was thrilled to see that it wasn't a palette full of metallic shadows that can't be paired with each other. These range from matte to satin to shimmer, giving so much dimension.
Also coming with a stunning Sarah Moon themed casing are the Cheek & Lip Palettes. I have Recurring Dare, which is full of peach hues, and there is also True Story which has more pink/rose tones. I have to say, it is SO refreshing to see a blush palette from NARS that does not include the famed Orgasm Blush – we've seen that enough, haven't we now?
Recurring Dare Cheek & Lip Palette
Albatross – permanent (white gold shimmer)
Sex Appeal – permanent (pale pink peach matte)
Illusive – exclusive (rose petal pink matte)
Make Believe – exclusive (coral peach matte)
Satin Lip Pencil in Golshan – permanent (warm red)
True Story Cheek & Lip Palette
Devotee – exclusive (pale pearl pink shimmer)
Myth – exclusive (warm neutral pink matte)
Unwritten – exclusive (bright warm pink matte)
Outlaw – permanent (rose with gold shimmer)
Velvet Matte Lip Pencil in Mysterious Red – permanent (blue based red)
I love these blush palettes – they take the guess work out of pairing blushes/highlighters together, and the Lip Pencils are full sized, which means you can replace them once you wear them down to a nub, or switch them out for your favourite shade!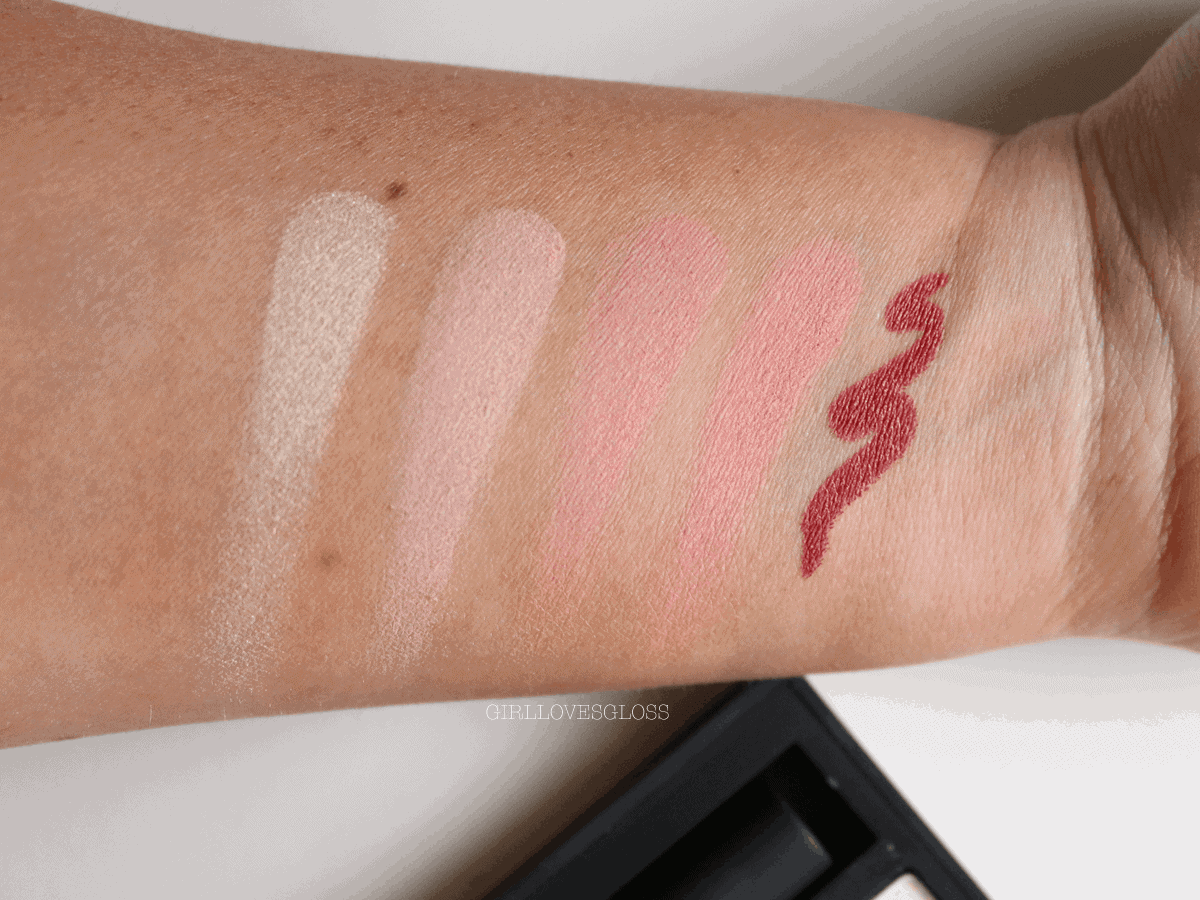 Shop the NARS Sarah Moon Holiday 2016 Collection:
Sephora • NARS • Selfridges • Nordstrom
Along with the palettes, there are also a few other sets, as well as there are some individual products in the Sarah Moon launch, including the new Moon Matte Lipsticks. These new lipsticks claim to be formulated with hyaluronic acid for hydration, and soft matte powders for a velvety finish that is forgiving. I have the shade Indecent Proposal, which is listed as a 'nude rose' but I would say that it applies more brown that rose. While I actually loved the brown colour (it had me feeling all sorts of 90's vibes) and it wore really well through an entire meal out, I found my lips felt exceptionally dry after removing the lipstick.
There were two limited edition classic formula blush shades included in the collection; Impudique – a pink red, and Isadora, which while listed as a lavender pink is really more of a warm shimmer rose. I have Isadora (shown below) and was impressed with the pigmentation and wear – I'm thrilled it isn't actually lavender like the Sephora description!
NARS Sarah Moon Collection for Holiday 2016 is not surprisingly Limited Edition, so if you see something that strikes your fancy, now is the time to pick it up. I can't remember when I liked so many offerings from one NARS collection! Let me know which is your favourite in the comments below.
Shop This Post
---