My Morning Skincare Routine
When I was younger I would literally slather Lubriderm lotion on my face and call it a day
(the horror, I know!)
. I was blessed with incredible skin; Something that doesn't seem to have been continued into my 30s. After countless products and combinations, there are 5 that I've been using every morning and my skin has been loving. Stay tuned for my updated evening skincare routine, but in the meantime, here's how I start my days!
As a former Noxema teenager
(boy, did I love that tingle/burn!)
I really knew nothing about skincare, nor did I need to, until I got close to 30. Then the dreaded breakouts started, the uber sensitivity, and the dull, textured skin reared its ugly head. Sounds lovely, doesn't it? For the first time in my life, I was paying attention to ingredients (
Mineral Oil:
Bad!
Hyaluronic Acid
: Good!). Thanks to finding some incredible information on the interwebs, like
Caroline Hirons'
blog, I feel like I've got a great handle on my morning and evening routines.
Getting Rid of the Grime
---
If I have learned anything from Caroline it is that cleansing is an absolute must for great skin, and it needs to be done morning and night. Through the night we sweat (deny it all you want, but I bet you do) and shed skin cells – not to mention get gross sleep crusties and probably a drool mark or two. Simply splashing water doesn't cut it, so I reach for my all time fave, the Tata Harper Refreshing Cleanser*. It smells like oranges, and is super effective whilst still being gentle and non-stripping.
A Spritz to Soothe
---
When it comes to skin, the word "toner" used to bring up all sorts of "my face is burning, and why does this smell like alcohol??" memories from my teen years. Turns out, that stuff wasn't really toner and was actually pretty harmful to the delicate nature of skin. A good toner should balance the pH level in your skin after cleansing, so that it can readily accept all the good stuff in your skincare. In the morning I love the speed of a spray, and my personal favourite is the Omorovicza Queen of Hungary Mist*, which is made of Hungarian Thermal Water, orange blossom, rose and sage.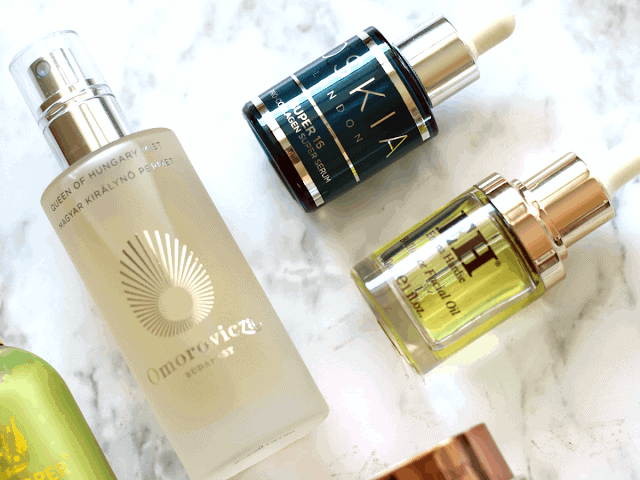 Heavy Hitters: Serums
---
I think serums are possibly one of the most important steps in a skincare routine. The Oskia Super 16 Serum* is pro colagen boosting with a rehabilitative blend of 16 super nutrients and bio actives. What does this mean? With a retinol equivalent to help undo the signs of damage and wage war on wrinkles, as well as ingredients to boost elasticity, lustre and resilience. Sounds like it does a lot? That's because it does; Serums penetrate deep into the skin working their magic outwards, unlike a good moisturiser which will only protect the outer layer of skin.
Getting the Glow
---
I've fully fallen in love with facial oils and give kudos to them for fixing a myriad of skin concerns of mine. When it comes to getting a really glowing complexion, I've boiled it down to a drop of oil smoothed onto the skin after serum. Not only does this seal in that hard-working serum, but it balances the lack of oil I have in my dry, dehydrated skin. My favourite for its lightweight feel and fast absorption rate is the Emma Hardie Brilliance Facial Oil* – it never feels like too much nor does it interact poorly with my makeup!
The Finishing Touch
---
You didn't think I was going to say I pop on a generous coat of Lubriderm after all this, did you? Word of advice folks: If you are going to put it on your legs, it should go nowhere near your face!
For daytime, I am in love with the Charlotte Tilbury Magic Cream (as is half the world, it seems!). It feels rich, soothing and hydrating on my skin and preps it perfectly for makeup. It's full of all the good stuff like Hyaluronic Acid, Rosehip Oil, and a BioNymph Peptide Complex which helps fight free radicals and stimulate collagen. On top of that all, it has an SPF of 15 which makes it perfect for daily use for me (obviously use higher SPF if you are spending time in the sun though!)

There you have it! Long winded on screen, but these 5 simple products help my maintain a smooth, radiant complexion and prevent premature ageing, sun damage and dehydration! Let me know what is in your morning routine in the comments below, or if you have an experience with the products I love!
Shop the Post
---