For the Sparkle Lovers: Urban Decay Moondust Palette
With a name like '
Moondust
', Urban Decay's latest palette sounds out of this world right out of the box. Apparently, the brands most requested palette ever,
Urban Decay's Moondust Palette
* features eight uber sparkly, multi-tonal glittering new shadows. Right out of the box, I doubted I would like this palette given the nature of glitter in cosmetics
(and my aversion to wearing glitter)
but I'm actually pleasantly surprised by the quality of these shadows!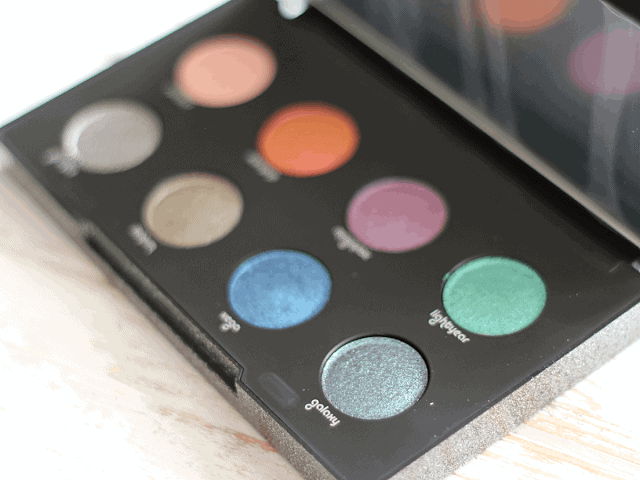 The
Urban Decay Moondust
palette has 8 new shades in a variety of colours from neutral to bright. I initially didn't think I would wear half the shades in here, but they are so damn pretty swatched I might have to make an exception to my
"green is only for St. Patrick's Day"
rule. I think my favourite in the entire palette is
Galaxy
, a stunning black based duochrome teal/navy combo.
Usable wet or dry (all the swatches shown here are dry, no primer), I recommend patting these on with a finger or a stiff flat brush – in fact, Urban Decay has even launched a
Moondust Brush
made specifically for applying these! I feel I get the best application over top of a glitter adhesive style primer like the
Too Faced Glitter Glue
, which eliminates most of the fall out – and issue bound to happen with glitter/pigment style shadows. Unlike some UD shadows, the sparkle factor in these is a very finely milled glitter, and I didn't have any sort of irritation or rough feeling during application.
The compact itself looks like something straight out of a galaxy far, far away; The charcoal grey glittering palette stands out amongst anything else I have from Urban Decay, and the mirror inside spans edge to edge making it actually very usable!
Each shadow in the Moondust palette is 0.02oz and the palette retails for $70 CND, which I consider steep for a palette with only 8 shades, however individually, Moondust eyeshadows are only 0.05oz and retail for $25 CND/each. So, if you love a good bit of sparkle, and some really incredible brights, then the value on this palette is actually very good!
If you ever needed an excuse to treat yourself to some serious sparkle, the Urban Decay Moondust Palette might be it. I was pleasantly surprised to see how well it swatched dry, and to see that it wasn't 8 undefinable glitters that really don't have their own unique colour base.
Shop the Post: