Hot or Not | Smashbox Photo Finish Primer Water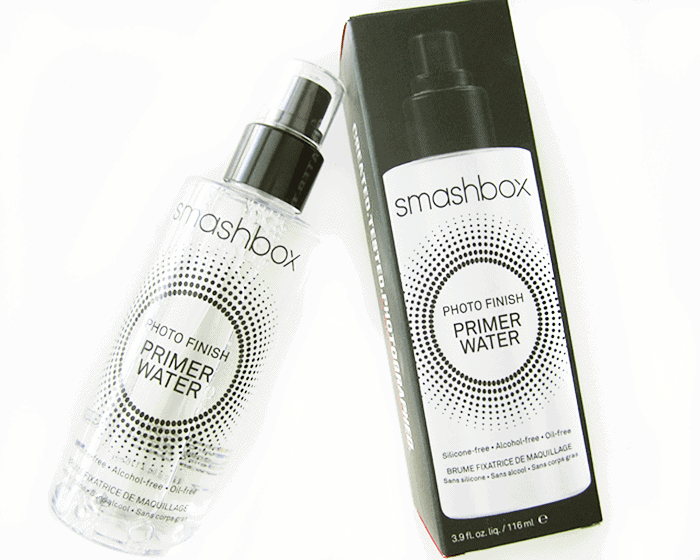 Here's an example of your classic case of a misleading name.
Smashbox Photo Finish Primer Water
had me not wanting to give it a try purely for the fact that it said water in the name. I mean, they don't expect me to pay $37 CND for spray water… right? Well I did, and am pretty darn happy about it too. Let's expand on this, shall we?
Coming from the brand that is known for primers, I know Smashbox take things seriously when it comes to keeping your makeup looking its best, all day long. The thing is, I have never been fussed by the brands claim to fame because I really didn't get on with the heavy silicone feel of their primers. When I saw this in the store however, I was intrigued by the fact that it claims to be silicone, oil and alcohol free – another gripe I have with setting sprays (dry or dehydrated skinned gals will probably feel me on this one, alcohol doesn't do anything good for us!) Let's just say, I instantly wondered if actually was just fancy expensive water, since it excluded many of the things included in traditional sprays and primers. So naturally, I took a peek at the ingredients only to see diamond powder was one of them?! *raises eyebrow*
Something unique about this product is that you actually spray it on a a primer first before your base, and then can use a setting spray if you so desire afterwards. After loading my hand up with makeup swatches in the store and then spritzing I could tell instantly that this definitely helped get that more airbrushed glow, so I threw caution to the wind and dropped some coin on it. It didn't hurt that it had a really pleasant scent, but that might be a con for scent sensitive people. I am very much so sensitive, but I quite like this. Smell before you buy if you can.
After using this solely under my foundation purely as a priming first step for bout a week now I can say confidently that I really like this product. It sinks into my skin right away, doesn't leave it feeling tight and I do notice my makeup looks fresher, longer than it does without, or with other primers. In fact I would say that performs very comparably to my beloved Illamasqua Hydra Veil, minus the extra hydration properties. As a setting spray it really gives a glow to the skin – something oily skinned folks might want to stay away from. I personally feel like this product is better suited to dry, normal and combo skin types… but I'd love to hear if you have oily skin and like/loathe this?
Another huge plus for the product is that it has the finest spray which really gives a nice light even dispersion of product. I'd compare it to the nozzle spray of the Caudalie Beauty Elixir. Trust me, the Urban Decay sprays and Mac Fix+ seem positively messy in comparison!
A big old HOT rating from me on this and I am so glad I gave it a chance, I do very much enjoy when I love a product that I had absolutely no expectations for! Have you tried it yet?
You can purchase the Smashbox Photo Finish Primer Water at Sephora and Shoppers Drug Mart in Canada.