Home Sweet Home: NYX Soft Matte Lip Cream in Vancouver
I don't often start a post with a picture of your's truly, because it's a bit sassier than I really am to be honest. In this case though, I felt it was just because you all know this shade is well beyond my peachy-pink comfort zone! This deep raisin hue is courtesy of a bit of a special product:
NYX Soft Matte Lip Cream in Vancouver
(yes, that's right – named after my very own home sweet home!).
If you're new to the
NYX Soft Matte Lip Creams
, there are 34 shades all named after incredible cities around the world. Recently when I was at a beauty preview event for London Drugs (Canadian drugstore chain), the rep for NYX told us all about some of the new products the brand was launching and one of the exciting additions was a new shade in the Soft Matte Lip Creams:
Vancouver
. Naturally this was beyond exciting given Vancouver has been my home city my whole life, and I absolutely adore it and think it is one of the most beautiful places in the world to live.
The formula of these are a stretch from the matte liquid lipsticks that are booming right now. I don't consider them ultra-matte but rather a bit more velvet-matte, and they don't set completely, leaving a slip emmolient feeling on the lips. The texture applying is quite mousse like, but like many deep and vampy shades, I found it a bit hard to get an even application. Often if I tried to build it up to full opacity, the wand would remove some of the product I'd already applied. This is probably the rare case when I would have preffered a setting formula, as it would have been easier to build in layers, and then there wouldn't be the constant dread of lipstick on the teeth.
The shade '
Vancouver
' itself is stunning; A deep raisin purple that will look amazing on many different skintones. I am surprised how much I liked the shade on myself, given it's no where near the normal range of colours I'd wear on my lips. I purposefully kept my eyemakeup minimal knowing I would be trying out this lip –
I think it could easily look overwhelming with a dramatic eye
(unless you're going for that, in which case I'm envious of your makeup confidence!).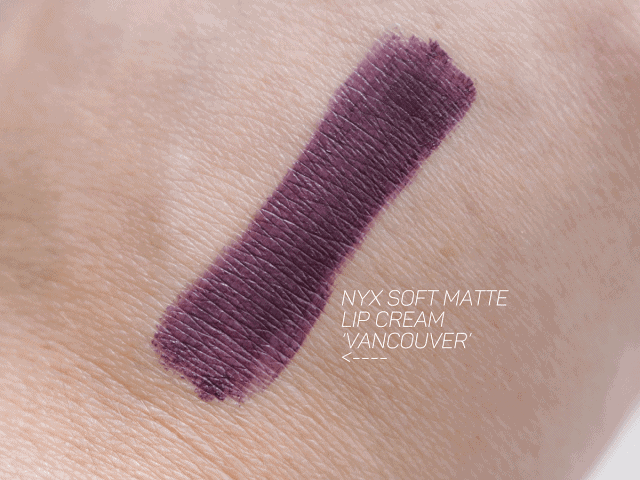 Have you tried the NYX Soft Matte Lip Creams, and if so what is your favourite shade?
If you were going to have a shade named after your city, what colour would it be?