Urban Decay Goes a Little Mad with the Alice Through the Looking Glass Collection Lipsticks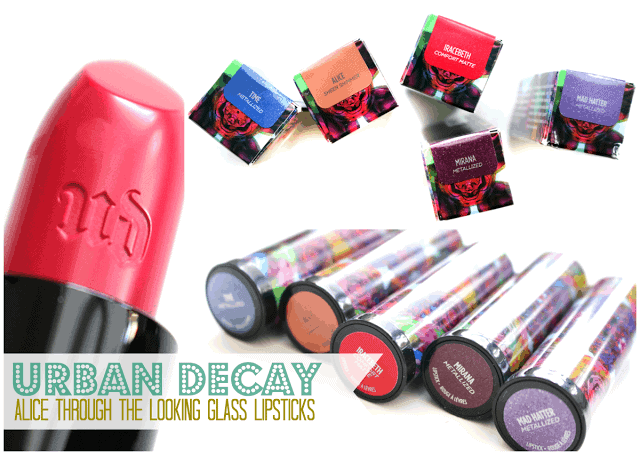 If you missed it earlier this month, Urban Decay announced a MASSIVE revamp of their lipstick line. At the same time they launched the
Alice Through the Looking Glass Collection
, which had some of the new formulas in it! I have all 5 shades, and if you're loving a bold or unusual lip choice (or just a really stunning red!) then keep reading for swatches and review!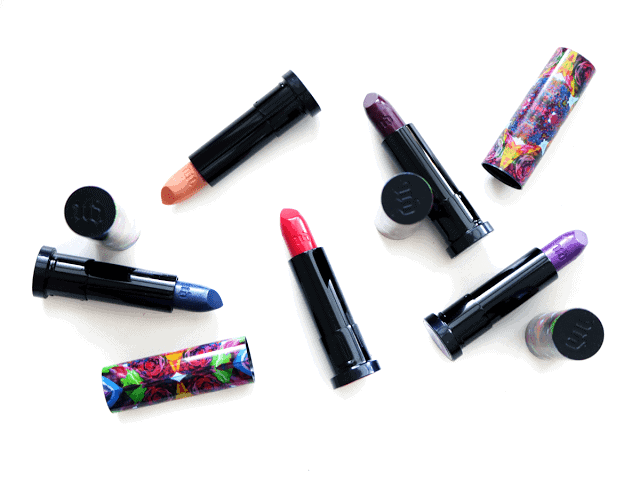 I delved into my love of Alice in Wonderland in my first post reviewing the
Urban Decay Alice Through the Looking Glass Palette
. The film holds a special place for me, and the curious character of Alice has always appealed to me so much more than the classic Disney princess who waits for her prince to save her. Instead Alice makes a series of decisions for herself deciding her own fate and learns a few lessons along the way. That and the psychedelic drug references, which always crack me up, total make the 1951 animation worth watching even as an adult!
Hookah smoking caterpillar aside, the fives shades of the
Urban Decay Alice Through the Looking Glass Collection Lipsticks
range three of their new formulas: Comfort Matte, Sheer Shimmer and Metallized. All five had great colour payoff, even the beige nude sheer shimmer of the shade "
Alice
" which I had my doubts about until swatched. It looks like nothing in the tube and swatched, but when on the lips it has the most gorgeous peach/pink duochrome that reminds me a lot of the
Afterglow Highlighter in Fireball
!
The other two shades I can see being most popular are of course the classic matte blue-red shade "
Iracebeth
" – which has insane pigment and instantly left a faint stain on my arm that lasted through taking a makeup wipe to remove swatches, and "
Mirana
" – a stunningly deep burgundy which also has some tonal shimmer giving it a really fabulous look to the lips.
On the wilder side of the spectrum are "
Time
" – a dusty denim metallic shade which I can see my grey-lip lovers dying for, and "
Mad Hatter
" – a metallic grape purple. Personally, these are the two shades I can't see myself reaching for
(I am in no way cool enough to pull off blue lips folks)
but the pigment and application of them is smooth and comfortable on the lips.
In terms of packaging, I will say that I feel these look a bit 'cheap' – much like the
Gwen Stefani Lipsticks
did. Perhaps that's because my standards were set by the slick gunmetal bullets of the Revolution line. These are plastic, with a wraparound kaleidoscope pattern that has a visible seam where the pattern overlaps. Call me a design snob, but little details like this standout to me. If I didn't know these were Urban Decay, I would assume they were drugstore-priced… just sayin'!
Regardless of design however, the inside is what really counts, and the quality and pigment stands up to what I expect from Urban Decay. These make me really excited to see what the soon to launch 100 shade Vice Lipstick Range will hold for us all! Since the Alice Through the Looking Glass Collection is limited edition, I suggest you order one asap if the colours tickle your fancy!
Would you wear blue lipstick? Which shade speaks to you the most?
Shop The Post: