Urban Decay Afterglow 8 Hour Powder Highlighters : Review & Swatches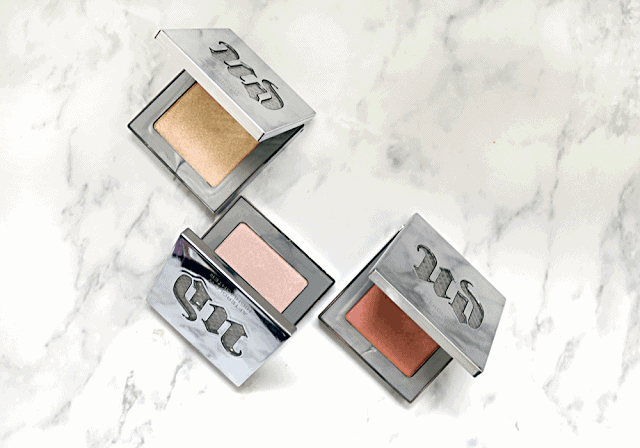 With brands launching highlighting products everywhere you turn, there's no doubt that the whole strobing/highlighting-to-be-seen-from-space trend is going nowhere. So really, it was only a matter of time before ever trendy Urban Decay launched a highlighting powder worth hyping. Enter in the
Afterglow 8 Hour Highlighting Powders
*, which come in three shades and we've got ourselves a serious contender for maximum glow factor.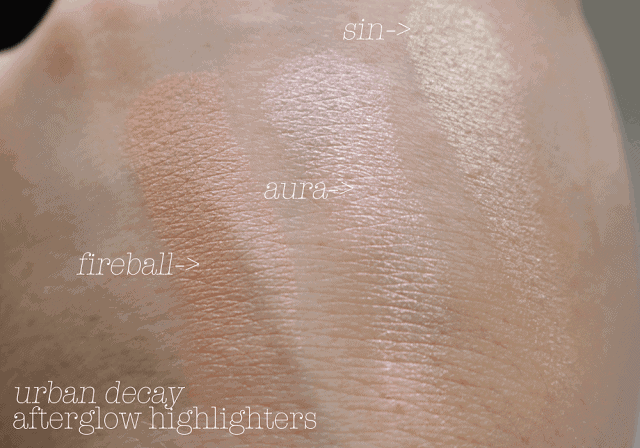 The new
Urban Decay Afterglow 8 Hour Powder Highlighters
come in three shades:
Sin
(classic yellow based champagne),
Aura
(cool toned icy pink) and
Fireball
(rose/peach duochrome). I won't lie here, I expected these to be way too frosty for my liking and I have no problem eating my words when a product proves me wrong, because they are really lovely. Unlike
Urban Decay's Afterglow Blushes
, which I found powdery and ashy on my skin, these really blend out beautifully. While you can totally go full disco ball and have the highlight of the heavens opening up, you can also really subtly add some glow that won't emphasize pores and fine lines, which really is my aim these days.
The compact these are housed in is completely Urban Decay-chic, with a mirrored chrome look and mesh grated window that allows you to see the shade inside. There is no mirror, which I don't find necessary for a highlighting powder personally, and because of this the compact was able to be kept quite sleek and slim yet still contain 6.8 grams of product (the
Hourglass Ambient Strobe Light Powders
are 4.6 grams, and
Becca's Shimmering Skin Perfectors
are 8 grams for comparison).
I was originally surprised by the shade selection on Urban Decay's part – I didn't 'get' the addition of Fireball, but turns out it is actually my favourite shade! While I think Sin will be the consumer favourite, Fireball offers the most amazing duochrome peach/rose that looks so gorgeous on top of blush and I think will look amazing on tanned or deeper complexions. I've not found myself reaching for Aura as much, simply because I don't tend to wear cooler tones on my cheeks, but it does look amazing as an inner corner eye highlight or blended on the lid to liven up a matte shadow!
I really didn't expect to love these as much as I do – during a year where everyone and their dog has released a highlighting product, these stand out to me. My initial thought was they would be too metallic, too frosty and too sparkly, but in actuality they are beautifully buildable and offer a variety of finishes that settle well on the skin regardless of what foundation I am wearing. I'm not too proud to admit when my first impression was wrong, and in the case of the Urban Decay Afterglow Highlighting Powders I am thoroughly impressed! Bravo Urban Decay, another home run!

What's your current favourite highlighting product?