This Just In: Becca Shimmering Skin Perfector Luminous Blushes
In case you've been hiding under a rock for the last year or two, you may not have noticed that Aussie brand Becca have become the Queens of Glow. With the now infamous
Shimmering Skin Perfectors
coming in the classic liquid formula, pressed and poured, taking the world by storm
(who didn't hear about Champagne Pop?)
I knew it was only a matter of time they added a bit more colour to the range. Enter stage the creation of
Becca's Shimmer Skin Perfector Luminous Blushes
*: a hybrid of colour and glow that are absolutely stunning.
Becca Shimmering Skin Perfector Luminous Blushes
are designed to be just the right balance of colour and light and can be worn alone, or as a blush topper over a matte formula to bring it to life. Generally I would read this as the product being sheer when worn on its own, but the two shades I received are incredibly pigmented! I barely need to tap the brush to the compact to pick up enough product, and a little goes a long way.
The formula of these is wonderfully silky and almost creamy in texture in the pan and not at all as thin as the pressed
Shimmering Skin Perfectors
. The pigment that is deposited is so incredibly luminous, and while I was worried these would be uber frosty it's not the case at all. The texture of these blushes melts into the skin and although they might look sparkle heaving the pan, it doesn't translate to the skin in any other way that skin-like radiance. I find some blushes that have shimmer emphasize pores and leave just sparkle on the skin minus any colour pigment – but this is not the case here! I don't know how Becca managed it, but the shimmer translates onto the skin in a way that just brings life back to the complexion,
sans glitter bomb.
These are housed in the standard Becca compacts complete with mirror, and have 6grams of product in each (Tarte Blushes are 5.6grams, Mac and Too Faced are 6grams) I was lucky enough to try two shades:
Snapdragon
which is a warm pink, and
Tiger Lily
which is a warm peach, and I'm totally torn between the two in terms of which I love more. There are a total of 6 shades in the range, and I already have my eye on a couple more. I had liked Becca's Mineral Blushes just fine, but in my opinion the Luminous Blushes just take things to a whole new level of quality for Becca.
I find these last about 8 hours on my dry skin, and in terms of application, I prefer a soft, slightly dense brush that I can buff the product into the skin with. I mentioned a little goes a long way with these, and I mean it; It almost feels as though the more you buff the product onto the apples of the cheeks, the more one it becomes with the skin. Clearly Becca has resorted to some kind of makeup sorcery for these and I am totally here for it!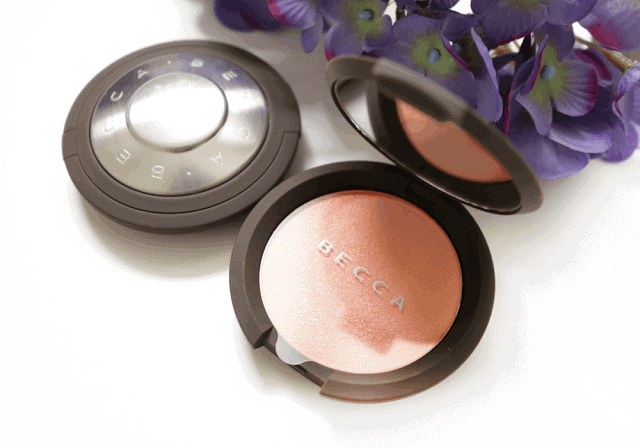 Have you tried Becca Shimmering Skin Perfector Luminous Blushes? What is your favourite blush formula/brand right now?