So we all know I needed another blush in my life like I needed a hole in my head, but when I saw this beauty on sale for half price a month or so ago, I figured it would be stupid not to buy it, right?
TheBalm Instain Blush in Toile
is a gorgeous strawberry coral kind of shade that looks absolutely terrifying in the pan, but melts into the skin in a way that makes your cheeks look like you've just stepped out from the sun and got a tad rosy. I'm not talking lobster red, but rather that sunkissed flush that looks amazing with a touch of tan.
Now these days the tan is fake, but when pair these blush with a bit of bronzer it just gives the most amazing glow that has people asking me if I have been away, and telling me how thin I look (no jokes here, three times I've had friends tell me it looks like my face is slimmer when I am wearing this blush. Coincidence? Perhaps, but I'm crediting theBalm on this one)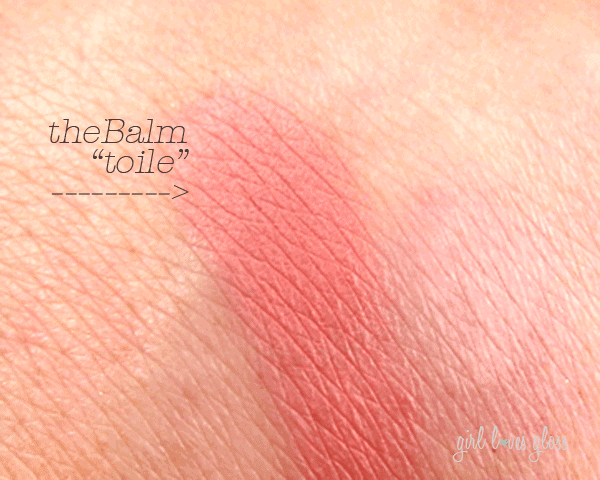 Since these claim a sort of staining property I wanted to put the longevity to the test, and can say that this shade lasts all day on my blush eating skin. Since it is so pigmented, a light hand is needed, and I suggest a soft brush that can buff the product into the cheeks a bit for that glow from within look.
Have you tried any of theBalm blushes? What are your favourite shades?
Some of the products and/or services mentioned in this post may have been provided for consideration and are denoted with an "*". These products may be linked using an affiliate link, which provides me with a small commission in return for providing readers with honest and authentic reviews. The earnings from affiliate links are what keep GirlLovesGloss.com running! You can read my full disclaimer here.