How to Break Up With A Friend
SOME RELATIONSHIPS ARE BETTER LEFT IN THE PAST. Sometimes, you need to know how to break up with a friend.
For better or worse, we grow in life and sometimes relationships we form don't grow with us. This can go for romantic relationships as well as family and friends.
A breakup from a spouse or partner can be incredibly hard and life-altering. Often, it's for the better, and this can be the case with friends too.
There comes a time where you might recognize that a person in your life just doesn't make you happy. Perhaps they actually are quite toxic? But how do you break up with a friend and why does it seem so hard for us to do?
Over the years I've come to learn that a bad friend does no one any good. It's become something I am grateful I learned to spot when I was quite young. Here are some signs you might have a friend in your life that really is no friend at all, and my tips for moving on from a friend breakup.
How to Break Up With a Friend
---
SIGNS YOU MAY HAVE A CRAPPY FRIEND IN YOUR LIFE
I know the word "crappy" might seem harsh, but sometimes that just means they aren't a good friend to you. Other times it might mean they have a whole lot of learning and growing to do before they can be a good friend to anyone.
Regardless, knowing the signs and addressing them with boundaries and strong choices can completely change your life for the better.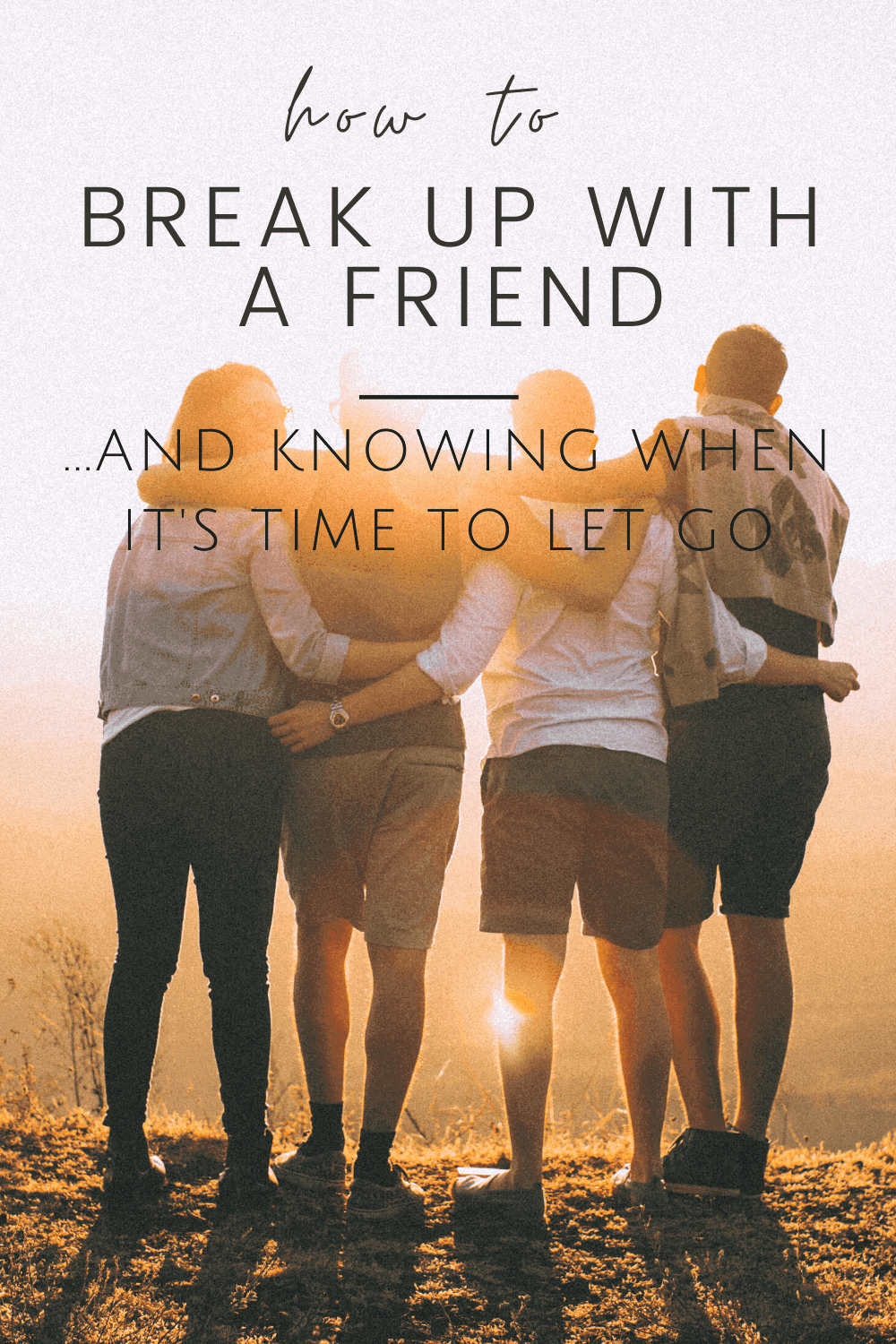 THEY ALWAYS HAVE A MOTIVE FOR REACHING OUT
This is a classic case of crummy friend syndrome; Most people have one of 'those' friends' who always call because they need something.
You know the type, they text asking if you have plans for Saturday, and once you respond that your day is wide open thinking they want to hang out, they turn around and say "awesome you can help me move out of my 4th-floor walk-up!".
Now, I'm not talking about when someone asks for a friendly favour – that's what friends are for right? I'm talking about when you only hear from them to do them a favour or provide something for them  (like lending money, being an emotional dumping ground, being a wing-person etc) and it's never or rarely reciprocated. 
CONVERSATIONS ARE UNBALANCED
I used to have a very close friend with whom I also worked with. Over the years, the manager, as well as my coworkers, got tired of her crappy work ethic and constant self-serving attitude.
At one point we had a long-running joke of taking bets on how long it would take her to actually ask how one of us was or turn over the conversation to someone else. The longest on record was 2 hours and 45 minutes. Yes, you read that right – it was almost 3 hours into a shift before she stopped talking about herself and relinquished the conversation to someone else.
THEY CHALLENGE YOUR SELF ESTEEM
I once had a friend that continually picked apart me in the most subtle, backhanded ways that it took years for me to realize.
It was little things like if I commented on her dress she'd respond with, "oh isn't it great? I don't think they make it in bigger sizes though". Or once I mentioned taking a class in the evenings and she said, "that's so cute! I think it's great your trying to educate yourself since you never got a college education".
At first, some of these might seem like a bit of foot in mouth syndrome, or a slip of a tongue. After a while, however, they chip away at your self-worth.
THEY CAN'T HANDLE WHEN YOU HAVE SUCCESS OUTSIDE OF THEM
Jealousy is an ugly trait, and it pops up in friends all the time, especially if one is particularly competitive. This can also be a control flex – when they can't control your happiness.
This could be aceing a test when they only got 97%, getting a promotion for your job when they dislike theirs, or even having the gall to get married/have children before they do.
If you're nervous or tentative to share your successes with your friend, you should consider that a big red flag. 
THEY GASLIGHT YOU
This is something I am all too familiar with, unfortunately. As someone who spent several years in a controlling and emotionally abusive relationship, I feel like I could write a whole post on gaslighting on its own!
In friendship, it can come across as never feeling like you get your voice heard or never feeling like you can say anything right. You might find yourself avoiding confrontation because inevitably you might end up apologizing when you've not been in the wrong.
This can especially hit hard when you need to have a serious conversation about some wrongdoing or hurtful behaviour.
Gaslighters are master manipulators that love to switch the narrative to come off as the victim. They often use phrases like, "Well I was just trying to help you and if you were more appreciative of my help we wouldn't be here" or "You're so sensitive, I can't have a conversation with you when you overact like this".  
YOU CAN'T CONFIDENTLY TRUST THEM
You know that friend who you always have to be reeeaaally careful about what you say in front of because you know they have loose lips? It's exhausting having to censor yourself when you have a friend that has a tendency to overshare with others.
Trust is a cornerstone of any relationship, and some people really lack boundaries when it comes with what to share and what to keep in the vault.
Even worse? Is that friend that boasts about being a gossip; "Oh you know I can't keep a secret! It's your fault for telling me!" (this is a double hitter – you've got a gaslighter AND someone who doesn't respect your trust and ultimately, respect you.)
"Stand firm, wish them the best and move forward."
THEIR NEEDINESS TAKES MORE THAN IT GIVES
"I just really need you right now"
"Can't you reschedule? I really need a friend right now"
"I know you have XYZ in your life, but I need you to understand what I am going through right now"
These are all signs of some serious neediness.
My husband used to have a friend who was… smothering to say the least. He flipped out once when we went away for a weekend without checking in with him, and then told us we weren't the types of friends he needed us to be and we needed to do better.
Neediness goes beyond needing a decent, reliable and trustworthy friend. Neediness is an unbalance of care and attention dictated by one person in a two-person or more relationship.
THEY BELITTLE OR MAKE FUN OF YOUR HOBBIES OR INTERESTS
Do you love Star Wars? Or painting model figurines? Or experimenting with makeup? Or like to write poetry?
We all have hobbies and interests, and good friends see those for what they are: something that makes you happy. Inconsiderate friends see those as points to tease, make fun of or embarrass you with.
Usually, the root of this is that the aforementioned friend doesn't actually have any interests of their own and feels bound by what looks cool and sounds good on paper.
THEY USE USE A VEIL OF HONESTY TO DISGUISE CRUELTY.
Oof, this is that friend that constantly hurts your feelings, but tells you that you can't be hurt because they are "just being honest!". If that sounds a bit like the gaslighting friend, you're likely right, because these traits can go hand in hand.
There's a big difference between the friend who you can rely on to tell you that you have food in your teeth and the one who casually comments that they "really hate the sound of your voice" or "someone's put on a few pounds!".
If your friend things these things are honest, helpful and valuable to say… they might just be a jerk. 
THEY FEEL THEY ARE EXCLUDED FROM RESPECTING YOUR IDENTITY OR CULTURE.
Have you ever had a friend who felt they could make racist jokes about your race because you were friends with them so it was ok?
Or perhaps this person refused to refer to you as your preferred pronouns because they feel they are above doing so, due to your "friendship"?
As a white cis woman writing this article, I know I have not experienced this the way many have had to. I can say I have most definitely experienced put down and derogatory jokes towards women by male friends who felt I should just take it as "funny" because we're friends so "obviously it wasn't meant to hurt".
This should be a hard line in the sand for boundaries. Don't keep racist, sexist, misogynistic or bigoted people in your life purely because they've always been there.
OK… SO YOU REALIZE YOUR FRIEND ISN'T REALLY A GREAT FRIEND…
NOW WHAT?
CONSIDER WHETHER ITS A FRIENDSHIP WORTH SAVING
Do you still see plenty of good and balance from this person? Could confrontation and conflict resolution solve this? If not, it's time to accept that you're no longer in a friendship with this person because friends don't treat friends like that.
VIEW NOSTALGIA FOR WHAT IT IS: THE PAST
It's hard to leave any relationship when there are years, if not decades of memories. You can mourn for what was, but that doesn't mean you have to continue to hold on to a ghost. And here's the most important thing: You don't have to tarnish your memories of the past with the current.
Those nights you laughed till you cried?
The late-night heart to hearts?
The inside jokes you had together?
You get to KEEP ALL THE MEMORIES and think of them fondly. You don't have to stay connected to someone who isn't respectful of your boundaries or worthy of your love.
BE HONEST… WITH YOURSELF
It becomes easier to step away when you take the word "friend" right out of the equation. Honestly ask yourself if you would enter into a friendship with this person if you just met them today? The answer is usually VERY telling.
CONSIDER IF YOU NEED TO CUT ALL TIES
I know this sounds harsh, but you may have to completely sever the tie depending on the person you are choosing to no longer be friends with. Especially if boundaries were an issue before, sometimes cold turkey is the way to go. Dabbling in and out may send a message that you're not able to stand up for your own needs.
USE CLOSE ENDED COMMUNICATION
The best way I have found to opt-out of friendship is the start using close ended communication. When they text asking for something, or to go out, or for a favour, a firm but short "No" is a full sentence. Do not say "Sorry I can't" or "oh maybe next time" thinking that deflecting will work; It only postpones the inevitably or encourages the current state of things.
You can say no. Somewhere along the way we as humans often feel like we can't just say no, and you can.
FINALLY, CONSIDER AN HONEST, FINAL STATEMENT
Some won't get it. They can't read the room, pick up on a tone or interference. They might even instigate confrontation ("Why don't we hang out anymore? I need you to help me move Saturday") and this is your chance, to be honest, but controlled.
"This friendship has become unbalanced and I feel it's time to move on from it."
"You say cruel things to me and that isn't someone I want to be friends with."
"I no longer can continue to do favours for you. Good luck"
"You continue to break my trust and I no longer will put up with it"
I've explained to you why your jokes are hurtful and inappropriate. I've chosen not to subject myself to them."
Remember the close-ended communication and don't leave things open to interpretation. Saying, "Currently I feel we just aren't working as friends… but I hope we can again one day" is akin to suggesting to a soon to be ex that you might get back into a relationship with them again before you've even officially ended the current one. This is your chance to be honest without being mean.
Stand firm, wish them the best and move forward.