A Guide to The Wet Brush | Which Wet Brush is Best?
LADIES AND GENTS, IF YOU HAVE HAIR PAST YOUR EARS, YOU SHOULD GET A WET BRUSH IN YOUR LIFE, PRONTO.
But which Wet Brush should you get?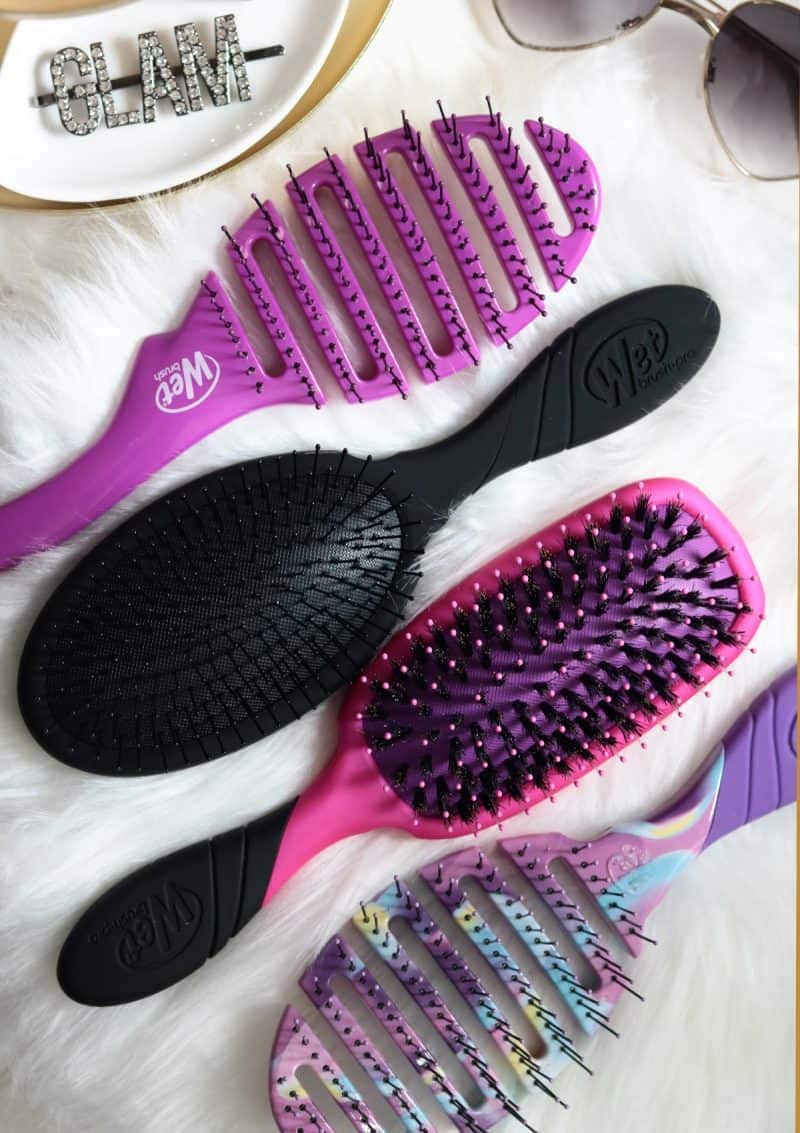 As someone with fine, very long and very delicate hair, I am always tentative to try something new. For years I relied on a standard old hard nylon-bristled paddle brush; It's what I was always suggested for long straight hair.
It would tear through my wet hair, and I'd douse my hair in detangler just to get the job done. I genuinely just thought that was normal… up until a few years ago when I discovered Wet Brush.
Turns out not only are all hairbrushes NOT made the same, but you don't need to drop a small fortune to get one that is kind to your hair AND scalp.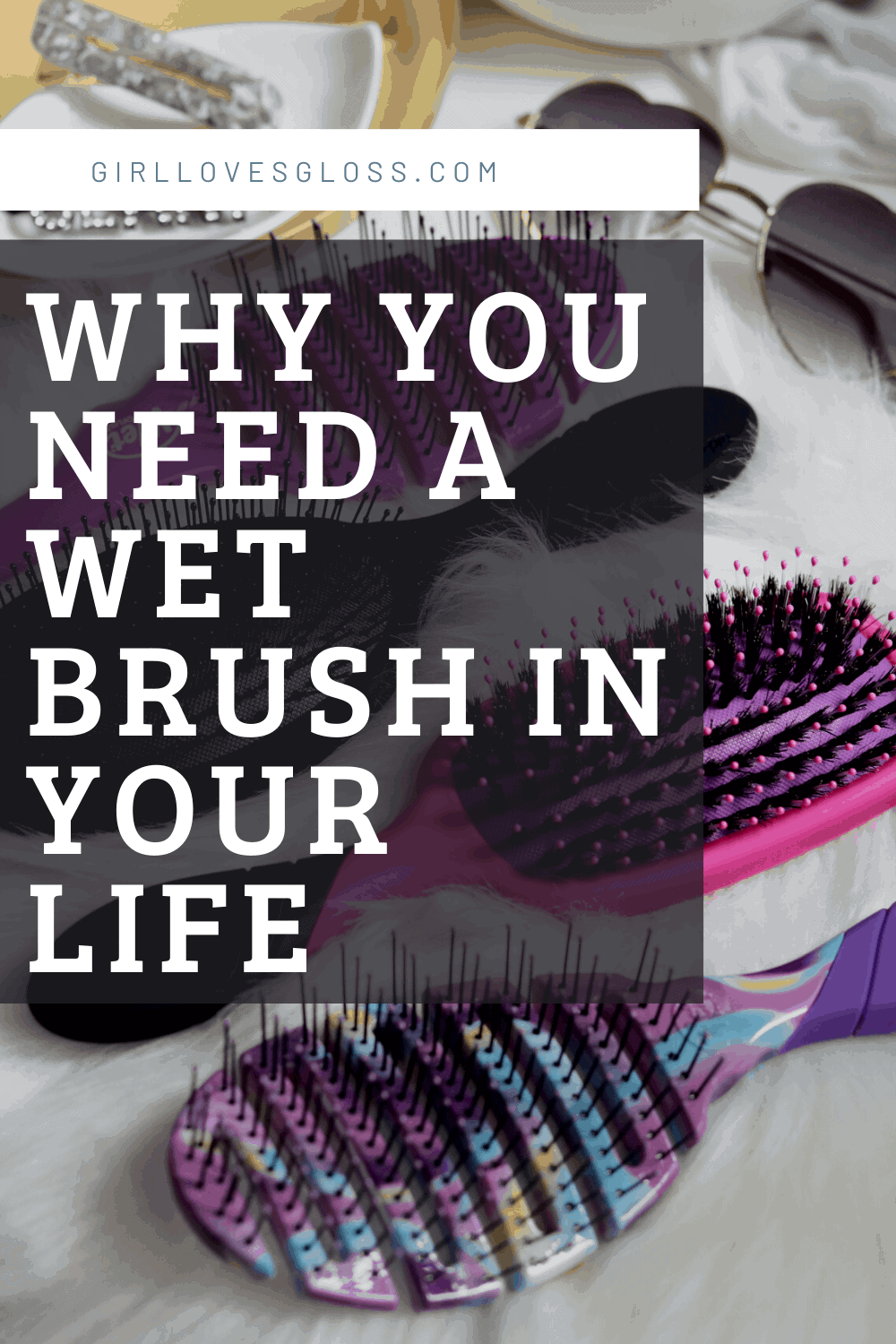 The Wet Brush started with their original detangling brush and has expanded to several different types to meet all hair needs. I have 4 of them, and use and love them all for various reasons! That might seem excessive, but once you start treating your hair and scalp as individual concerns arise, it's a hair game changer!
WHAT IS A WET BRUSH: "With its unique IntelliFlex™ bristles, the Wet Brush runs effortlessly through hair, detangling without pulling or tugging. There's no pain and no tears–whether your hair is wet from the shower or dry, curly or straight, thick or fine. No more tears!"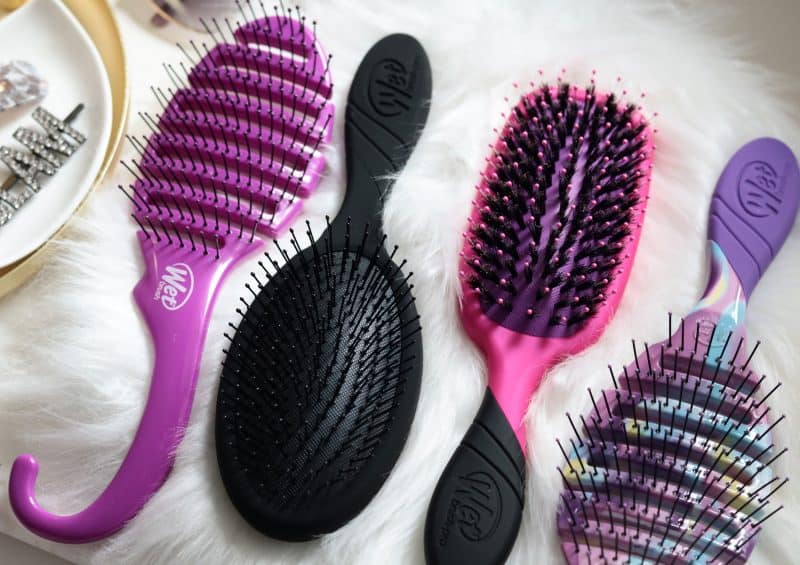 AVAILABLE AT: Ulta | Target | Amazon | Well.ca
VARIATIONS OF WET BRUSH: The brand has branched out incredibly over the years. I have 4 variations and love them all for separate reasons.
The Original Wet Brush

The Wet Brush Shower*

The Wet Brush Shine

The Wet Brush Flex
THE ORIGINAL WET BRUSH: This was the first one I purchased several years ago, and since then I have replaced it a few times.
It's the only brush I will use to brush out my hair after washing; It glides through knots better than anything I've ever tried. It is also the only brush I use on my toddler's fine, baby hair.
The nylon IntelliFlex™ bristles are super flexible and manage to glide through wet or dry hair with ease. They never yank and have give to them that makes for less damage and hair loss.
This brush made me realize that brushing out tangles and freshly washed hair didn't have to be traumatizing; I don't have to suffer through seeing loads of hair ripped and broken off in my brush or comb.
In fact, it's spoiled me that I cringe and hate when I see a hairstylist and they use a comb to brush my hair after shampooing and conditioning. Brushing wet hair shouldn't be painful!
THE WET BRUSH SHINE: This was the second Wet Brush I bought and will soon be replacing mine as it's on its last days.
It's a mix of the IntelliFlex™ bristles and boar bristles, which add in the shine to the equation. I use this on dry hair as my daily use brush as well as brushing hair into ponytails and buns and whatnot.
This is the brush I reach for when I need to get my scalp treated right. I use it every morning and night to give my scalp a good brushing, which helps stimulate the follicle and loosen dry skin and product buildup.
It also helps disperse the natural oils your scalp produces through the length of your hair to help your ends from drying out. If you use dry shampoo, you need to be brushing your scalp to help rid it from all that product clogging your hair follicles!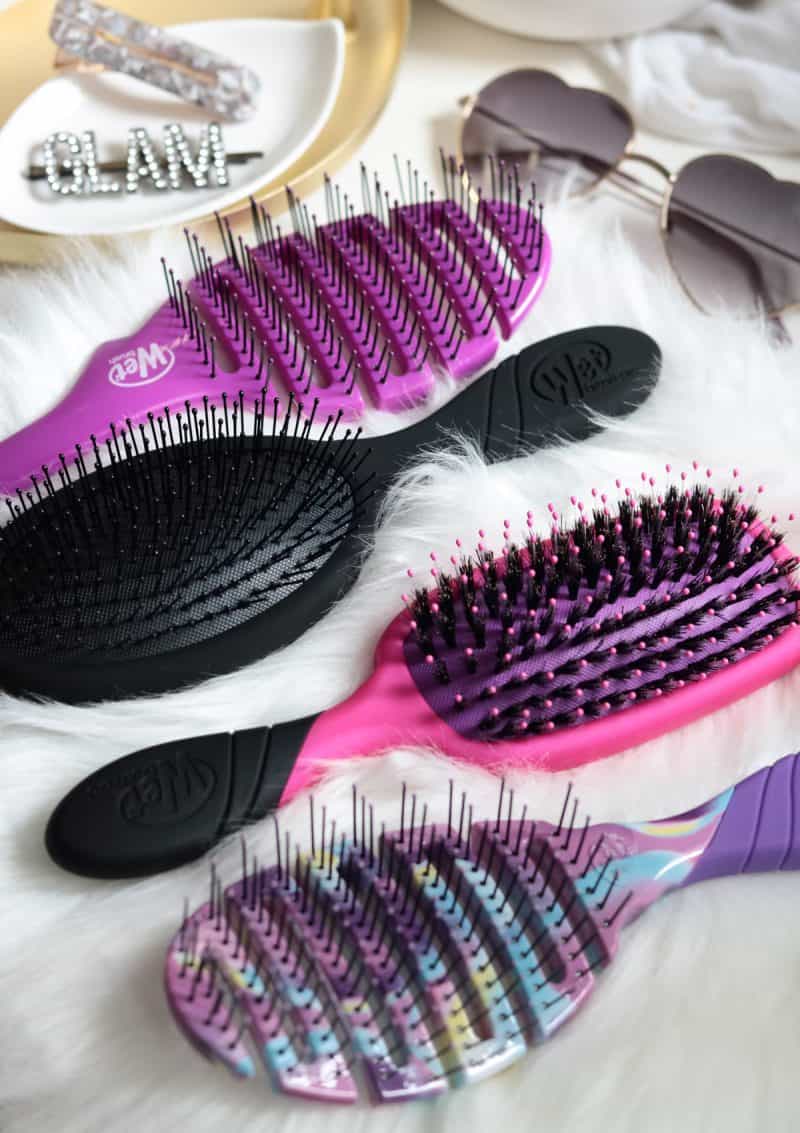 THE WET BRUSH SHOWER: This one was new to me and I LOVE that it has a hook on the end to hang in my Simple Human Shower Caddy.
I was sceptical about this brush because I've never been the type to comb or brush my hair in the shower. I have super long waist-length hair, and the thought of brushing it in the shower always horrified me.
This brush though – well let's just say it is a revelation to my shower game! I can brush root to ends with this bad boy like it's gliding through butter.
No tangles. No tugging. No pulling hair out.
It is AMAZING.
I can't tell you the magic other than the bristles, because it doesn't look like anything special at first glance. But if you have hair than knots easy, is fine and delicate or curly, you need this.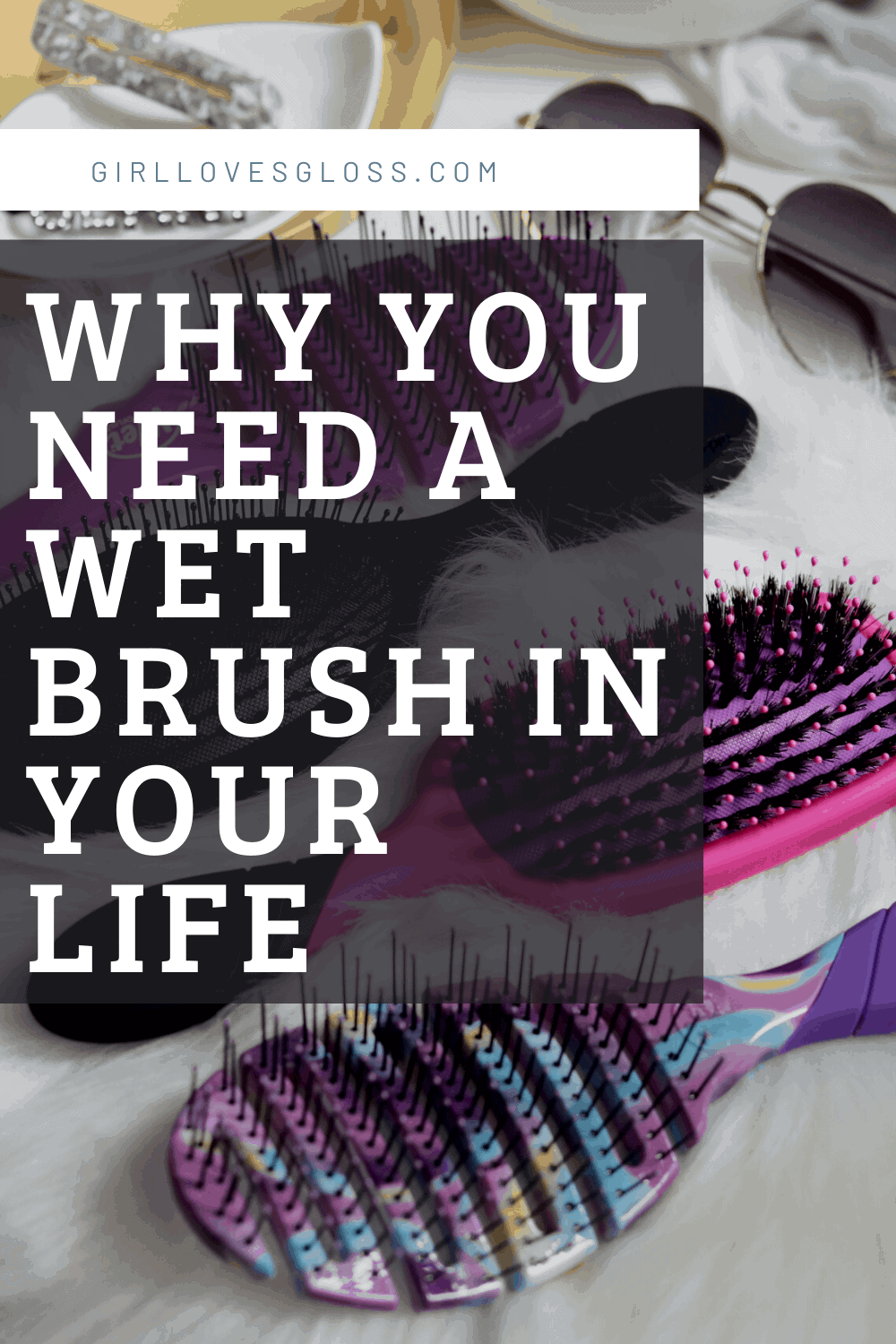 THE WET BRUSH FLEX: This is Wet Brush's answer to a blow-dry brush, and it's designed to expedite the time it takes to dry your hair.
It's not my favourite Wet Brush, because the bristles don't seem to have the same flexibility that the others have. I find it can tug a bit, and the open cutouts on the side sometimes can catch my fine hair.
Having said that, it does lend to drying my hair significantly faster, so I keep using it. The open back of the brush lends to more airflow, so it makes sense that the brush works wonders for dry time.
In my personal experience, this brush would be better suited to thicker hair; My fine hair doesn't love the design as passionately as it does the other Wet Brushes.
Since switching to The Wet Brush, I've noticed a few incredibly positive things in the health of my hair.
Firstly, I rarely get dry flakey scalp anymore. Secondly, I don't get knotty tangled hair. Third, I don't "shed" or lose nearly as much hair as I used to!
When you factor in the fact that these usually run under $15 each, you can get the brushes that most suit your hairs needs all for less than the price of when fancy brush that can't do it all!
HAVE YOU EVER TRIED A WET BRUSH?
SHOP WET BRUSH
---

JavaScript is currently disabled in this browser. Reactivate it to view this content.