This post is sponsored by the Colgate* Optic White TM/MC  #DesignerSmile Campaign. All views and images are my own.
I'm the first to admit I love a good bit of makeup. I'm not afraid of colour, or to go out in a full face, but at the end of the day I feel the most beautiful thing a person can have is a great smile. As a girl who had the full mouth of braces, retainers, elastics, neck gear (yes, I am admitting that on the internet!) and random other orthodontic work as a teenager, keeping my smile looking as bright as I can is a top priority for me. So when I was given the chance to try out some of the new products for the Colgate* Optic WhiteTM/MC  #DesignerSmile Campaign, I jumped at the chance! Keep reading to find out how I get my smile looking brighter and whiter in a few simple steps.
† When brushing twice daily for 6 weeks
I've always been on top of oral hygiene and like to practice a few tips that help keep my teeth from losing their lustre. Brushing at least twice a day, especially after beverages that stain like tea or cola, flossing regularly and drinking lots of water (which helps keep teeth clean of plaque and nasty buildup). Sometimes however you just need a little more get the pearly whites back in tip top shape, which is why I turned to the 
Colgate*
 Optic White
TM/MC  
range.
Here's the lineup that gets the job done:
-Colgate* Optic White* Platinum TM/MC  High Impact White TM/MC  Toothpaste
-Colgate* Optic White* High Impact White TM/MC   Mouthwash

-Colgate* Optic White TM/MC  Toothbrush + Built-In Whitening Pen
The routine to whiter teeth only takes minutes, which I love because let's be honest here – nobody has time to sit around and wait for their teeth to whiten! I start with the 
Colgate* Optic White* PlatinumTM/MC High Impact WhiteTM/MC Toothpaste
, which is a classic white paste texture that combined with the toothbrush leaves my teeth feeling 
super
 smooth and polished! It's formulated with hydrogen peroxide and anti-cavity fluoride, so it is not only fast and effective but protects that precious tooth enamel as well.
I will say that I don't feel the toothpaste is the mintiest or freshest I've ever tried, but that's where the Colgate* Optic WhiteTM/MC High Impact WhiteTM/MC  Mouthwash comes into play. I love that it is alcohol-free,  which is something that has always held me back from regularly using mouthwashes in the past.
The Colgate* Optic WhiteTM/MC   Toothbrush + Built-In Whitening Pen is quite the nifty little invention! The brush doesn't irritate my gums, and I can get right to the back and in all the nooks and crannies that tend to harbour bacteria that makes our teeth look grungy. I feel like my teeth are exceptionally smooth after brushing and stay that way  throughout the day.
I love that the whitening pen is built into the brush, so it is super convenient to get my smile looking its brightest; It's perfect for summer camping trips and to pack in your handbag! You just click the pen twice to dispense the product (each for upper and lower), apply it to your teeth and then you're on with your day/evening! I was a little concerned that this would be the step that left my teeth feeling sensitive, but thankfully I have not noticed anything in the month I've been using it. I tend to apply right before the shower in the morning, and the whitener is traceless by the time I am done, and then in the evening right before bed. Unlike other whitening concoctions I've tried, there's no waiting around and then having to rinse off, which makes it super portable!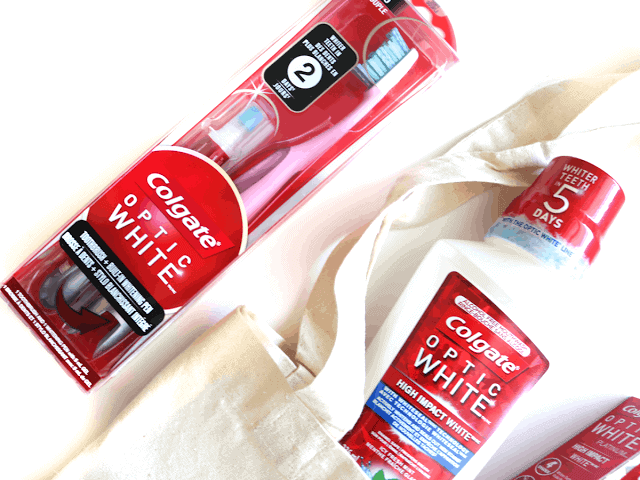 Mouthwash: For whiter teeth in 5 days, use after brushing with Optic White TM/MC Toothpaste and Optic White TM/MC 360(degree)® Toothbrush.
I am so impressed with this line and the results I've had personally. The 
Colgate* Optic White* PlatinumTM/MC High Impact WhiteTM/MC Toothpaste 
manages to get my teeth feeling incredibly polished and bright.
Have you tried the new 
Colgate* Optic White* PlatinumTM/MC High Impact WhiteTM/MC Toothpaste
?
#DesignerSmile


Some of the products and/or services mentioned in this post may have been provided for consideration and are denoted with an "*". These products may be linked using an affiliate link, which provides me with a small commission in return for providing readers with honest and authentic reviews. The earnings from affiliate links are what keep GirlLovesGloss.com running! You can read my full disclaimer here.