The Colour Correcting Trend : Is It Necessary?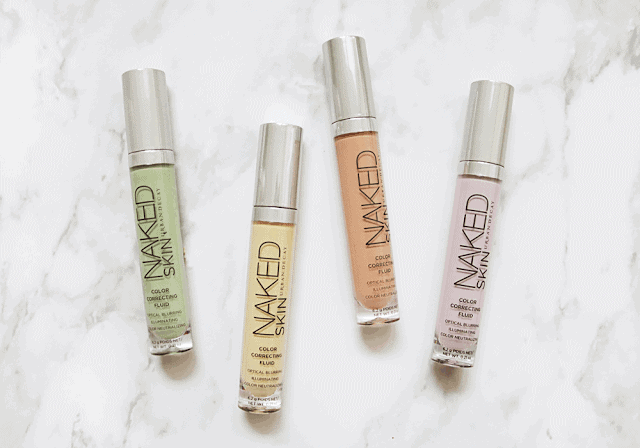 Let's start this post off with three truths shall we? One: I may have had a few beers before writing this (so sue me). Two: I'm spending the day shopping with my Grandmother this week and I'm childishly excited about a little retail therapy. Three: I think the idea of colour correcting as the hot new trend is totally ridiculous. Yep, I went there.
With stores like
Sephora
literally devoting entire displays to products that are meant to colour correct, clearly its 2016's answer to the Strobing and Contouring trends of 2015. Here's the thing though – do we all really need to be colour correcting, and if so WHAT are we correcting and WHY?
I'll preface this post by saying I had no plans on buying into the most recent trend that's taken the beauty world by storm, until the
Urban Decay Naked Skin Color Correcting Fluids
* showed up at my door. Given the hype about the concealer from the same range, and the amount of coverage the process of colour correcting is getting online these days, I figured I'd give in and at least entertain the notion.
So what is colour correcting you ask? It's a technique makeup artists have used for the years for print and theatrical makeup in order to falsify a 'flawless' canvas. For example, green would be used to counteract redness in the skin, and we all know now that a peach based product under the eyes will help cancel out the blue in dark circles. Yellow can correct dullness and used to add dimension to a face that looks too flat otherwise, and lavender helps balance sallowness.
But, do we need to colour correct? Here's the thing – the average person just doesn't need that much correction for day to day makeup with a decent concealer in hand. This whole notion of colour correcting being a hot new trend is kind of crazy to me! You might want to cover a touch of redness, or some dark circles, but to the intent that these products are being marketed to? Doubtful. The new Urban Decay Naked Skin Color Correcting Fluids are super pigmented as you can see in the swatch below, which means that they are going to be a far cry from fool proof for a lot of people. Unless you plan on wearing a medium to full coverage foundation/concealer on top, then you might want to rule them out completely.
For example green counteracts redness, but simply patting on some green concealer on top of blemishes or patches of rosacea doesn't do the trick. You then need to layer a relatively high amount of coverage that does match your skin tone exactly, and prepare yourself that if you don't use enough, you might end up having grey/ashy patches. You may have seen a slew of youtube videos teaching you how you can use peach and even red lipstick or correctors under your eyes to get rid of those darn dark circles – but the amount of concealer you need on top to cover the peach/red tone is more than you'd probably use in the first place. The yellow correctors on the market should be used sparingly, to avoid a face reminiscent of Jaundice, and the lavender shades may give off the effect of a bruise if not used correctly. With film and print makeup (or the ever heavily edited Instagram selfie), these are all used with correct techniques to hide a multitude of sins, but in every day daylight to pick the kids of from school or head to work? Hardly a trend I can get around, nor make look actually decent face to face.
Now if you do have some serious complexion concerns you want to correct, I'm all for it, and these might work well for you. Some tips to get a really natural skin look to the finished product would be to pat in the product post primer and pre-foundation with a damp sponge, and then let it settle for a minute or two. You'll then want to go in with your medium to full coverage foundation or concealer and use the same application to apply it. No buffing here folks, you're just going to wipe away the correction you've done. Instead focus on pressing the foundation into the skin, laying it on top of the colour correction. The same technique goes for concealer.
While I think these colour correctors are a really nice pigmentation and quality of product, I find adding that extra layer into my routine on my dry skin just equals a slightly cakey finish. I occasionally reach for a touch of the peach in my inner corners, and use a super light hand with the green on red spots (and I mean a serious light hand -I've ended up with a grey chin a couple of times!). If I want some added brightness under my eyes or on the tops of cheekbones I might dot the slightest amount of yellow and then really blend it out. Personally I have no use for the lavender shade, other than to admire how pretty it is!
In my opinion, this type of technique and product is really for specific user needs, and it blows my mind that it has become the big beauty trend of the season, simply because it just promotes the idea that we all should be doing this in our routine. If you love it, that's cool and I'd love to hear how you colour correct and what for. If you really struggle with discolouration in your complexion, or skin conditions that really benefit from correcting then let us all know in the comments so hopefully we can all learn something ( and perhaps try out the Urban Decay Naked Skin Color Correcting Fluids as they really do pack an incredible creamy pigment behind them!)