H&M Does Beauty… And It's Good!
So in case you've been a bit behind on your beauty blog reading these last couple of weeks, affordable clothing giant
H&M
has launched a 700 piece beauty range. I got a quickie glance at it the other day and started making mental notes of all the pretties I want to try. While I could have spent all day swatching and perusing, I snached up one lipstick that caught my eye and headed on my merry way. So, did it hold up to the rave reviews I've been hearing?
I picked up the
H&M Cream Lip Colour in Cream Chestnut
(the brand offers cream, matte and sheer formulas of their lipsticks), and the first thing I noticed was how sleek the packaging was. Priced at $12.99 CND, I wouldn't consider it a 'cheap' buy, but it by no means was a splurge. The lipsticks arnd mascara's seemed to be the higher priced items in the line, but the single shadows and nail polishes are totally affordable at around $7 and there are plenty of bits and bobs in between.
Back to the lipstick – I loved the white lid with gold tube packaging; Quite frankly it looks more high end than it is. Even more important, the formula of the lipstick is wonderfully emollient and highly pigmented, as you can see in the swatch (this is a single pass!). I found it very balm like in feeling on the lips; Hydrating and slightly slippery to the touch. While sometimes this kind of texture can be too thin to catch in dry patches and lines in the lips, this glided over top beautifully and didn't settle or bleed. Of course, lipstick of this formula nature aren't meant to be long lasting, but I found it wore off nicely without any bunching or gathering and my lips felt smooth and hydrated after!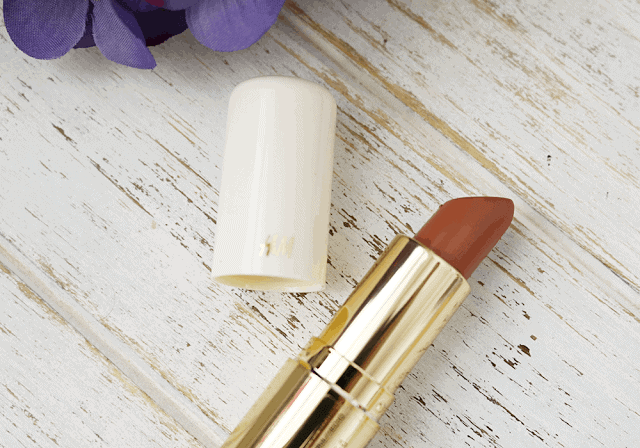 I picked up the shade Cream Chestnut, which is a pinky brown neutral that would go with pretty much anything. While it certainly isn't cool in tone, I wouldn't classify it as a warm shade either – just a good old classic neutral. I'm thrilled with the formula, so I'll most definitely be treating myself to a couple more of these and some more pieces from the range soon. Not too shabby H&M… not too shabby at all…

Have you tried anything from the H&M Beauty range yet? Let me know your thoughts in the comments below!
Follow