Mascara Monday | L'Oreal Voluminous Miss Manga Rock Waterproof Mascara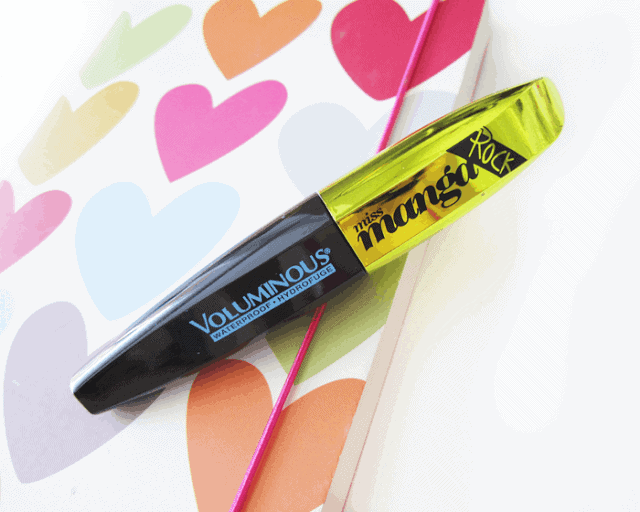 As you've all guessed by now I've been on a bit of a mascara binge lately. There are so many new formulas and revamps of previously released formulas on the market right now, I just couldn't help myself! This time round I decided to try a new version of a mascara I previously blogged about and hated,
L'Oreal Miss Manga
.

Left-Right: Curled Bare Lashes, One Coat, Two Coats, Side View to Show Length
You may remember my review of the original Miss Manga , and if you don't I'll sum it up by saying: It wasn't a hit with me. I found the flexible wand ridiculous to use; It was too flexible against my fine lashes making it hard to deposit products.
So naturally when I saw the new Miss Manga Rock, my first thought was: "I'll hate it". Then I took a closer look and realized they didn't mention anywhere about it having the silly pivoting wand. On top of that the actual brush had changed. So figured I'd give it a go, you know for the sake of the blog and all…


THE BRUSH
While the brush has a similar conical shape as the original, this time round the bristles are rubber/silicone instead of your traditional wire brush. They are spaced quite far apart and are quite short, which is supposed to give 'spiked overloaded volume'. Where the brush meets the wand there is some flexibility, but nothing like the wand yoga the original Miss Manga pulled.
THE FORMULA
This is another 'wet' formula, which always strikes me as odd when a mascara boasts volume as an outcome of use. I find wet formulas generally don't seem to build as well, and you have to work with them faster because they dry down to a crispy like finish. A bonus, however of a formula of this texture is that they dry to a very dark black finish.
THE WEAR TIME
I found this mascara wore well through the entire day without smudges or flakes (which I find L'Oreal mascaras a bit notorious for, personally). I obviously chose the waterproof version, which helps this, but some waterproof formulas flake so badly half way through the day.
The formula held a curl nicely without any wilting throughout the day.
THE OPINION
Firstly, I didn't find this mascara volumizing at all, and it clumped my lashes together horribly. I really struggled getting them looking separated and found myself reaching for my lash comb several times during application. I'm guessing this is due to the fact that the bristles are quite spaced apart.
Secondly, I did find this lengthened really well! My lashes reached right up to my brows with this, and did get that 'spiked' effect the package boasted (not sure I thought was necessarily a good thing for me…)
Thirdly, I wish I could build it up more, but the more I tried to work with my lashes, the more glued together they got, which in turn caused a bit of a mess. I did find that I liked it better as a top coat over my beloved Voluminous Intenza to add just a bit more drama in the length department. On its own though, it just wasn't enough for me.
So, I suppose that is L'Oreal's 'Miss Manga' line out for me! Have you tried this, and if so what are your thoughts on it?