Vegan Meringue Recipe | Easy 4 Ingredients
MELT IN YOUR MOUTH VEGAN MERINGUES.
Yep, you heard right – there are no egg whites in this recipe!
I know it sounds strange because meringues have always been made of egg whites. Heck, that is what meringue IS! But what if I told you, that you could make these delightful little, melt in your mouth, treats with a secret ingredient you likely have in your pantry already? And it's got no dairy in sight!
This recipe makes the perfect little Valentines, Easter, Mother's Day or anytime treat! Or make them larger in a nest shape, fill with fruit and whipped cream and have the lightest, sweet dessert!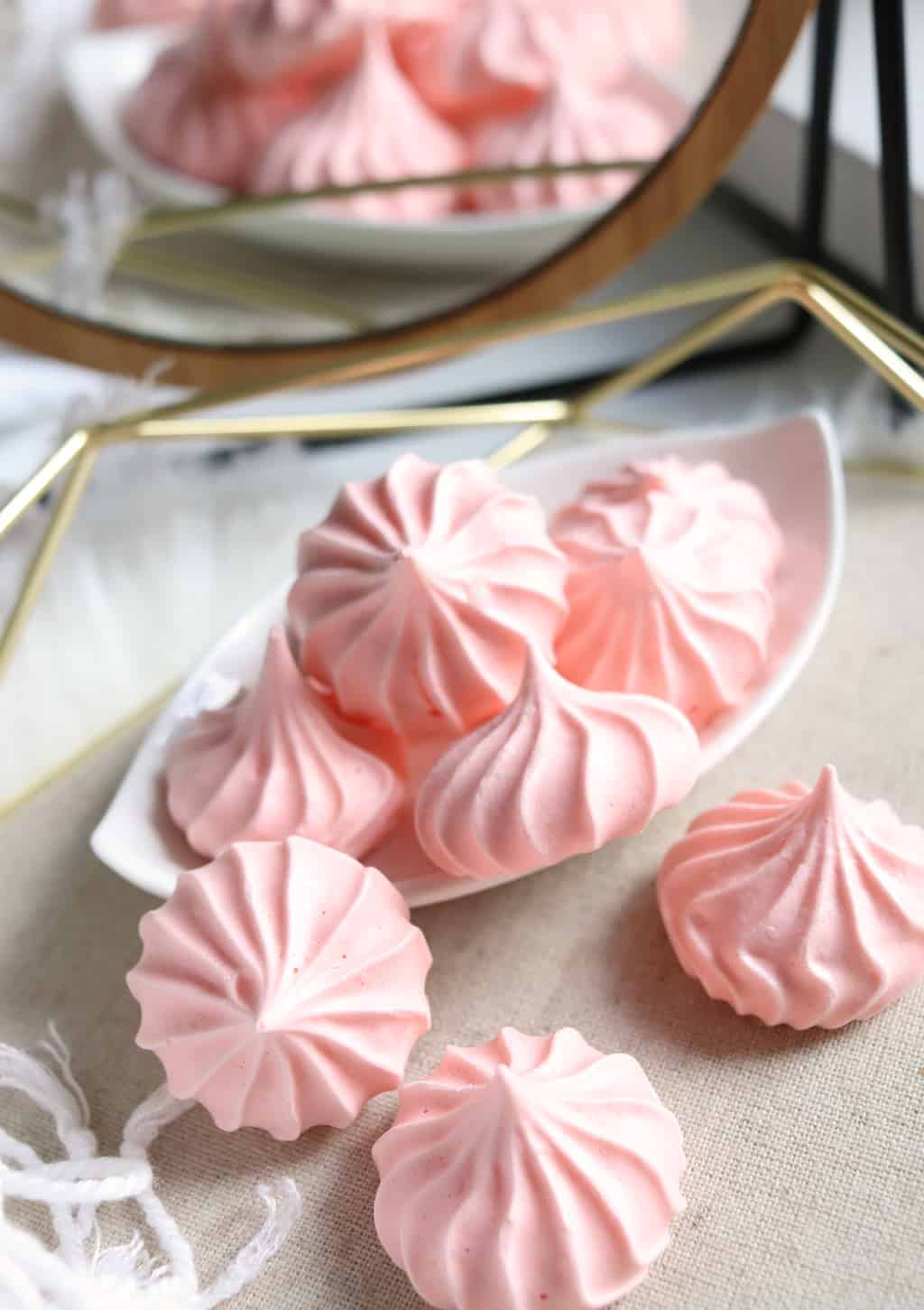 SO WHAT IS THE MAGIC INGREDIENT TO VEGAN MERINGUE?
It's called Aquafaba.
… WAIT, WHAT THE HECK IS AQUAFABA?
It's the liquid you drain out of canned chickpeas.
I know, I know, that sounds completely unappetizing and most definitely not something you'd like to put in a dessert or sweet treat. Am I right? But I promise you, this stuff is magic! (Don't ask me the science on it, I'm more of a creative type…)
OK SO HOW DOES AQUAFABA BECOME MERINGUE?
Traditionally meringues are made by whipping egg whites vigorously until they turn white and foamy and hold stiff peaks. Aquafaba does there very same thing when you whip it! And unlike egg whites, they are significantly less delicate to handle.
Often you'll hear egg white meringue recipes suggest wiping your mixing bowl with vinegar to make sure there is absolutely no residue. Even the slightest bit of moisture or a greasy fingerprint can cause them not to whip up.
Aquafaba doesn't requite such measures, making it really foolproof!
BUT I DON'T WANT MY MERINGUES TASTING LIKE CHICKPEAS!
No, why would you? Gross!
But not to worry, once you've sweetened and flavoured these meringues I promise they are nothing but sweet delectable treats!
WHAT DO I NEED TO MAKE VEGAN MERINGUE?
You're going to need:
½ cup of aquafaba (drain a can of no salt added chickpeas and reserve the liquid)
½ cup of white sugar, extra fine if you can find it, but I use regular castor sugar
¼ tsp of Cream of Tartar
½ tsp of Vanilla or flavouring of your choice
OPTIONAL
gel food colouring (optional)
piping bag with a star tip
SHOPPING LIST
---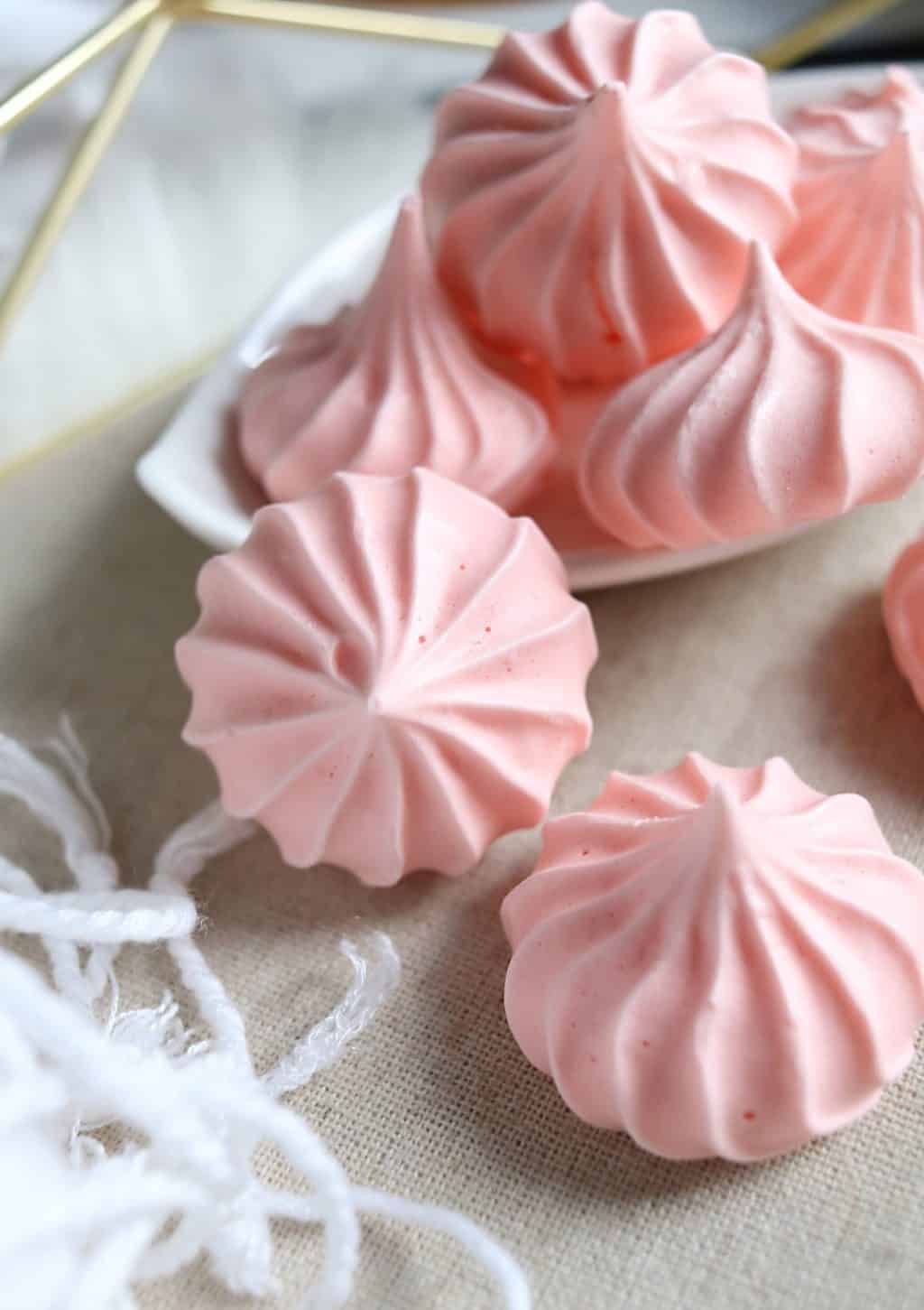 Yield:

3-4 dozen
4 Ingredient Vegan Meringue Cookies
Additional Time:
30 minutes
Total Time:
2 hours
45 minutes
The easiest little meringue cookies that make the perfect Easter (or whenever!) treat using aquafaba (otherwise known as chickpea water).
Ingredients
½ cup of aquafaba from can of chickpeas
½ cup white sugar (extra fine if possible)
¼ tsp cream of tartar
½ tsp Vanilla (or flavouring of choice)
Optional:
Gel food colouring
Instructions
Preheat oven to 200F
Drain your chickpeas catching the aquafaba in a container.
Chill aquafaba in a sealed container in the fridge until needed, or for at least 30 minutes.
Using the wisk attachment of a stand mixer, add slightly chilled aquafaba and cream of tartar to the bowl and whisk on high until it forms soft peaks (where the meringue has body, but doesn't hold it's shape without releasing)
Gradually add sugar as the mixture is whisking, a tablespoon at a time until incorporated.
Add in vanilla or other flavouring.
Whisk at high speed until the meringue holds stiff peaks. You should be able to tip the bowl upside down and not fear of anything dumping out.
Test meringue by rubbing a little amount between thumb and pointer finger; You should not feel any sugar granules.
Add gel food colouring by dipping a toothpick into the colouring and swirling into the bowl. Whisk, then check for colour. If you need more, repeat with clean toothpick.
Fill your piping bag with tip of choice, or large ziplock bag and snip the end at about 1 cm wide.
Pipe 1¼-inch dollops of the meringue about ½ inch apart on parchment-lined baking sheets. You will need at least two if doing this size, one if you are making bigger meringues.
Bake for 1 ½ - 2 ½ hours depending on the size. For these, I needed 2 hours. Halfway through, rotate sheets.
Meringues will be done when no longer glossy or sticky and peel easily off the parchment.
Let set on the sheet until cool then store in an airtight container for up to 5 days.
Notes
Use no salt added canned chickpeas. I do not recommend using dried chickpeas that you have soaked, though some say they have had luck with boiling down that liquid until it has reduced to ½ cup. I wouldn't bother.
You can totally leave these white if you don't like the idea of food colouring. They will bake a slightly ivory colour.
If using food colouring, make sure you use a gel food colour and not liquid, which will change consistency.
When piping, to get the star shape with peaks, hold the bag 90 degrees to the sheet and allow enough to dispense for how wide you want the meringues, then release pressure and pull up swiftly.
I like these to be completely light as air and not overly chewy. Non-vegan meringues I enjoy the slight chew, but I found these better when they melt on the tongue.
For chocolate, you could sift in some high-quality cocoa powder, and slightly reduce the sugar.
If you want larger nest-shaped meringues, you will need to adjust the baking time. I suggest turning off the oven after 2 ½ hours and letting them completely cool in the oven. Topped with fruit and whipped cream of coco whip.
Recommended Products
As an Amazon Associate and member of other affiliate programs, I earn from qualifying purchases.
Nutrition Information:
Yield:
40
Serving Size:
1
Amount Per Serving:
Calories:

17
Total Fat:

0g
Saturated Fat:

0g
Trans Fat:

0g
Unsaturated Fat:

0g
Cholesterol:

0mg
Sodium:

0mg
Carbohydrates:

4g
Fiber:

0g
Sugar:

3g
Protein:

0g
ARE YOU GOING TO TRY THESE TASTY TREATS? YOU CAN CHECK OUT ALL MY RECIPES HERE.