The Cult Classic: Guerlain Terracotta Bronzer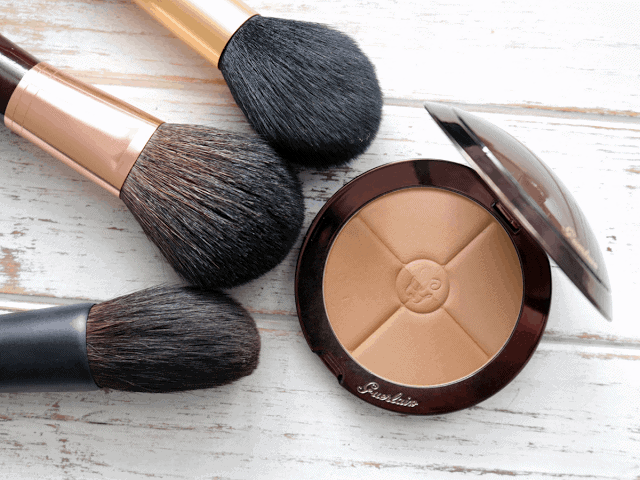 When it comes to some beauty brands, there is a star product that the range becomes famous for.
When it comes to bronzers, that brand is no doubt Guerlain.
The brand that has been in the business of beauty since 1828
(yep, you read that right!)
now sells one of their renowned
Terracotta Bronzers
every 25 seconds around the world.
How's that for a cult classic?
I recently picked up one of the highly hyped powders to try out to what all the fuss was about, keep reading for my review!
The
Guerlain Terracotta Bronzer
range is incredibly vast in terms of shade selection; As far as I know no other brand offers so many different shades/styles of bronzers. Because of this, it can be a bit overwhelming to figure out the right choice for you, and given the price tag you want to make sure you are investing your pennies wisely. Guerlain has made it easy though by offering in person consultations at counters, or online which is how I determined that the
Terracotta 4 Seasons Contour and Bronzing Powder in 03 Brunettes
was the one for me!
Guerlain created their bronzers to genuinely mimic the look of sun kissed skin. Most of the shades are warm, and they all have an incredibly silky formula that blends onto the skin to give an overall bronzed look to the skin beautifully. While the 4 Seasons Terracotta has the term 'contour' in the name, I wouldn't personally use it for contouring as it is much to warm as far as I am concerned; As a true bronzer it does it's job perfectly mimicking the look of the sun on my face.
Something to note about these as well is the very distinct signature scent. If you're very sensitive to fragrance, you'll want to give the Guerlain Terracotta's a second thought, as they are all infused with a blend of gardenia, jasmine, ylang ylang and vanilla. Personally, I find it a bit the scent a bit old fashioned, but Guerlain is over 175 years old so there is something to be said for that! I don't find the scent lingers after applying it to the face, but it is quite strong in the compact.
In terms of application, I love to use a fluffy, soft brush to blend my
Terracotta 4 Seasons
along the tops of my cheekbones, across my forehead and the bridge of my nose to give a natural tanned appearance. The powder is incredibly finely milled, so a soft brush picks it up perfectly without kicking up any powder or leaving a chalky finish on the skin, and it stays looking fresh for 6-8 hours in my experience. I really feel that this almost looks undetectable on the skin when applied, when many other bronzers can look muddy or dry, so for this reason alone I can see why it has such a cult following!
Selling one Terracotta every 25 seconds in the world is certainly not something most brands can boast, and the incredible inclusive shade range definitely solidifies for me that Guerlain is in fact worth the hype with this cult classic product. The compacts are stunning, the velvet pouch it comes in is luxurious feeling and the product is timelessly beautiful.

What is your favourite 'cult' beauty product?

Have you ever tried one of Guerlains famed Terracotta Bronzers?