Easy Crispy Quinoa Granola Recipe
HAVE YOU EVER HAD QUINOA GRANOLA? BECAUSE IF NOT, YOU'RE MISSING OUT!
Yes, that's right – Quinoa.
Superfood and grain extraordinaire that you are using to cooking in water like rice. Except in the granola you use it raw, and it turns into these crispy crunchy little bits that work perfectly!
Years ago I loved a Quinoa granola recipe from the book Quinoa 365, but my copy has been buried in our storage for over 5 years now (shame on me, I know).
So I decided to get experimenting to create my own recipe. After some trial and error, I've found the perfect, easy combo for a slightly sweet, nutty granola that I'm sure you'll all love!
As I mentioned, Quinoa in granola is all kinds of awesome; Like tiny little crispy crunchies that adds such a nice texture. The key is to not add too much, so you've got a great balance of clusters, nuts and seeds.
There are a couple of must-haves for this recipe to work: Oats, Nuts, Quinoa (duh!), Coconut Oil, Honey or Maple Syrup. Everything else is pretty optional!
This granola is just slightly sweet, with a toasty crunch that you'll love on yogurt (it is AMAZING on my Greek Yogurt Recipe!), mixed with raisins or dried fruits, or with some milk of your choice as a cereal.
I like to use pumpkin seeds in mine and some shredded coconut, but you could easily substitute to do sunflower seeds, some sesame or a combination – get creative!
Similarly, you don't have to use almonds in this recipe. Walnuts would be amazing, or you could do pecans or even some peanuts. Or just a mix of a whole bunch of nuts, just make sure they are raw, not salted or roasted.
WHAT MAKES IT CLUMP?
The magic ingredient to make this granola clump together as it cools for gloriously delish chunks is egg white. I know – weird right?!
The trick is to beat your egg white until it is white and foamy like a soft peaked meringue (so soft enough that it slides off a spoon). When you toss the granola in an egg white, it helps bind it and that is what gives you bigger clusters that make granola next level!
MAKING IT VEGAN FRIENDLY
This can easily be done by swapping the honey for maple syrup when it comes to sweetener.
For the egg, I would recommend using ¼ cup of Aquafaba (remember that from my Vegan Meringues Recipe?) and beating it with an electric mixer until soft white peaks like an egg white.
WHAT EQUIPMENT YOU'LL NEED
One large non-stick baking sheet (mine is 12x17and worked perfectly)

Mixing Bowl

Metal Spatula to flip granola

Hand mixer or Electric Mixer to beat egg white
PANTRY INGREDIENTS
---

JavaScript is currently disabled in this browser. Reactivate it to view this content.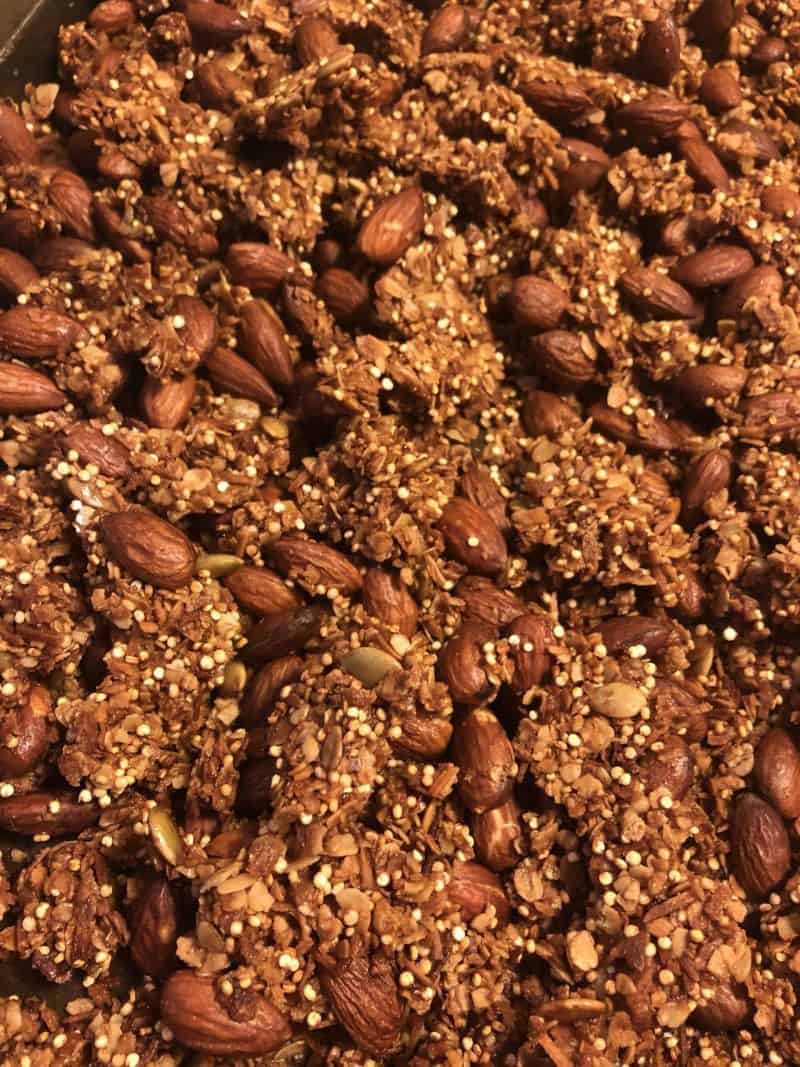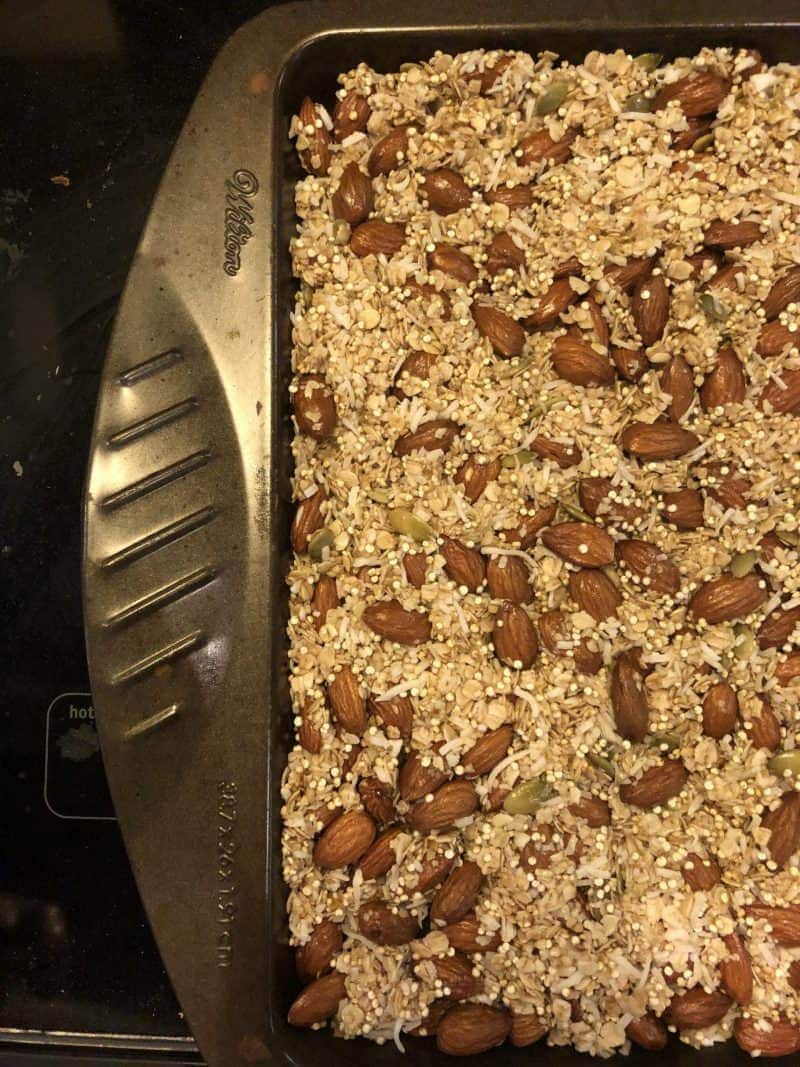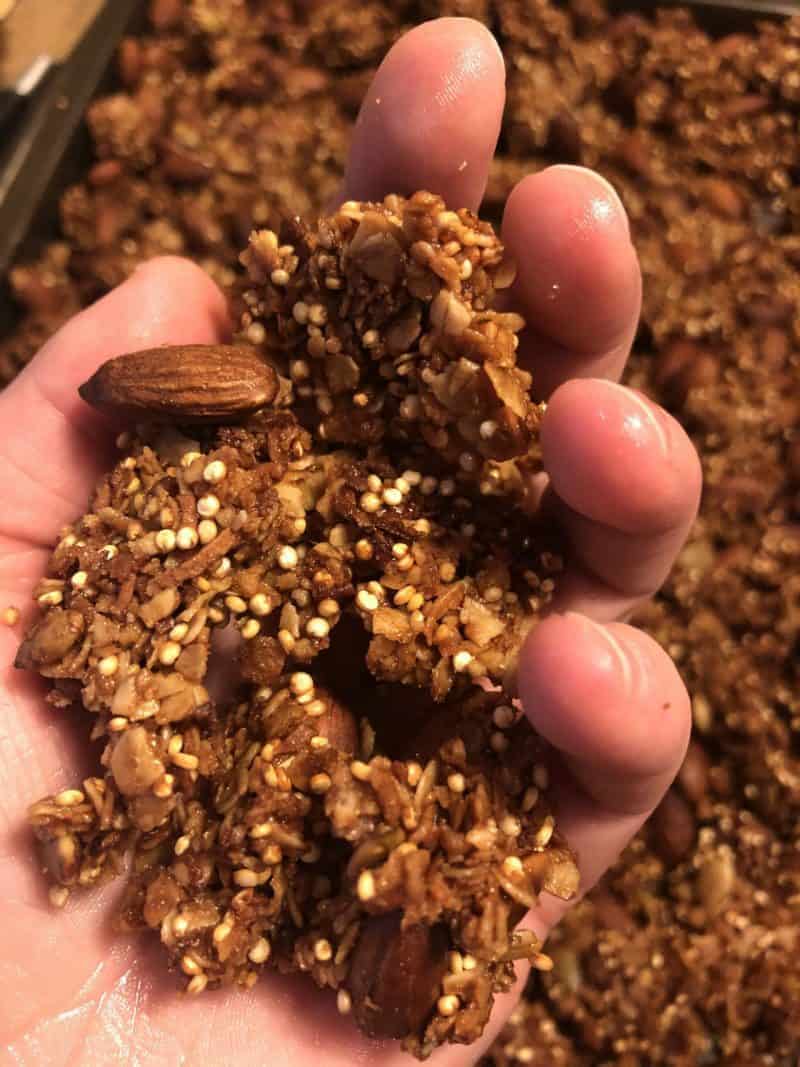 HOW TO MAKE MY QUINOA GRANOLA
It is SO simple to make this tasty treat! It's 5 basic steps:
Beat egg white until white and foamy like meringue

Heat honey and coconut oil until they blend smoothly

Toss all dry ingredients in a bowl

Mix in honey mixture and then egg white

Bake for approx 30 minutes, tossing halfway.
This tasty, crispy granola is full of good for you quinoa, almonds, oats and shelled pumpkin seeds. It's lightly sweet and clumps into perfect bite-sized pieces.
Ingredients
0.50 cup (170g), Quinoa, Uncooked
2 tbsp(s), Brown Sugar
0.25 tsp, Salt
0.25 cup, Honey (or maple syrup)
1 cup dry (42g), Quick Cooking Oats
1 cup, Almonds, Raw
3.50 tbsp, Unrefined Coconut oil
0.25 cup, Shredded Coconut
0.25 cup, Raw Shelled Pumpkin Seeds
1 large, Egg white (optional - see notes)
Instructions
Preheat your oven to 325F
Beat egg white until fluffy white and soft peaks.
In a bowl, mix brown sugar, quinoa, almonds, oats, seeds and coconut.
In a microwave-safe bowl, mix coconut oil and honey or maple syrup and microwave for 30 seconds or until the two can combine seamlessly when stirring.
Poor honey/oil mixture over granola ingredients and stir to combine.
Pour egg white mixture over ingredients and stir to combine.
Spread onto to 12x17 baking sheet as evenly as possible.
Bake for 15 minutes, then stir the granola once, making sure to use a spatula to press granola back down into the pan.
Bake for another 15 minutes or until granola is golden brown and fragrant.
Allow to cool completely in the pan without disturbing it (this is how it clumps!).
When cooled. break into clumps and store in airtight bag or container for up to 2 weeks or freeze for up to 3 months.
Notes
VEGAN Substitutions:
If you are plant based and don't want to use egg white, you can skip it, but expect the granola will be much looser in texture. Similarly, you can take ¼ cup of Aquafaba and beat until soft white peaks and use that.
Use maple syrup instead of honey.
SUBSTITUTIONS
The nuts and seeds can be subbed for whatever you like. You could do half and half mix, or remove seeds/coconut if not to your liking and just sub with more oats. Some great options would be walnuts, sunflower seeds, sesame seeds, pecans and cashews. (note that some nuts burn faster so keep an eye on your oven)
OTHER FLAVOURINGS
If you want to add raisins or dried fruits, do so after the granola is cooled.
You can spice your granola with a bit of cinnamon or a dash of vanilla extract if you like.
Nutrition Information:
Yield:
20
Serving Size:
1
Amount Per Serving:
Calories:

118
Total Fat:

7g
Saturated Fat:

3g
Trans Fat:

0g
Unsaturated Fat:

4g
Cholesterol:

9mg
Sodium:

37mg
Carbohydrates:

12g
Fiber:

2g
Sugar:

5g
Protein:

3g