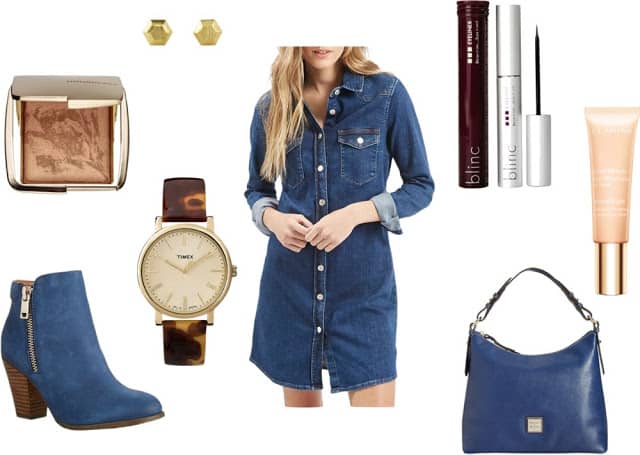 I adore blue, especially come Spring and Summer when it can be paired with a little extra bronzer than I would normally get away with in the cooler months. I love the idea of styling this blue denim shirt dress with the warmth of the tortoise watch band, and gold hexagonal studs. The ankle boots have a stacked wood heel which contrasts nicely and gives the outfit a bit more grit. I've got full heart eyes for this handbag which has an adjustable shoulder strap and comes in the perfect mid-toned warm blue.
When it comes to makeup – I'm all about that bronze when wearing blue, because on it's own it can make a complexion look drab. So I'd start with a radiant base for some all over glow, then buff on bronzers onto the high plains of the face. To tie it all together: a flick of navy blue liquid liner!
How do you like to wear blue?
Shop This Post:

Some of the products and/or services mentioned in this post may have been provided for consideration and are denoted with an "*". These products may be linked using an affiliate link, which provides me with a small commission in return for providing readers with honest and authentic reviews. The earnings from affiliate links are what keep GirlLovesGloss.com running! You can read my full disclaimer here.