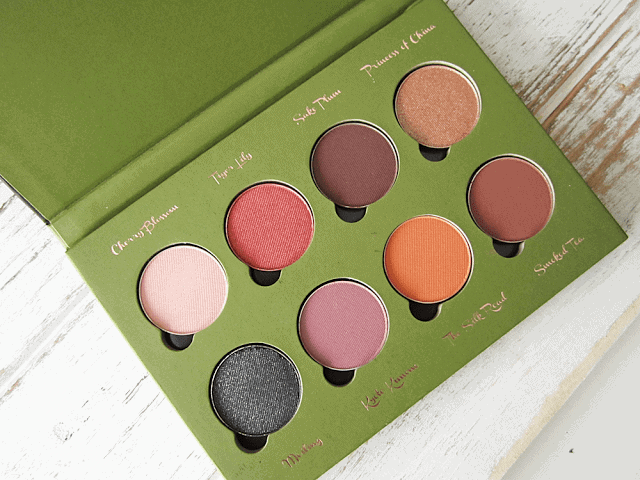 If you haven't heard about
Velvet 59
yet, I'm betting you will become familiar with the brand very soon. Brainchild of the 22 year old Paris Manning, Velvet 59 aims to capture a vintage glamour whilst using sustainable and 100% vegan ingredients. I recently got my hands on
The Exotic Lotus Palette
which is not only Vegan, but also Cruelty Free, Paraben free and Gluten Free. Oh, and warm toned lovers be warned:
You're going to want this in your life!
Right off the bat I was stunned by the gorgeous graphic on the front. The palette itself is made from heavy cardboard like many come these days with a magnet closure but no mirror (which I imagine helps keep the price down) and all the shadow pans are removable, which I think was a really nice touch.
The shadows in
The Exotic Lotus Palette
are a mix of finishes: five are matte (Cherry Blossom, Sake Plum, Kyoto Kimono, The Silk Road and Smoked Tea), one pearlized (Tiger Lily), one high shimmer (Princess of China) and one matte base with glitter (Meiling). I was most impressed with the matte and pearl shadows, which were all super buttery and richly pigmented. There was no chalkiness whatsoever in the matte shadows which makes the palette a total gem all on its own.
The pearlized shade 'Tiger Lily' is a stunning copper with golden pink pearl, while the two more glitter shadows had significant sparkle to them. The darker blue based charcoal 'Meiling' was laced with a silver shimmer, but has a rich dark base, while 'Princess of China' has more sparkle than pigment, but layers really nicely on top of other shades. I would suggest packing both shades on in layers, using something like Too Faced Glitter Glue if you really want that glittery impact and non of the fall down). I will say both of these shades have a finely milled sparkle, so contact wearers should be in the clear!
When it comes to the formula, these are for the most part super pigmented. Just a light tap of the brush kicks up some product, so be warned if you are wearing white and make sure to tap off the excess on your brush. That said, I love how little amount I needed to complete the look shown above. These just kept blended out more and more, even after it felt like the brush was clean! I would have loved a bone or pale creamy beige shade that could have been used as a transition, blending or browbone shade, and for the glittery dark charcoal to be a rich matte navy instead, but overall the colour selection is stunning and unique. I hope Paris decides to design another shadow palette soon, as I'd love to have the formula in some more shades!
I expect Velvet 59 is off to a really great start in the beauty industry, and I am looking forward to trying some more products from the line, including some of the lipsticks, and a cream contour kit that seems very intriguing!
Follow
*PR Sample
Some of the products and/or services mentioned in this post may have been provided for consideration and are denoted with an "*". These products may be linked using an affiliate link, which provides me with a small commission in return for providing readers with honest and authentic reviews. The earnings from affiliate links are what keep GirlLovesGloss.com running! You can read my full disclaimer here.