After hearing Caroline rave about the Tata Harper range for ages now, I almost knew I was going to fall in love. The brand boasts 100% natural and nontoxic ingredients that are grown, produced and packaged all on an organic farm in Vermont. They are cruelty free, certified by Eco Cert and have no artificial colours or scents. Sold yet? I was!
So naturally when I got the chance to try out the Tata Harper Limited Edition Honey Blossom Resurfacing Mask* I jumped at the chance…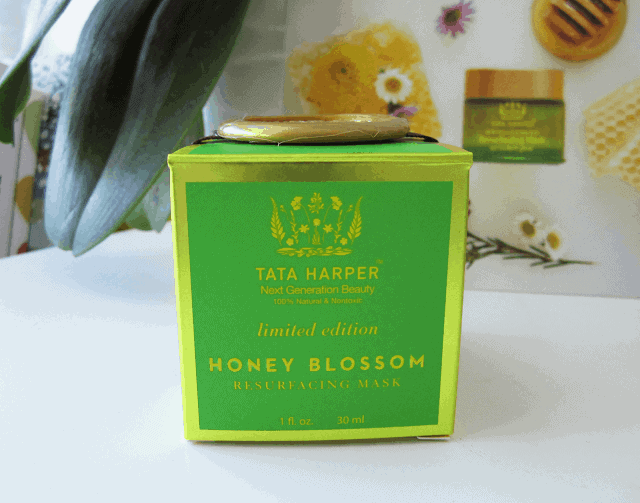 The original Resurfacing Mask is one of Tata Harper's best sellers, so I knew they had to be on to something. It's a non abrasive beta hydroxy treatment that helps slough away dead skin cells, while accelerating cellular renewal. Unlike some chemical exfoliants or resurfacing products, there is no photosensitivity and has ingredients that help reduce redness and inflammation.

The Limited Edition Honey Blossom Resurfacing Mask

*

is blended with Vermont-harvested raw honey and floral extracts and let me tell you: It smells amazing.

I knew the minute it arrived I was in for a treat; The gorgeous green and gold packaging (100% recycled paper of course!) came with the Tata Harper wax seal and ribbon! When I opened it up, my jar was numbered 155/1500 which made me feel a little special, not going to lie. Only 1500 of these limited edition Honey Blossom versions are being made, just a heads up!

Besides the absolutely gorgeous smell, the product inside feels so lush on the skin. As directed, you apply a layer on a clean face and leave for 10-30 minutes (10 for sensitive skin) then remove with warm water. Then you prepare to have your face feel like a baby's bum. Seriously. The next morning I woke up with my skin looking like a million bucks – it felt plump, radiant and so smooth!

This is definitely one of those masks you need for days when you're feel absolutely rubbish, because it will no doubt perk spirits!

Tata Harper can be found online on www.tataharperskincare.com or or www.sephora.com/tata-harper

Let me know in the comments below what your favourites from the line might be, or products you want to try from the line!

To celebrate Tata's Birthday, there is a 20% discount on purchases over $100 for July 29 & 30th at www.tataharperskincare.com only with the code HBDTATA1. I'm not affiliated with the brand, nor do I make a commission, it's just too good of a deal to pass up!
*I was kindly sent the denoted product for consideration. I am not contracted to positively review this product, nor am I affiliated with the brand. Just good old honest reviews around here folks, it's how I roll!
Some of the products and/or services mentioned in this post may have been provided for consideration and are denoted with an "*". These products may be linked using an affiliate link, which provides me with a small commission in return for providing readers with honest and authentic reviews. The earnings from affiliate links are what keep GirlLovesGloss.com running! You can read my full disclaimer here.