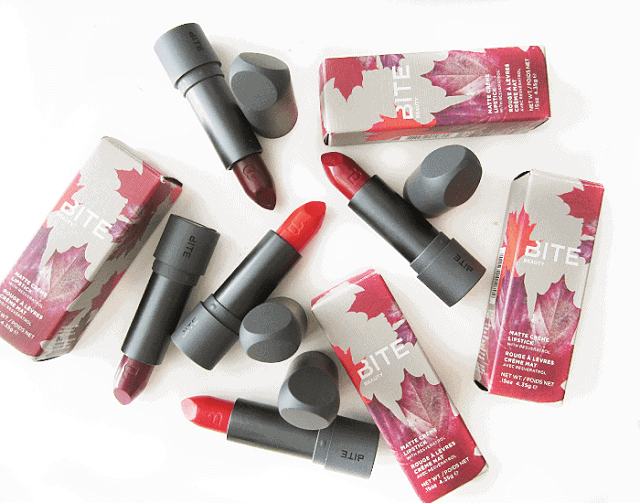 Oh Bite Beauty, be still my patriotic Canadian heart.
They're smooth, they're pigmented, and they… smell like maple?!
Bite Beauty's Maple Matte Cr

è

me Lipsticks
* are limited edition and all kinds of gorgeous, with a scent that has you reminiscent of pancake breakfasts. The newest collection screams True North Strong and Free, and they are exclusive to Canadians, eh!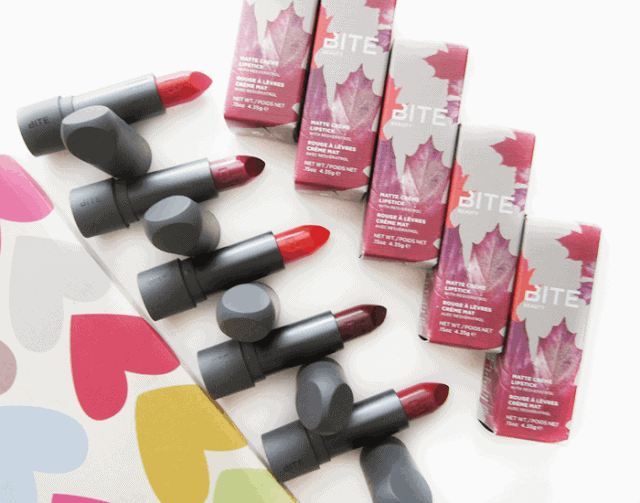 Going back to it's heritage,
Bite Beauty
has launched their
Maple Collection
that will be available from July 16th through October limited edition exclusively through Sephora. These lipsticks are actually hand made right in Toronto with organic fruit butters. The collection features 5 lipsticks in the new formula Matte Cr
ème which boasts a velvety finish, but not that tell tale dried look that many matte formulas settle to. This isn't your hardcore matte finish, but rather more of a satin – so heads up extreme matte lovers!
The shades are inspired by the colours of leaves as they change during the Fall with packaging to match, and they all smell like maple. Yep, legit true Canadian maple scent. I won't lie, it isn't my favourite scent personally, I think it's either a love it or leave it type thing. It does remind me of pancakes on Sunday mornings as a kid though, and that genuine maple scent has Canadiana written all over it.
The five shades range from an orangey red: Warmed Maple, a true red: Candied Maple, a deep brown based red: Mulled Maple, a fuchsia tinted plum: Sugared Maple and a deep berry red: Braised Maple. The collection also features a limited edition version of the
Agave Lip Mask in Maple
, for those who prefer a more natural, tint of colour!
Oh, and not to worry American buddies, you're getting your own collection called
Frozen Berries
that looks equally as covetable!
Keep your eyes open for this unique Canadian exclusive at your local Sephora, or online at
Sephora.com
!
Will you be trying this new collection? How do you feel about the maple scent?
Follow

*Bite Beauty was kind enough to provide the products highlighted with the "*" symbol for my consideration. This does not guarantee positive reviews nor was I compensated to write this post.
Some of the products and/or services mentioned in this post may have been provided for consideration and are denoted with an "*". These products may be linked using an affiliate link, which provides me with a small commission in return for providing readers with honest and authentic reviews. The earnings from affiliate links are what keep GirlLovesGloss.com running! You can read my full disclaimer here.