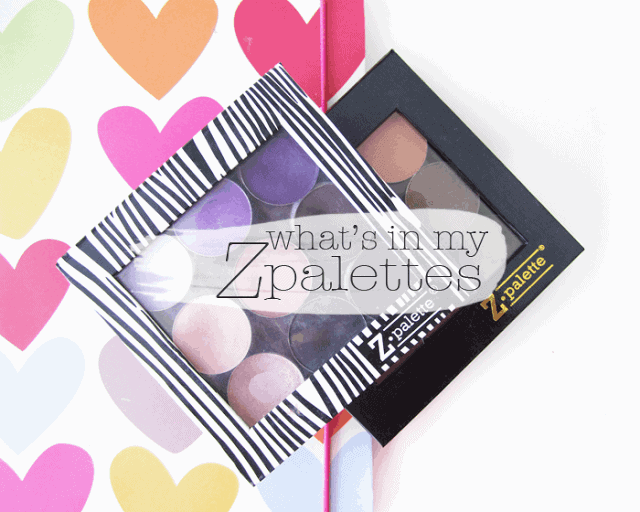 The other day one of my instagram followers asked me for my recommendation on a eyeshadow palette that was neutrals with some fun pops of colour. I explained that my favourites where the loose shadows I had collected into some the small Z Palettes for easy travel. So I got to thinking, it might be interesting to do a post about which shadow make the grade.
If you're new to the concept of Z Palettes, here's a brief run down: They are a heavy cardboard multi use palette that comes with magnetic closure and backing, making it a total snap to put together custom palettes. I own four, two of which are large which I keep miscellaneous shadows and blushes, and then there are the two small which I reach for constantly. Here's whats in them:
The Zebra Print Palette
Top Row: Digit (MAC Pro) Wisteria (MakeupGeek), Shock a Holic (MAC, LE)
Middle Row: Blanc Type, Kid, Handwritten ( all MAC)
Bottom Row: Phloof!, Typographic, Beauty Marked (all MAC)
The Black Palette
Top Row: Blanc Type (repeat, MAC), Shimma Shimma (MakeupGeek), Peach Smoothie (MakeupGeek)
Middle Row: Cosmopolitan (MakeupGeek), Coppering (MAC), Moondust (MakeupGeek)
Bottom Row: All That Glitters, Sushi Flower, Smut (all MAC)
You can see that in the Zebra palette, my pop of colour of choice is purple. In the Black palette my pop of colour is copper.
I've customized both palettes to my liking so that they are full of shades that suit my hazel/green eyes best. I tried to balance a good range of neutrals, lights and darks as well as matte and shimmer, which I think is integral to any palette.
MAC Cosmetics single pan eyeshadows can be purchased at maccometics.com (these do not magnetize themselves to Z Palettes, but thankfully they palettes come with metal stickers you can pop on the bottom)
MakeupGeek eyeshadow pans can be purchased at makeupgeek.com and are magnetized nicely to stick right in!
What's in your Z Palettes?

Some of the products and/or services mentioned in this post may have been provided for consideration and are denoted with an "*". These products may be linked using an affiliate link, which provides me with a small commission in return for providing readers with honest and authentic reviews. The earnings from affiliate links are what keep GirlLovesGloss.com running! You can read my full disclaimer here.