I knew the minute I tried Colourpop Cosmetics that something would end up in my Sunday Steals feature. I mean, the shadows are $5 a pop – seriously! And before you ask, the pigmentation is amazing. I was originally gifted four shadows from a friend (see the full review here of the shadows, blushes and lippie stix) and then turned right around and placed an order myself. I am (not so) patiently waiting for those to arrive. I can say though that the shade 'La La' single handedly had me wanting more; A gorgeous coppery rose gold that packs a serious punch.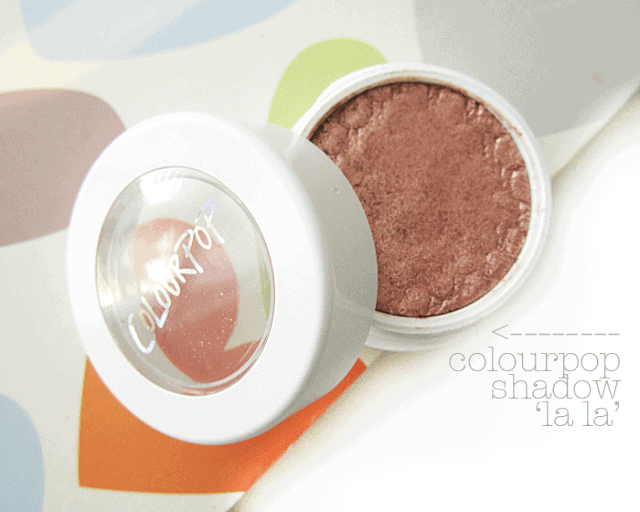 Clearly my bestie knows me well, purchasing this shade for me because it's a green eyed girls dream. I love to pat it onto my lids and then buff into the crease for a one shadow look, or pair with a plum or chocolate brown in the crease. The even better part is this lasts all day long, without even priming my lids! Yeah, that shocked me too…
The line is super diverse in terms of colour range; The line includes mattes, metallics, glitter and satin finishes in a variety of neutrals and bold colours alike!
Of course, the best news out of this all is that at the $5 price tag, these shadows are a total steal. Seriously, go get yourself some, you can thank me later. You can find ColourPop at www.colourpop.com
What was your favourite bargain beauty find?

Some of the products and/or services mentioned in this post may have been provided for consideration and are denoted with an "*". These products may be linked using an affiliate link, which provides me with a small commission in return for providing readers with honest and authentic reviews. The earnings from affiliate links are what keep GirlLovesGloss.com running! You can read my full disclaimer here.