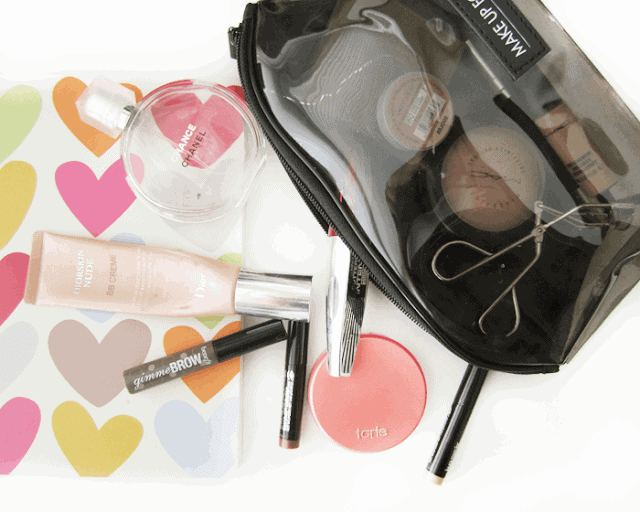 My closest friends (and Mr Girl Loves Gloss) will tell you I have a makeup collection that is (borderline) ridiculous in size. Sometimes when I travel or go away it can be hard to whittle down to a few decent choices that are easy to pack and make the most impact with the least amount of bulk. So recently when I visited my folks for Mother's Day I took note of my weekend away essentials and some tips to make a minimal amount of product cover as many bases as possible.
When it comes to a few days away, I usually grab a base that can be patted in with fingers or buffed in easily with no fuss. Favourites are my DiorSkin Nude BB Creme which offers more coverage than your average tinted moisturizer, sets up nicely and has an SPF. I like to apply with fingers for sheer coverage or my Real Techniques Expert Face Brush if I need a bit more oomph. For some extra coverage around the eyes (and perhaps those dark circles from late nights when you're off for a weekend!) I like Mac Pro Longwear Concealer, which layers nicely, doubles as an eyeshadow base and then stays place all day. I swipe on with a finger then pat out with my Real Techniques Sculpting Brush which fits under the eyes nicely.
To finish off the complexion I might dust a small amount of my Mac Mineralized Skinfinish Natural powder with a Real Techniques Multitask Brush, then use that same brush to buff on some colour onto my cheeks. For bronzer and blush my tried and true fail safes are Tarte Amazonian Clay Matte Waterproof Bronzer and Amazonian Clay Blush in Tipsy (a bright pop of coral that looks amazing with everything it seems!) which I prefer to use my Tarte Blush Brush for – it applies blush like it came naturally.
I like to take a couple options when it comes to eye makeup, because I feel like this is where my main focus is best. I prefer products that can be slap dash applied with fingers but still make an impact, like the Laura Mercier Caviar Sticks (Rosegold and Amethyst are favourites) or the L'Oreal Infallible Eyeshadows (Amber Rush being my absolutely must have). I'll pack one pencil liner that goes well with everything, like Urban Decay 24/7 Liner in Demolition, which is a matte neutral dark brown. Because seriously, who has time for winged liner when you're away?
For brows I take a do it all pencil like Anastasia Brow Wiz which has a handy spooly on it, and then Benefits Gimme Brow to lock them in. Both super small, easy to pack and make a big difference in your look. The same goes for lashes, so I never leave town without my one true love – the Shu Uemura Eyelash Curler. That and a decent waterproof mascara, like L'oreal Voluminous Butterfly Intenza, which is my current lash love.
Finally, when I go away I tend to just go with whatever lip products are already in my purse – namely my Urban Decay Naked Lipstick, and Clarins Instant Light Lip Perfector in 05.
Top Tips For Packing Makeup For a Weekend Away:
Synthetic brushes travel well (think bent hairs) and clean up quickly.
Sharpen your pencils before you leave so you don't have to pack a sharpener.
Picking a 'your lips but better' shade or a peachy pink will pull together almost any look without any extra thought, or the need for lipliner.
Unless you are planning for a special event, now is probably the time when you can skip things like primers, gel liners, highlighting powders, setting sprays etc. Think easy, think compact and think long lasting… and enjoy your weekend away!
What are your favourites products to take when you go away?
What about your top tips for packing light?

Some of the products and/or services mentioned in this post may have been provided for consideration and are denoted with an "*". These products may be linked using an affiliate link, which provides me with a small commission in return for providing readers with honest and authentic reviews. The earnings from affiliate links are what keep GirlLovesGloss.com running! You can read my full disclaimer here.