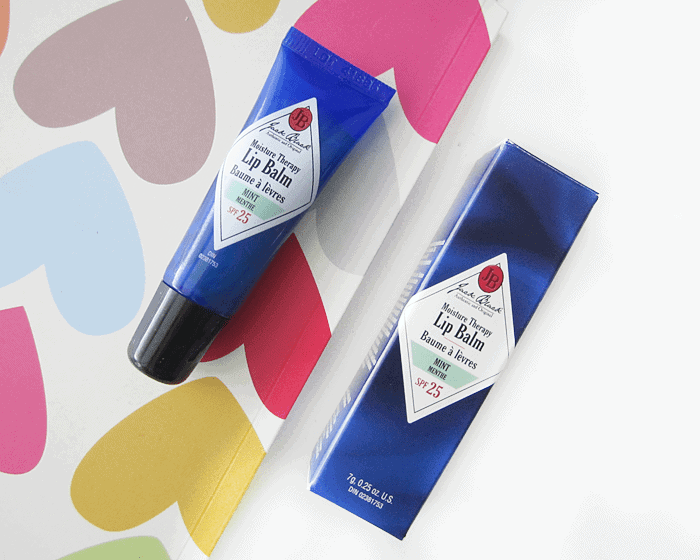 I'm surprised I haven't already posted this product as a Sunday Steal before, I thought I had. I've sung it's praises several times here on GLG, but this time round it's because of what a bargain this is. Head on over to the men's section (yup) and pick this bad boy up – for less that $9. Your lips will thank you.
The Jack Black Intense Therapy Lip Balm in Mint has been repurchased by yours truly so many times I've lost count. It isn't like any other lip balm, I don't find myself needing to apply this every 10 minutes. At night I slick it on before bed and I no longer wake up with cracked lips like I used to. At work I apply every few hours and given that I talk all day long as part of the job I'd say it wears extremely well. The formula also contains an SPF 25, which makes this perfect for outdoorsy types, vacations and general all round protection (have you ever sunburned your lips, because I have and it's a special kind of hell!)
The formula was made for men, which means it's not your typical shiny greasy or waxy looking lip balm, it goes on undetected, which makes it perfect to wear under lipstick! However, this also means the men in your life might "borrow" this and never give it back. Just a heads up!
I personally love the slight tingle that the mint version gives, but it also comes in Grapefruit & Ginger, Black Tea & Blackberry, Lemon & Camomile and Shea Butter & Vitamin E
Have you tried this lip balm before? Have you found other gems in the mens skincare aisle?

Some of the products and/or services mentioned in this post may have been provided for consideration and are denoted with an "*". These products may be linked using an affiliate link, which provides me with a small commission in return for providing readers with honest and authentic reviews. The earnings from affiliate links are what keep GirlLovesGloss.com running! You can read my full disclaimer here.